2013 Sea Turtle Conservation Results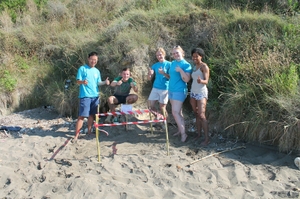 Our sea turtle research & conservation project focuses on the beaches of southern Kefalonia, where sea turtles lay their eggs to incubate in the warm sand, and in the Bay of Argostoli, where an unusual number of sea turtles find shelter and food during the seasonal reproductive season.
During 2013, more than 100 volunteers helped us protect and conduct scientific research to further understand the sea turtles of Kefalonia. The core project started in early June and continued until the end of the reproductive season, in early October. In this time, 47 sea turtle nests were protected and monitored, and 27 individual turtles were observed while swimming in the Bay.
Protection of sea turtle nests
The main nesting beaches we surveyed were in the areas of Lassi, the Airport of Argostoli, and the Bay of Avithos. Volunteer teams cycled to 11 beaches in this area every morning and walked along their entire length to check for sea turtle tracks from the previous night. In the areas of Lixouri and Lourdas we had significant help from volunteers who live in the area, with the help of regular visits from our team, ensured that the majority of nests were recorded and protected. In 2013 it was discovered that the beach of Megas Lakkos, near Lixouri, is more important for sea turtles than it was previously known, and daily surveying is planned for the coming season.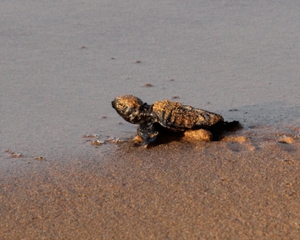 All turtle tracks were recorded and checked for the presence of eggs. On average, sea turtles will come out of the sea and crawl on the beach three times before they find a suitable location to lay their eggs. This behavior was consistent in Kefalonia, where 151 sea turtle tracks were recorded and the overall nesting success rate was 31%.
Despite the mother turtles' best efforts, a small number of nests were laid in unsuitable locations. The eggs were too close to the sea and would not have incubated if they were left there. These nests were moved to carefully selected locations on the same beach to increase their chances of hatching successfully. The overall nest success rate (hatched eggs/total eggs) was 61.7%, but relocated nests had an 83.8% success rate, which is much higher than average.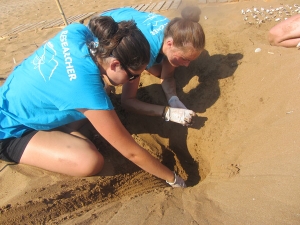 The average incubation period was 53 days. Most hatchlings came out of their nest within the first three days of hatching, but some took up to seven days longer to leave their nest.
Thirteen nests were affected by light pollution and the hatchlings emerging from them were at high risk of misorientation. Volunteer teams had to spend the night near these nests and move all emerging hatchlings to a dark part of the beach, from where they could safely crawl to the sea.
Turtles in the Bay of Argostoli
An important part of Wildlife Sense's research to protect sea turtles in Kefalonia is the observation of sea turtles that swim in the bay of Argostoli. Volunteer teams surveyed parts of the bay most frequented by turtles every day. On average, seven different turtles were observed each day; four of them were male and three were female. During the summer period, 27 individual turtles were documented via photo-identification.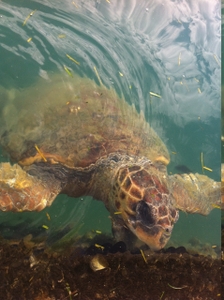 The turtles swam independently most of the time, but when they came close to another turtle in the water, they exhibited a range of social antagonistic behaviors. In total, 1630 behavior observations were recorded, including head to tail circling, biting, and sparring, but also non-competitive activities such as feeding. Some turtles were observed swallowing plastics floating on the water. To prevent this, our volunteers picked up plastics from the sea when possible using a small net.
Unfortunately, our work with turtles did not involve only live ones. Four sea turtles were found dead on the local beaches during the season. Two of them had been killed by a boat propeller, and one was missing one rear flipper. The fourth one did not have any visible injuries. Additionally, one turtle was seen in the bay of Argostoli with fishing line coming out of her cloaca and was transferred to the sea turtle rescue centre, where the fishing line and two hooks were removed and the turtle was able to return to the sea two months later.
We want to thank all volunteers who participated in Wildlife Sense in 2013 and helped us protect Kefalonia's sea turtles. We hope the experience of participating in the project and of visiting Kefalonia was worth your extensive efforts.
For additional information, you can read the complete report for 2013.