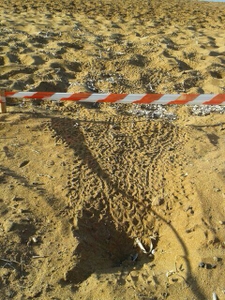 What a week it's been here in Kefalonia. Not only are we now up to our 70th nest- succeeding last year's figure by 13 – but we also had our first hatchlings emerging over in Megas Lakkos, Lixouri, all of which made it successfully to sea.
As we have now entered hatchling season boxing and shading shifts are being conducted every night on some of the beaches where the nests are most susceptible to light pollution, this is when a box is placed on top of the nest and a dedicated team of volunteers check every hour for hatchlings, transport them to a dark part of the beach and allow them to crawl safely to sea. Last season we found this to be a great success in reducing the number of disoriented hatchlings.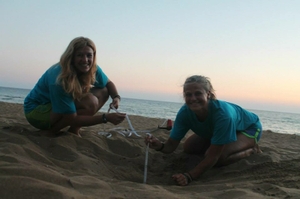 A further highlight of this week was the sunset relocation of a nest found by the morning team on Ammes beach which was quickly identified to be too deep for successful incubation, due to the increasing temperatures of August, all of our team returned in the evening to watch 100 eggs be careful moved to a new location on the beach to give the embryos the best chance of development.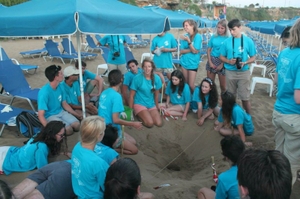 Meanwhile, in Argostoli Harbour a new female loggerhead sea turtle has been spotted. This has been confirmed by use of our photo ID project, which uses the scute patterns on a turtle's head and carapace to allow identification. The presence of a blue coloured plastic tag leads us to believe she is Italian, however this is yet to be confirmed. She will continue to be monitored alongside our resident turtles and we hope she decides to stay with us in Kefalonia.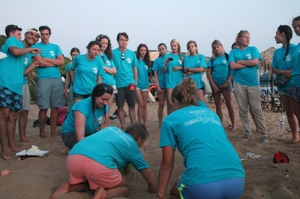 Unfortunately, we have had another incidence of female turtle being entangled in a fishing net which was found to be wrapped around her neck and flippers. She was skilfully caught and freed of the net. Sadly, this is something we are now becoming accustomed to with this being our seventh rescue of the season. Wildlife Sense is working with Port Police to ensure the law against fishing in the harbour is being enforced.
Written by: Rachel Louise Byrne