Chanel Comis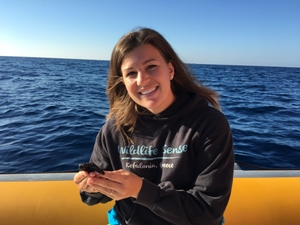 Chanel's deep desire to be an integral part of a team devoted to conservation efforts and scientific research has led her to work with sea turtles for over seven years. Her enthusiastic and ambitious attitude, combined with an inherent desire to work with endangered species has inspired her to promote awareness about these species and important environmental issues. Chanel has pursued this passion through working with several environmental conservation organizations, both in America and Greece. She earned her B.S. in Biology and minor in Chemistry with honors from the College of Mount Saint Vincent, NY, while interning at the Bronx Zoo, where she became interested in animal behavior. Chanel graduated from Coastal Carolina University, SC, with a master's degree in Coastal Marine and Wetland Studies. She conducted her research thesis on loggerhead sea turtle hatchling orientation in Kyparissia, Greece.

Nikos Vallianos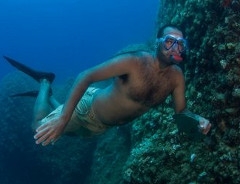 Nikos' love for the sea was fostered from childhood when he would often spend hours snorkeling to observe the sea bottom and its variety of plants and animals, often freediving at forty or fifty feet to reach them. Later in life, while working as a computer programmer, he volunteered with the Red Cross's Rescue Team in open water lifeguarding and earned a lifesaving instructor certification.
Since first volunteering for sea turtle conservation, Nikos has worked as a field researcher, field leader, and project coordinator for several conservation projects for over twelve years. He completed a BSc in Wildlife Management at the University of Aberdeen, UK, with a dissertation research project investigating the light pollution tolerance of sea turtle hatchlings. He specializes in technical instrumentation for research as well as the investigation and response to violations against wildlife and the natural environment.

Annya McKenzie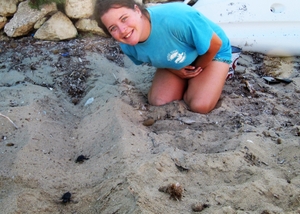 Annya completed her degree in the summer of 2016 from the University of Liverpool, where she received a BSc in Marine Biology. Since childhood, Annya has had a passion for working with and around marine life after growing up in Jamaica.
This will be Annya's 5th summer working with Wildlife Sense. Initially, she volunteered to gain work experience and more knowledge of sea turtles for her degree but really achieved so much more. She is now sharing her passion for sea turtles to anyone that happy to listen.
Along with Annya's degree and time working with Wildlife Sense she has gained many skills including leadership, teamwork, data collection and data entry. Her favourite shift is morning survey, heading to the nesting beaches while the sun rises.

Harry Thomas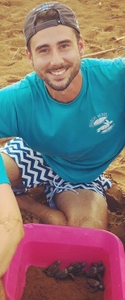 Harry graduated from the University of Cumbria in 2011 with a BA in Wildlife and Media and as part of his course undertook many exciting projects from photographing Tigers in India to filming Red Deer on the Isle of Rum.
His professional background has been in sports and education, initially as a gymnastics coach and then working as a teaching assistant, sports coach and class supervisor in schools. In recent years he has taken up photography and been fortunate enough to have some work published.
He has always had a lifelong affinity with wildlife and the natural word which led him to volunteer with Wildlife Sense for the first time in 2015. He returned as field leader for Lixouri the following year and will be using all the experience gained from 2016 and 2017 to once again take up the position on the Paliki peninsula for 2018. Whilst relishing all the challenges a standard season in turtle conservation can throw up he is particularly excited by the adrenaline of nighttime tagging!
Easy to talk to and a big-time team player Harry loves to learn and help others learn too. With a tendency to sing like no one is listening and dance on shifts, working with a smile is the aim of his game!

Emma Wilkinson
Emma is currently studying a BA in Geography at the University of Nottingham and is about to enter her final year. Growing up on the Norfolk coast in the UK, she spent her childhood in the sea; she has a strong affinity for the ocean and marine life. This and her desire to experience and conserve the natural world first drove her to volunteer with Wildlife Sense in 2016 when she was 18. This experience is when her passion for turtle conservation first truly materialised. Her time in Kefalonia also embedded her already independent and spirited nature which fuels her current studies and has led her back to Wildlife Sense to be the Argostoli Field Leader.