Chanel Comis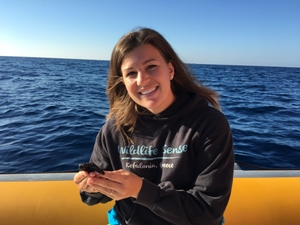 Chanel's deep desire to be an integral part of a team devoted to conservation efforts and scientific research has led her to work with sea turtles for over eight years. Her enthusiastic and ambitious attitude, combined with an inherent desire to work with endangered species has inspired her to promote awareness about these species and important environmental issues. Chanel has pursued this passion through working with several environmental conservation organizations, both in America and Greece. She earned her B.S. in Biology and minor in Chemistry with honors from the College of Mount Saint Vincent, NY, while interning at the Bronx Zoo, where she became interested in animal behavior. Chanel graduated from Coastal Carolina University, SC, with a master's degree in Coastal Marine and Wetland Studies. She conducted her research thesis on loggerhead sea turtle hatchling orientation in Kyparissia, Greece.

Nikos Vallianos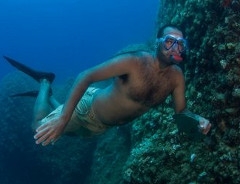 Nikos' love for the sea was fostered from childhood when he would often spend hours snorkeling to observe the sea bottom and its variety of plants and animals, often freediving at forty or fifty feet to reach them. Later in life, while working as a computer programmer, he volunteered with the Red Cross's Rescue Team in open water lifeguarding and earned a lifesaving instructor certification.
Since first volunteering for sea turtle conservation, Nikos has worked as a field researcher, field leader, and project coordinator for several conservation projects for over thirteen years. He completed a BSc in Wildlife Management at the University of Aberdeen, UK, with a dissertation research project investigating the light pollution tolerance of sea turtle hatchlings. He specializes in technical instrumentation for research as well as the investigation and response to violations against wildlife and the natural environment.

Annya McKenzie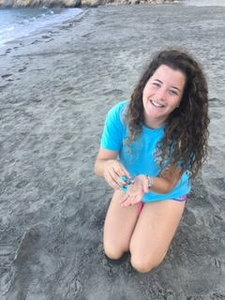 From a young age, Annya has always had a passion for the environment, in particular, the marine environment. Annya grew up in Jamaica and would spend hours a day in the sea looking for new fascinating organisms.
Annya's love for marine life only thrived as she got older leading her to the University of Liverpool, where she studied Marine Biology and graduated in 2016. During her time at university, her love for sea turtles was discovered. Now, 6 years later, she still works with Wildlife Sense and loves to spread her knowledge on sea turtles with others.
You'll often find Annya on the beaches finding sea turtle nests or along the harbour wall coordinating a tagging event. Her favourite thing during these events is measuring turtles' plastrons.

Harry Thomas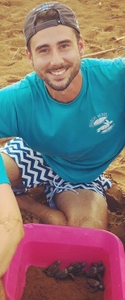 Harry graduated from the University of Cumbria in 2011 with a BA in wildlife and media but initially began working as a gymnastics coaching and teaching assistant. He first discovered Wildlife Sense whilst on holiday in 2014 when he spotted a person wearing a blue t-shirt, holding a stopwatch and clipboard walking along Argostoli harbour (on their harbour shift!). An enthusiastic conversation ensued and ever since he has had Kefalonia, it's beaches, people and of course it's turtles embedded in his heart! He volunteered the following year and from 2016 to 2018 led the Lixouri field station.
Since the beginning Harry has grown huge enthusiasm for learning to recognise individual turtles that visit the island whether they be mating, nesting, foraging or just passing through. His favourite elements of sea turtle conservation are night survey and photo identification of the harbour turtles. He cannot wait to get stuck in and see which familiar and which new faces will turn up for 2019!

Simon Waitland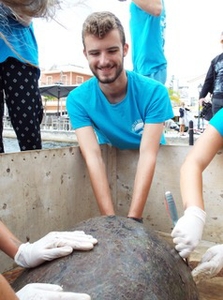 Simon studied Natural Sciences at the University of Exeter, before graduating in 2018. This course allowed him to study all aspects of science, from quantum mechanics to the mathematics of climate change, and it was here that his passion for marine conservation truly materialised. Having seen the difference that research-driven conservation efforts can make, he is keen to make a difference in the future of the marine environment.
He fell in love with sea turtles when first volunteering in the 2016 nesting season, driving him to return as a volunteer in 2017 during hatching, and again as a Field Assistant in 2018. Despite his best efforts, sadly his knowledge of Greek doesn't match his knowledge of turtles, so he spends his time in Kefalonia spreading the word of conservation to tourists on the harbour and nesting beaches.
A keen cyclist, he loves riding to the nesting beaches on morning survey and often takes a bike for a scenic journey around the island. As the resident DJ in Argostoli for much of last season, he occasionally listens to everyone's protests and will play a song you actually want to hear.

Sarah Balson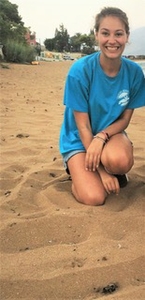 Sarah recently graduated from the University of Bath where she gained a BSc in Biology. During her course she particularly loved her modules on conservation leading her to volunteer for Wildlife Sense in 2016. Since this time, she has been back each year returning as a Field Assistant last year, sharing her ever growing passion and knowledge for sea turtle conservation.
Sarah enjoys snorkelling and watersports and loves exploring what Kefalonia has to offer. She's happy to help wherever she can and always has a smile on her face. Hatching season is her favourite time of year- there's nothing quite like being able to watch hatchlings emerge from the sand for the first time!

Holly Reid
Holly completed her degree in Wildlife Conservation in 2017 and wanted to gain more experience in the field with her favourite animal: sea turtles!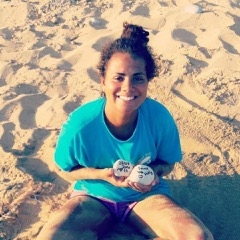 Holly initially volunteers with Wildlife Sense in 2016 whilst collecting data for her final year research project and then went on to work with sea turtles in a rehabilitation centre in the Maldives. After seeing the devastating impacts human presence has on coastal environments and in the ocean, she dedicated herself to working towards preventing those negative impacts.
After learning an array of skills like organization, team work and leadership, Holly loves to share her knowledge and passion of sea turtles in the hope to inspire others to do their bit to make the world a better place.