Artemis has made her way back home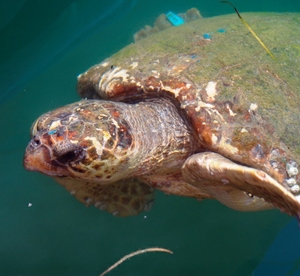 Artemis, a female turtle who was treated at ARCHELON's Sea Turtle Rescue Centre last season, has made her way back to Argostoli harbour this season. Artemis was first spotted in the harbour on 27 September 2013 with a fishing line protruding from her cloaca. This indicated she had ingested a fishing line and at least one hook, which had been caught in her intestines and posed a serious health risk. She was delivered to the rescue centre in Athens where she was x-rayed and then underwent surgery to remove two hooks - one hook from her esophagus and one from her intestines. After surgery, Artemis was fed a diet high in special oils which helped her pass the fishing line.

After the surgery and rehabilitation, the Wildlife Sense team fought for her to be released in Kefalonia, but it was determined by the Rescue Centre that it was in Artemis' best interest to be released at Anazyssos, near Athens. She was released at this location on the 29th of November 2013. Since then she has made the long journey back home to Argostoli harbour.
Artemis was first seen this year on the 5th of August. Initially we could not confirm from our photo identification project that the turtle in the harbour was Artemis as she had two new tags – one Monel tag (metal) on her front left flipper and one blue jumbo rototag (plastic) on her rear right flipper. Using photos taken for our photo ID project we could read the blue jumbo rototag number as A816.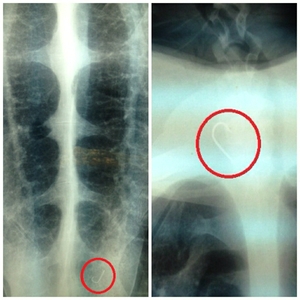 Following a routine health examination of the unidentified turtle, we took carapace and plastron measurements, did flipper checks and recorded the ID number on each tag. Our straight carapace length (SCL) measured 74.5cm and our curved carapace length (CCL) measured 78.5cm, which was very similar to our measurements of Artemis from last year. We also identified a small notch in her rear flipper which was one defining feature of Artemis the previous year. This data along with the ID numbers on the tags, provided to us by the ARCHELON, allowed us to confirm that the unidentified turtle was in fact Artemis. Despite having several leeches on her underside in her flipper cavity, she appeared to be in good health.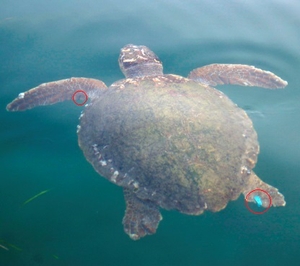 Since Artemis has returned, we have been able to monitor her whereabouts and behaviour daily with our morning harbour shifts. She is back to her normal antics, swimming along the harbour front waiting for fish from the fishermen, chasing Barb and posing for tourist's cameras. We feel very lucky that she has returned to our harbour and hope that in the future a sea turtle release in Argostoli Harbour will be possible.
Written by: Jess Betts
Edited by: Chanel Comis