August 15 Hatching 2022 News
.
Argostoli Field Station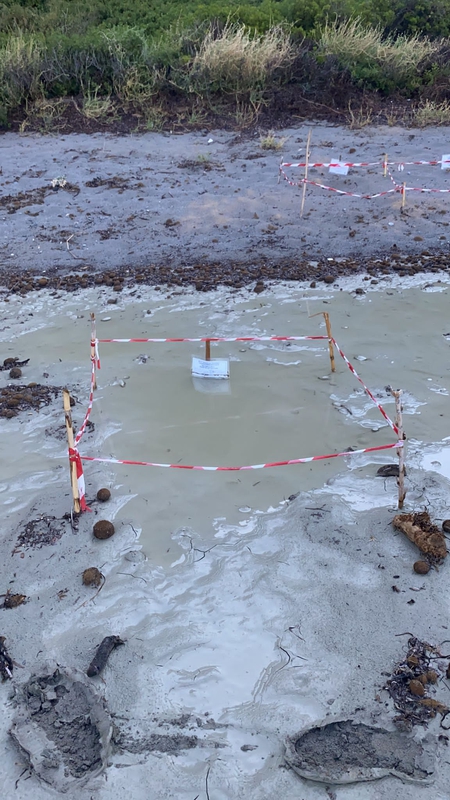 Its that time of the week again where we review all the exciting events we've had this week! Our team has been busy this week with several inventories on a range of our survey areas. We've loved seeing lots of faces from the public at these events. Just keep watching our social media accounts for information on our public events! From these inventories and our hatchling rescue night shifts we have now helped over 1000 hatchlings to sea! This is such an amazing number and is a great reflection of the work our team does. Every hatchling to sea is critical for this vulnerable species.
Even with more and more of our nests completing hatching, we still have new nests being laid! This week we have had 2 nests laid over a range of our survey beaches. We are excited to see if we will get any more, and of course, we are well prepared and ready for them. These nests have all had to be relocated due to late incubation periods going into storm season.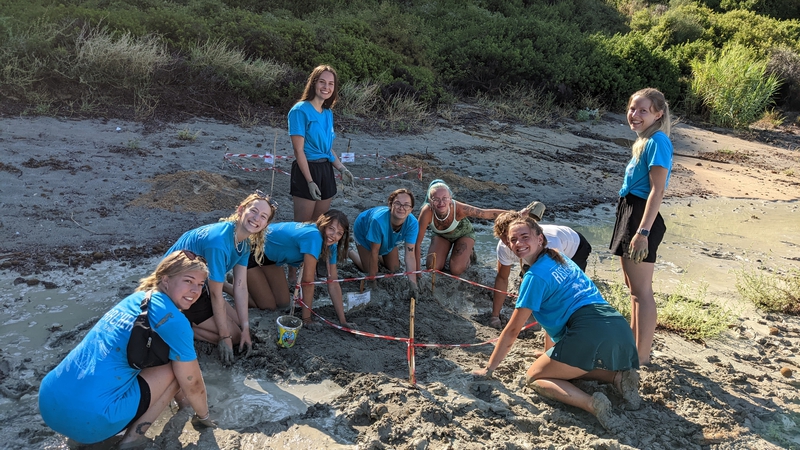 We also had a couple of emergency relocations due to severe weather conditions and storms. Our team was on the beach as soon as it was safe, they have been working so hard in protecting these nests moving them to a safe location. One of these situations was after the storm experienced towards the end of this week. This was when one of our beaches was extremely affected by the water and the clay runoff covering one of our nests. This nest was moved to a safe location on the same beach, all eggs safe and sound. This was an especially difficult one for our team but they did an amazing job and we are so proud!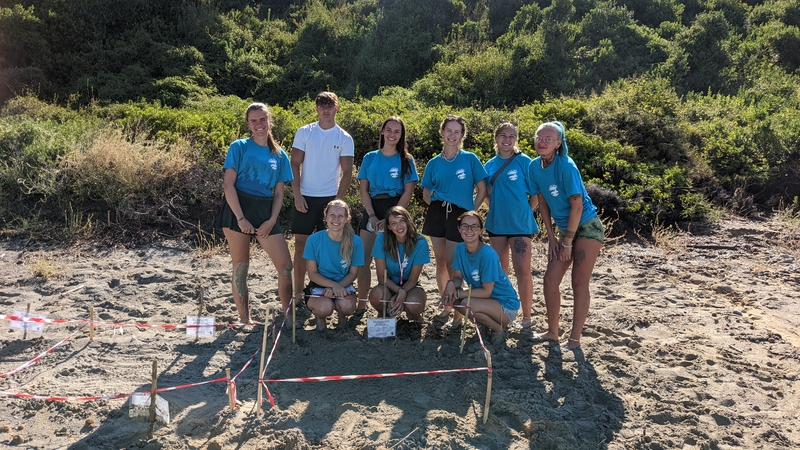 Our harbour has been relatively quiet this week but we are pleased to report phoebe, one of our resident turtles, is back and healthy! We have also seen the return of another resident, Bulbious, one of our harbour males.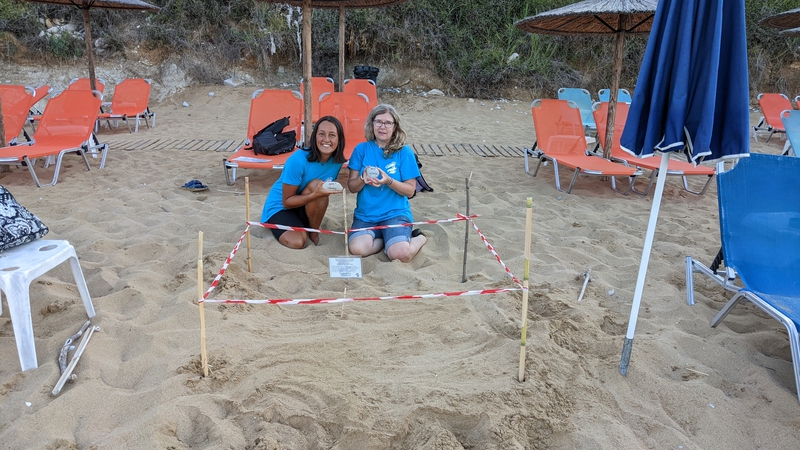 Very late last week we, unfortunately, had a dead turtle wash onto one of our beaches near the airport. This was an untagged female and the cause of death was determined to be a small propeller strike.
Volunteers haven't only been busy on the beaches this week but also keeping themselves busy in their free time. We have had activity nights including henna drawing, movies and our game of assassin coming to an end with three champions being crowned!!
Written by Emily Anderson
Lixouri Field Station
It's been an incredibly exciting week of hatchlings making their way to the sea across all of our nesting beach areas; either digging their way out of the nest during the night or being helped out during one of our inventories. Either way, the hatchlings crawl at least 12m along the sand before reaching the sea, warming up their flippers and imprinting on the beach. The imprinting process enables them to find their way back to their hatching beach in 15-25 years when they come to nest themselves.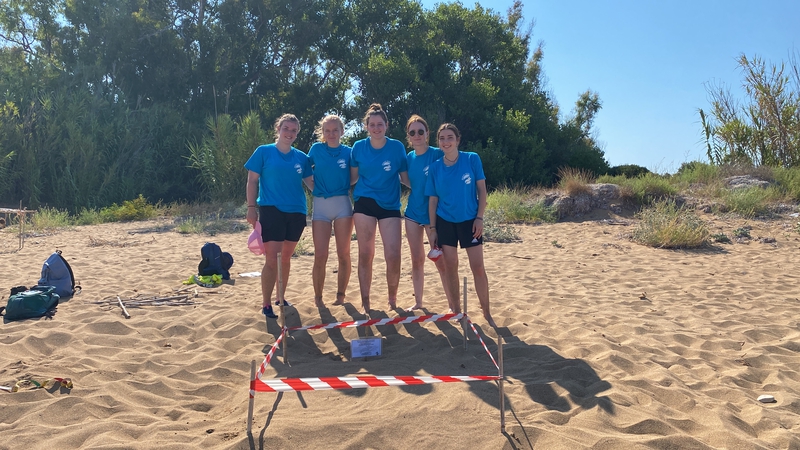 Megas Lakkos has been especially busy with hatchlings, with a total of 27 tracks found on Monday morning from ML11, ML12, and ML13, all of which took a direct route straight to the sea. Thursday was another busy day for hatchling tracks on Megas, with more tracks from four nests on Megas Lakkos.
A nest on Vatsa, which was found by hatching last Saturday, as you may remember from last week's news, has completely hatched over this week. A full inventory was completed this Saturday, seven days after it began hatching, revealing that 88 of the 96 eggs had hatched. 83 of the hatchlings were helped to sea by our volunteers during inventories, whilst the others would have hatched during the nights. We're really happy with the success of this nest and very grateful for our eagle-eyed volunteers for spotting the tracks and relocating the nest. Now that hatching is well underway, we'll keep our eyes peeled for any more hatchling tracks coming from unprotected nests.
On Saturday, after noticing a large number of animal tracks on Cape, we decided to introduce a hatchling rescue shift here to try to deter predators. So far, we've seen a reduced number of animal tracks, indicating that our volunteers are doing a good job of scaring away birds and pine martins. Two of our nests on Cape were fully inventoried this week, leaving just three more nests here to be protected.
One of our nests on Vrachanari was inventoried on Friday, shocking us all with 119 out of 121 eggs hatched- a success rate of 98.3%. The average success rate for nests in this area is approximately 80%, so we were extremely happy with the success of this nest. We're keeping our fingers crossed that many more of our nests this season is as successful as this one! Unfortunately, our first Vatsa nest of the season had a juxtaposing outcome, with a hatching success rate of 0%. Upon classifying these eggs, we discovered that they had not likely been fertilized, to begin with, due to us not being able to detect a single eyespot or any other indications of development. There was also a vast amount of pink bacteria present on many of these eggs, which may be transported from the mother turtle.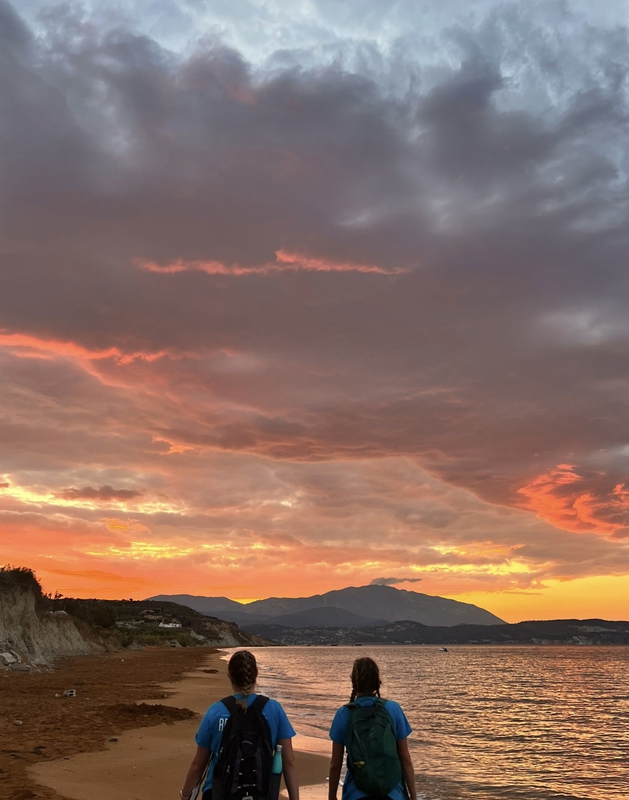 On Friday night we had our first storm of the season. Morning survey shifts had to be delayed slightly due to the heavy rain, meaning that we could not cycle to the beaches safely. Once arriving on the beaches, the wet sand on the nests had to be massaged to ensure that the hardened sand did not prevent hatchlings from being able to emerge. Our only remaining in situ nest on Kounopetra had to be relocated due to inundation from the storm. The eggs were transported quickly, but carefully, to our hatchery area on Megas Lakkos, where they are less likely to be inundated should another storm hit.
Our creative volunteers also helped us to create and decorate an 'Eggy Box', which has made candling eggs a much more comfortable experience. We candle our eggs before opening them just to make sure that there are no signs of life within the egg, such as visible blood vessels or movements. Overall, we had 10 full inventories this week, bringing our total nest count down to 51 nests in Lixouri.
This last week has gone by so quickly and we're sad to say goodbye to another group of volunteers on Tuesday. We'd like to thank all our volunteers for the incredible work that they've done protecting nests during hatchling rescue, watching hatchlings safely to sea during inventories, and recording tracks during morning surveys. As we move into no doubt another busy week in Lixouri, we shall look forward to keeping you guys up to date with all new hatchling activity!
Written by Kathryn Skazick and Mia Holman
Skala Field Station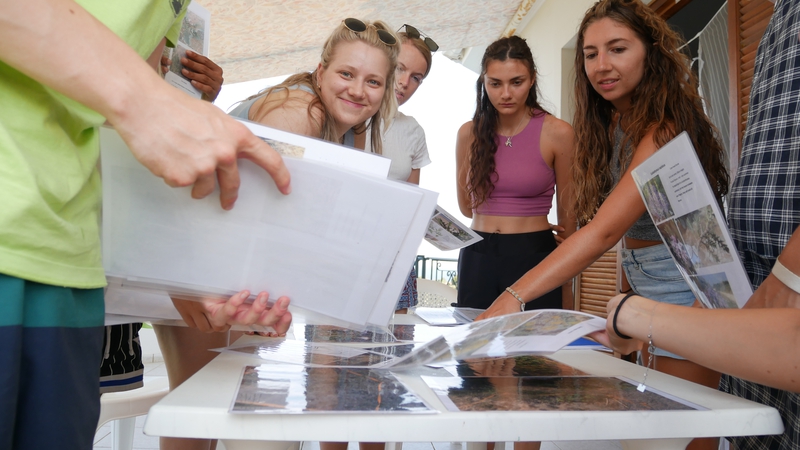 Last week we welcomed our fifth group of volunteers composed of 3 people from England, 1 from Scotland, 1 from Luxembourg and 3 from France. Summer is passing by quickly and it was already time for Léa, our dear intern, to leave. We thank her for her work and we will miss her.
As soon as they arrived, our new volunteers attended the training and workshops. A very lucky team witnessed the hatching of Caretta caretta turtles on Mounda Beach. While the volunteers were preparing for their snorkelling survey, about 20 small turtles invaded the beach to go to the sea. Everybody there agreed that seeing hatchlings before a shift made for the best snorkelling survey of the whole summer!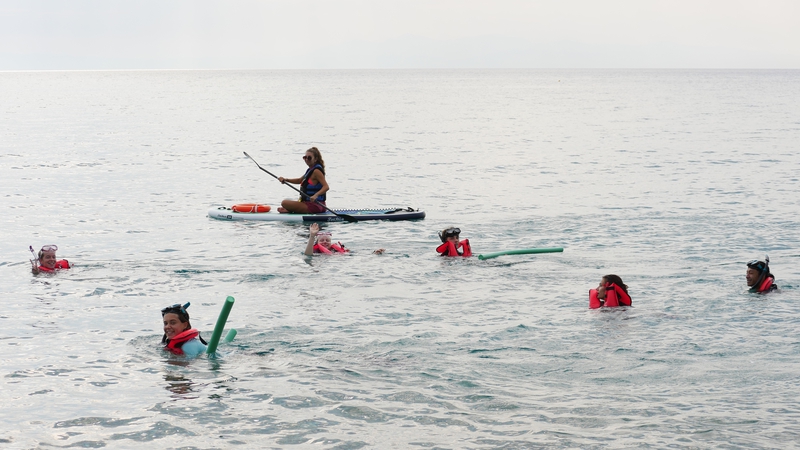 We continue to clean the beaches and the volunteers are working hard to collect data on sand dunes and Posidonia meadows. Now that it is August the beaches are crowded. So our volunteers are very helpful and a lot of trash is collected, especially receipts, cigarette buts and bottles.
Thanks to all our volunteers, we now have a lot of data to process which allows us to create informative maps.
During their days off, the volunteers have moved around a lot and had the opportunity to visit Fiskardo, Melissani cave, mini Myrtos and Xi Beach. Some of them spent two days on the island of Zakyntos. Of course we also took them to our favorite souvlaki restaurant in Skala and everyone liked this Greek speciality.
Written by Julie Mollies
---