August 2 Nesting Update: Hatchlings have arrived as nesting season slows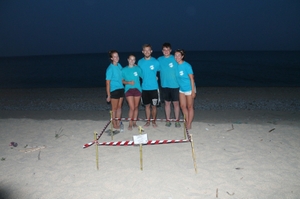 Very exciting news in Lixouri this week! On Tuesday, July 28, we had the first hatchlings of the season! At 3:10 AM, the first hatchling made it to the surface followed by another little hatchling twenty minutes later. This occurred on nest LP1 on the 50 day mark. Since Tuesday, we have had 30 hatchlings in total that have surfaced and made it safely into the sea. We will also begin boxing shifts on Megas Lakkos tonight. Hoping for more hatchlings this upcoming week!
As of yesterday, we started boxing two nests on Lepeda during the nightshifts. A boxing shift entails placing a box over the centre of the nest so that when the hatchlings surface, they are not disturbed by light pollution. The light pollution is quite severe near the nest of LP1 because it lies so close to a beach bar and light post from the street. Due to the severity of the light pollution, we create a trench, roughly 12 metres away from the sea at the other end of the beach where it is dark and not disturbed by light. This trench blocks light pollution for the hatchlings to make their way to sea and guided by the natural light, the moon.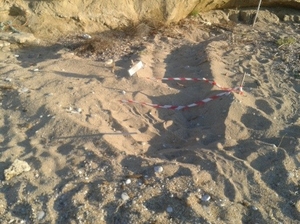 Along with nightshifts, we are continuing to do morning surveys on the beaches for the possibility of another nest being laid or hatchling tracks. This week, we haven't had any hatchling tracks but we have had sea turtle tracks but have not been completed with a nest. We are approaching the end of the nesting season but are still expecting a few more nests to be laid.
The previous week we had 3 new nests on Megas Lakkos, 2 of which were laid by turtles found on night shifts. The first nest was laid by a returning female, meaning she had previously nested and been tagged on Megas Lakkos this year, so had returned around 2 weeks later to lay her second clutch. However, she nested very close to a beach bar and walk way, therefore the eggs were relocated to protect them from disturbance.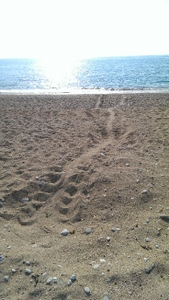 The second turtle hadn't been found on night shift before, so we tagged, microchipped and took measurements including straight carapace length, curved carapace width and rear flipper measurements. However, her nest also had to be relocated as it was too close to clay, and it heavy rain, this could damage the eggs.
This is an exciting time as we are in the changeover period between nesting and hatchling season, meaning our tagging teams and morning teams can still be finding new nests while boxing teams are protecting emerging hatchlings.
With 16 nests on Megas Lakkos, our volunteers in Lixouri have now helped to protect 22 nests in total, so, considering the average clutch size in Kefalonia is 88, that equates to roughly 1900 eggs!
Written by Molly Pink and Sophie Prater
This week the Skala project saw a surprising amount activity for Spithi, the smaller of our two beaches. A total of 19 emergences yielded 3 more nests for the quieter beach; bringing the nest count for Spithi up to 6. By comparison, a far less active week was had for Skala, with only 9 emergences yielding 1 more nest. The addition of this nest brought the total number of nests for #teamskala up to 15.
At the very start of a light pollution shift on Spithi on 26th July, Josh and Jake came across a turtle emerging from the sea. The light pollution team were able to observe the turtle emerge until the night survey team arrived. When the night survey team arrived, the small turtle was restrained, measurements were taken, and she was tagged and microchipped. These measurements and tags enable us to identify her for future records.
As we approach the end-half of nesting season, hatching season is about to begin! After a presentation by Jess on the methodology behind boxing nests and nest inventories, it was time to observe our very first With no signs of any hatchlings yet, #teamskala are eagerly awaiting the arrival of next week's new turtle hatchlings!
Written by Jake Horton and Josh Moore