August 2018 Hatching News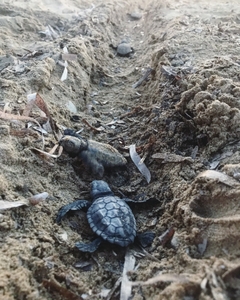 Lixouri Field Station:
It's been non-stop this week for Team Lixouri! Three new nests on Loggos, Kouneptra and Megas Lakkos bring our total up to 66 nests. Unfortunately, all of these had to be relocated to Lepeda beach as they were too close to the sea and at risk of inundation.
Nine nests have started hatching this week, with many of these involving mass hatchings (when 20 or more hatchlings emerge out of the nest in one go!). Our hatchling rescue teams have definitely been kept busy and a new record has yet again been set for the highest number of hatchlings helped in Lixouri on hatchling rescue with 96 in one night - well done to Louise and Katy!
Alongside this, we will have performed 15 inventories by the end of the week! This is where we remove and count any empty egg shells and open any undeveloped eggs to look for signs of black fungus or pink and green bacteria. Sometimes we find hatchlings that may be in need of some extra help, so a trench is dug to help them make it to sea. We also invited the public along to 3 of these inventories and it was great to see so many tourists and locals there, asking lots of questions which our volunteers were more than happy to answer!
- Sarah
Lixouri Volunteer:
" I've been volunteering with Wildlife Sense for a little more than three weeks now, and I have enjoyed being involved in a wide range of activities promoting the conservation of Caretta caretta, whether it be the day-to-day routine of having to manage a group of volunteers or the terribly exciting hatchling rescue shifts. Along with the full-blown hatchling craze, public nest inventories are also a huge part of our week these days – and an opportunity like no other for tourists, by-passers and locals to understand our work and learn more about loggerhead sea turtles. I've always found educating people about wildlife to be highly rewarding: yes, answering the same questions over and over again (how many eggs in a nest? how long before the hatchlings come out? And, of course, the timeless: Are they coming out tonight?) might not be a particularly thrilling thought – but being able to get them interested (not the hardest job, to be fair, we are talking about baby turtles), and maybe, just maybe, making them reconsider their own actions in the light of wildlife conservation is a reward like no other. Among the people we talk to, who knows, there could be an aspiring biologist who just found their way, a future politician or law-maker who just realised the importance of wildlife and of safeguarding our environment – but no matter the public and their potential future impact, there is always a bright-eyed kid in the crowd, a chorus of "wow" when we hear an "Alive within!" and catch a glimpse a flailing hatchling fresh out of the eggchamber, there are always pairs of eyes transfixed by the vision of it making it to the sea. Being able to share this joy with them, and, along the way, making them realise the importance of conservation, is a very unique feeling and one of my favourite things here at Wildlife Sense."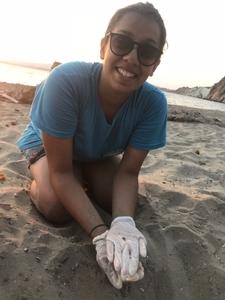 - Laura-Li
Argostoli Field Station:
Another week has flown past in Argostoli and we're thrilled that this week has brought with it more hatchlings and, a surprise to us all considering the time of year, another nest last Thursday. This now brings our nest total in the Argostoli area up to 56!
After plenty of mass hatchlings, we've been busy carrying out partial inventories of our nests, to ensure that those who remain in the nest are able to make their way up to the surface safely. A partial inventory on a nest in Minies on Monday revealed a great surprise, the inventory revealed 45 hatchlings alive above the egg chamber and a further 22 alive within! Without this intervention, the safety of the hatchlings within the nest cannot be guaranteed and shows how important they can be.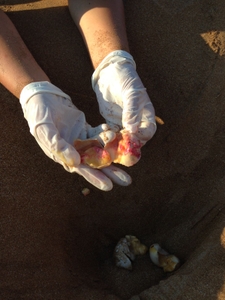 - Chess
Argostoli Volunteer:
"I have been volunteering with Wildlife Sense for about 10 days now, and so far it's been a pretty amazing experience. As I come to the end of my two weeks here, looking back I've realised I've achieved quite a lot. It was a little challenging in the start with the cycling and early starts, but doing things outside my comfort zone has helped me realise I'm capable of a lot more than I thought. Putting personal challenges aside, it has been incredible learning about turtles and how important they are to the environment. Its also been very educational seeing first hand what kind of a negative impact human activity is having on the wild animals and why it is important to help preserve them. I'm sure like many others, the most exciting part of this experience was seeing the hatchlings and helping them to the sea. I am in complete awe of these beautiful animals, and it's safe to say that seeing the hatchlings is up there in my top life experiences."
- Jan