August 2018 Stormy Hatching News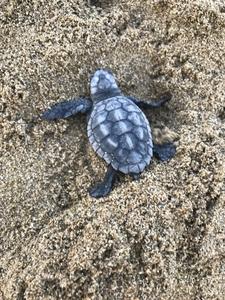 Argostoli Station:
This week in Argostoli we had a short break in the fine weather we were having when a huge storm hit us, early on Thursday morning. Shifts had watched the lightning from the safety of the other side of the island during their Hatchling Rescue shifts, but the heavens opened as Morning Survey were due to leave. As soon as we had a break in the weather, we took the opportunity to do checks on the nests to ensure no hatchlings would be caught underneath the dense, wet sand. Doing this proved essential as ~40 hatchlings were taken safely to sea from nests on Avithos alone. We're all relieved that the weather has since returned to its warm, sunny self but the opportunity highlighted the quick response needed to the storms that will likely be upon us towards the end of the season, to ensure the safety of as many hatchlings as possible.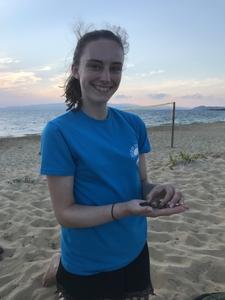 Our new volunteers have settled in well, with some of them hitting their half-way mark with us already – time is absolutely flying! Last night many of us enjoyed the opportunity to sit down together in the evening for a screening of the movie 'Up' and we're looking forward to a team dinner this evening of Souvlaki, to set the team up for the week to come! This week has also seen us carry out many partial and full inventories of nests. Inventories are carried out when we have a mass hatching event in a previous evening (defined as twenty or more hatchlings) when a nest hasn't had any hatchlings for 7 days, or when the nests hit day 70 (70 days after the nest was laid). Many of these inventories are public, so keep checking our Facebook page 'Wildlife Sense' to keep up to date with our inventory schedule as we'd love you to join us! We were thrilled that Mike and Shirley, long-term Wildlife Sense volunteers, were able to join us again on a recent inventory on Ammes after a small hiatus. It's great to have them back with us, sharing their expertise and supporting us where they can!
- Chess
Lixouri Station:
What another great week in Lixouri! It's fair to say it's been a busy week for our new volunteers that arrived Tuesday. Their enthusiasm and willingness to get stuck in has been great. More and more nests have been hatching, taking us past the halfway mark! Another two nests were also located by our morning survey teams, through hatchling tracks from protected areas. These areas were not originally marked as nests as the adult female turtle did so well at hiding her eggs but were taped off just in case!
Mass hatchings appear to be a regular occurrence, especially on Megas Lakkos. Many partial inventories have been carried out on morning surveys by our volunteers as a result. This is where empty eggshells are removed, and trapped hatchlings are freed. Any unhatched eggs are then reburied in the hope more hatchlings emerge from them. After this week, it should quieten down on Megas Lakkos as new nests aren't expected to hatch for another week or so. We have new nests expecting to hatch this week on Lepeda and Vatsa so our hatchling rescue teams will continue to sleep next to these nests to protect hatchlings from light pollution.
A thunderstorm swept across Lixouri on Thursday morning and all morning survey teams managed to find some shelter just in time to watch the spectacular storm. One team were also offered some hot chocolate by the lovely locals as we sheltered in their tavern. All nests were later monitored through top egg checks to ensure that any hatchlings could make it safely to sea, and moisture checks to look out for any inundations. Luckily, all our nests were safe! As the day went on, the weather calmed down and we were able to release our rehab hatchling! This hatchling was very weak and had a curved carapace making it hard for the hatchling to swim and come up for a breath. After a couple of days being monitored in rehab, he regained his strength and despite a slow start, was able to swim away perfectly!
We can't wait to see what next week has in store for us!
- Sarah