August 7 Hatching 2022 News
.
Argostoli Field Station
As we get into summer we are now in full swing of hatching season! However, we are still finding and protecting nests daily. Many of these nests are having to be relocated due to the late season laying and therefore the incubation period will be in storm season. One interesting event this week was a nest being found on one of our Lassi beaches. This is particularly exciting as we have not had an emergence on these beaches for over a month!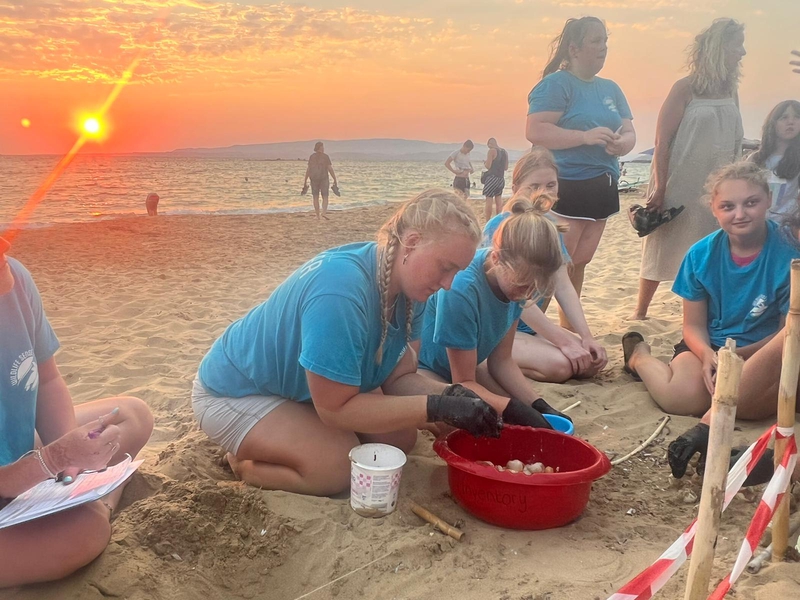 In more hatching news, all of our survey areas now have hatching nests. This makes for very busy nights for our hatchling rescue night shifts. The volunteers are working incredibly hard to ensure all the hatchlings make it to sea safely and are not deterred by light pollution or even interference from animals such as cats. We have even had a couple of mass hatchings, where 20 or more hatchlings come out of one nest during one night. Reasons for mass hatchings are often due to the vibrations of one or a couple of hatchlings triggering others to also hatch. One of our hatchling rescue teams even had as many as 88 hatchlings at once! Also very excitingly, we have started doing more and more inventories! This is where we will go into a nest which has already been hatching for 7 days. When conducting a nest inventory, we are assessing hatched and unhatched eggs and record the presence of bacterial and/or fungal growth the eggs have. This week alone we have done two inventories, both on Megali Ammos. Unfortunately, one nest only had a 37.5% hatching rate. The other nest we inventoried this week did exceptionally well with a hatching rate of 95%. This highlights the difference between nest success and the importance of our morning surveys throughout the nesting season.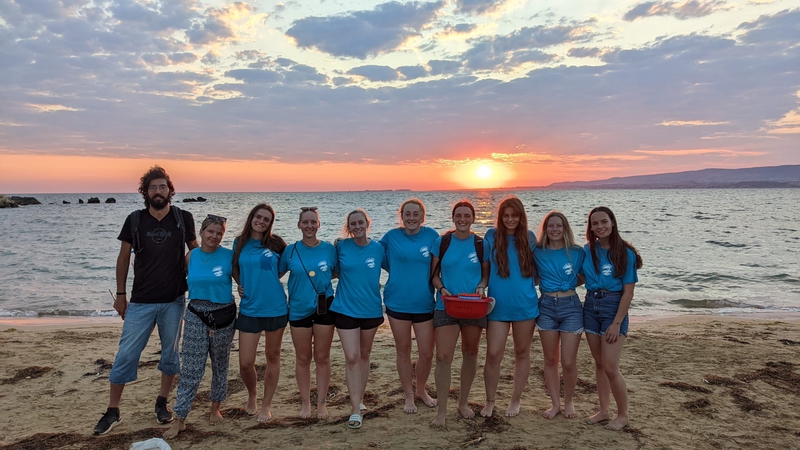 Despite being very busy with the beaches, we are always continuing to monitor the harbour as well. Our resident turtle Barb is well and truly home now and settled into her daily activities again putting a smile on all our faces. Unfortunately, we had a dead turtle in the harbour reported to us this week. Our team was on the scene as soon as possible and identified the turtle as Wasabi, one of our tagged juveniles. Wasabi had endured a severe boating injury and had propeller strikes, due to the severity of the injury we were unable to effectively remove the turtle from the harbour ourselves.
This week it was once again time for us to welcome new volunteers. The start of the week was, as always, busy with training and we are super pleased with the enthusiasm the volunteers are demonstrating, this is truly reflected in their work. One of our volunteers even ran a quiz for everyone this week which was great fun and included all sorts of turtle knowledge. We cannot express our gratitude for all the work our volunteers do!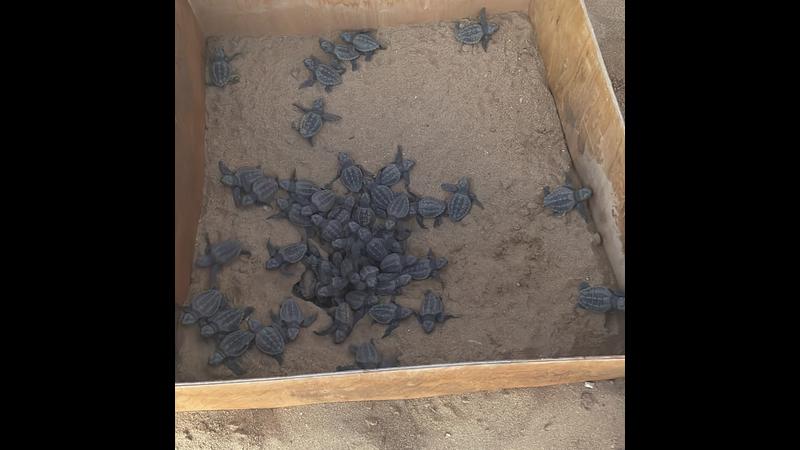 Written by Emily Anderson
Lixouri Field Station
Our new group of volunteers has certainly been thrown straight into the action, arriving at the beginning of yet another busy week in Lixouri. Since we last updated you, four more nests have started hatching, across all three of our morning survey areas (Vatsa, Megas Lakkos, and Lepeda), and many more are soon to be approaching their 45 days of incubation, which we are all keeping a close eye on as we could be expecting hatchlings from them any day now. With our second nest now hatching on Lepeda, our hatchling rescue teams have been able to enjoy their evenings by guiding any emerging hatchlings to the sea and ensuring they don't become disoriented by any nearby light pollution.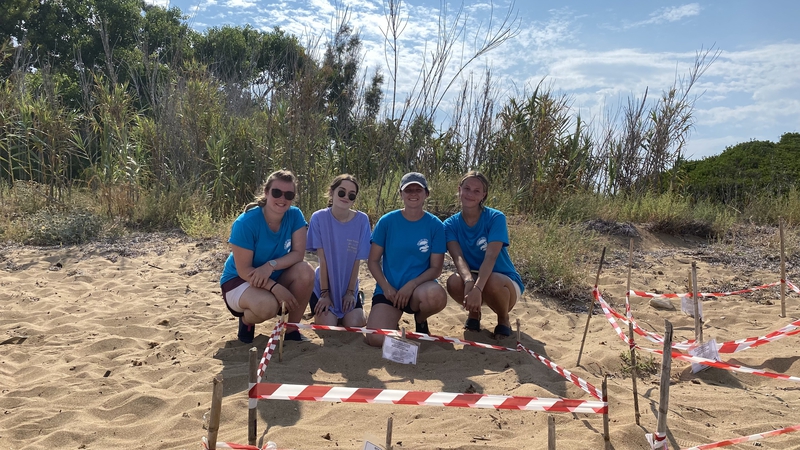 Due to the high level of hatching activity over the past week, we have completed a total of 19 nest inventories (both partial and full) where we go into individual nests and get a closer look at what is going on within the egg chamber. These inventories are hugely valued for data collection, classification of development stages, and releasing hatchlings that may be trapped inside the egg chamber under a large number of hatched eggs.
Hatching season is well underway, but this doesn't mean that nesting season is over quite yet. Although our Megas Lakkos night surveys have now finished up for the rest of the season, we have since had numerous emergences on our two other survey areas, with our Vatsa area being particularly exciting this week with new nests being laid on Wednesday, Thursday, Friday and Sunday! All but one of the five nests found required relocating to a more suitable area of Vrahinari, to reduce the risk of inundation later on in the season when harsh weathers occur and storms become more prevalent. A new nest was also laid on Cape on Monday, where the nesting female decided to go crawl over a previously laid nest and destroy the nest protection in the process. Thankfully our vigilant morning survey teams record GPS coordinates and triangulation measurements when nests are first protected, which luckily meant we were able to safely locate both the egg chamber of the previous nest and also the freshly laid nest, which was also relocated due to being in such close proximity to the sea.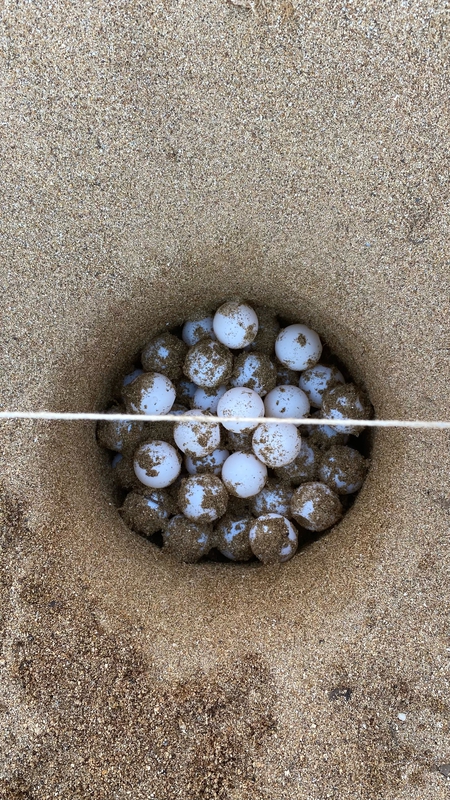 On Wednesday we received a call regarding a fishing line entanglement of a turtle in the nearby Lixouri port. Thankfully a few members of our fast-thinking team were able to rush down immediately to locate this turtle, which had fortunately freed itself from the line, with the reassurance of our core team double checking the carapace and flippers for any remaining fishing line before they were able to swim away freely. Incidents like this truly prove how important it is to keep our oceans as clean and free of fishing lines as possible, to ensure a more harmonious world for both humans and sea turtles.
On Saturday our morning survey team discovered that several hatchling tracks had emerged outside any of our protected nests. After following the tracks across the beach, it was concluded that they originated from the vegetation towards the back of the beach, where we had no record of a protected nest. Although some tracks went straight to the sea, most were disorientated, likely due to the severity of the light pollution from the nearby beach bar, hotel and street lamps. Our team relocated this nest further along the beach where light pollution is less prominent.
During any free time outside ensuring those hatchlings take their first few breaths and scribing nest inventories, our creative volunteers have partaken in a variety of activities, such as creating origami turtles out of green cards and decorating the carapace with previously sifted microplastics, which hold both direct and indirect effects on our sea turtles, from the chemicals leaching into our oceans to increasing the temperature of the sand and causing interference with the ordinary incubation process.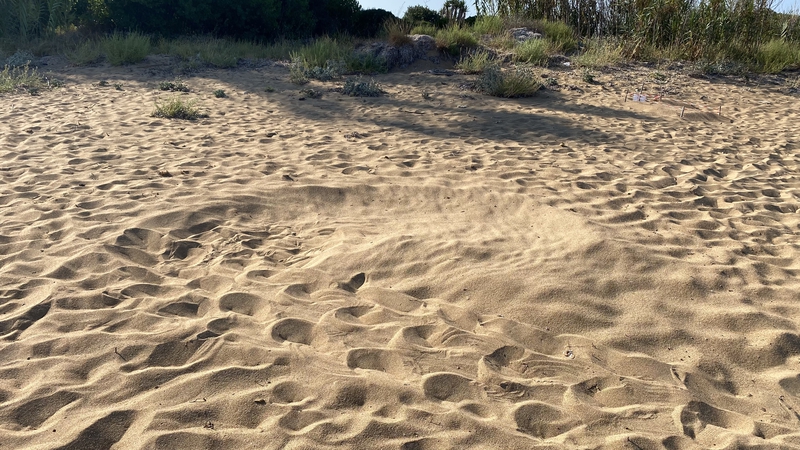 As we move into the next week of hatching season, we are beyond excited to keep track of our hatching nests and cannot wait to keep you all up to date with any new nests that may start hatching; likewise, we are also keeping our fingers crossed for a few last nests of the season, so we can feel that drop one last time!
Written by Mia Holman and Kathryn Skazick
Skala Field Station
In the past ten weeks, the Marine and Coastal Conservation project has welcomed 27 dedicated volunteers from all across Europe and even the United States who have worked hard throughout their stay collecting a variety of data daily and preparing it for processing. With their help and feedback we have managed to improve this newly established project, determine the coverage of different plants on the sand dunes, map a big portion of the seafloor and dunes in both Skala and Mounda and also identify the threats these ecosystems face in these areas.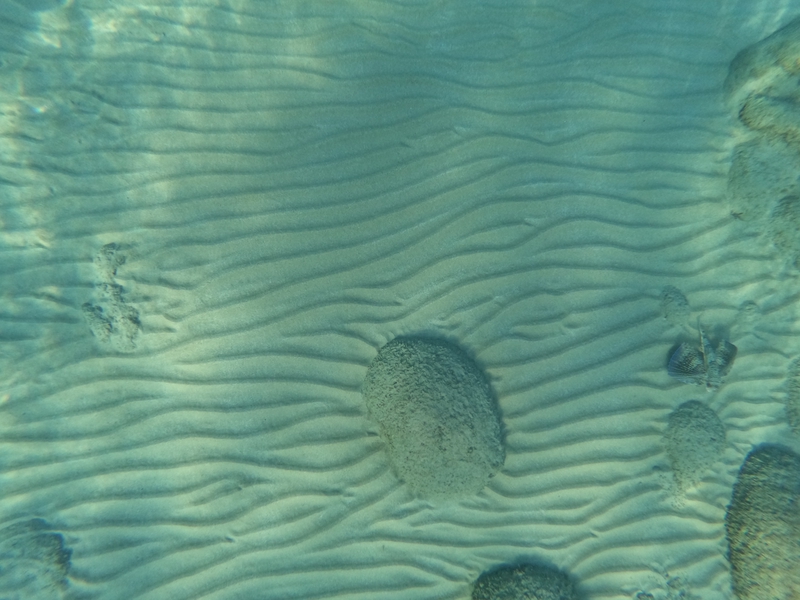 Through their efforts we have completed 30 Posidonia surveys, 45 sand dune habitat surveys, 36 litter picking surveys and 19 drone surveys. We have identified 18 plant species found on coastal sand dunes that hadn't been officially recorded in this region before and have removed 60 sacks of rubbish from our beaches. The team has also reported that the sand dunes on the South end of Mounda beach is the most polluted area followed by the area near the hotel on the same beach. This might be due to the lack of bins in those locations, which is something we could work towards in the future. On the other hand, Skala is relatively clean with trash found mostly along the road and near bins. This might be attributed to beach bar owners who try to keep the area around sunbeds clean to attract clients.
During our snorkelling surveys, our team often see drags created by chains and anchors which can be detrimental to Posidonia meadows since they rip out the plant, not allowing it to develop and extend toward the shore. This is mostly seen on Skala, which is highly touristic and many leisure boats like to stop there. Unfortunately, we have noticed that these boats stop near the locations where we've observed young Posidonia shoots posing a great threat to the forming meadows.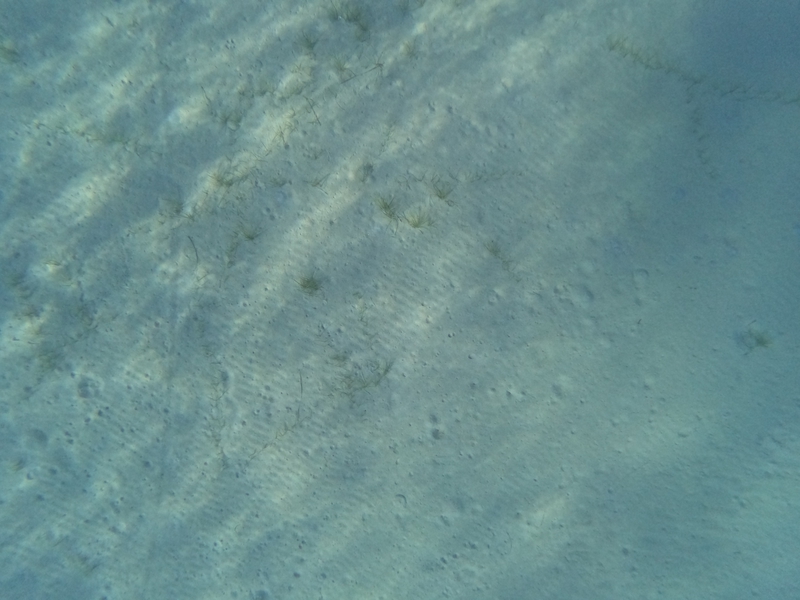 On Thursday we welcomed the fifth group of volunteers and we realised that we are past the middle of the season with only three groups and eight weeks remaining. On their first Posidonia survey, the team saw a flying gurnard (Dactylopterus volitans), a ray and a starfish and now they can't wait to go snorkelling and further explore the Mediterranean!
Written by Katiana Vlachopoulou
---