August 8 Hatching Update: All project locations have hatchlings!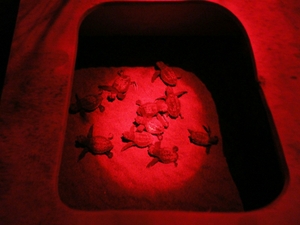 The first hatchlings of the season in the Argostoli area arrived at Ai Chelis on the 4th August. There were 13 hatchlings that emerged and they all made it safely to sea with a small amount of encouragement from our volunteers during a boxing shift. Beaches that suffer from light pollution from varying sources e.g. beach bar lights and road lights are monitored once their 45 day mark of incubation has arrived. Monitoring these beaches is essential to make sure the hatchlings don't follow artificial light in the wrong direction and make it to sea with a little help from us. When hatchlings emerge from their nest we put them down a 12m trench in a dark area of the beach, which allows them to imprint on the beach, and so if they are female they will return one day to lay their own eggs here. The 12m trench is also vital to enable them to stretch and warm up before the long swim they are about to face.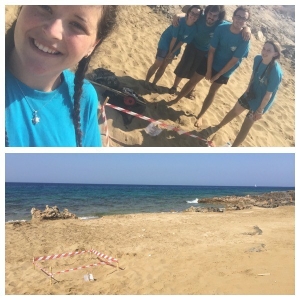 This week also led to 4 more nests meaning the most recent nest count in Argostoli is 30! Out of the 4 nests found, 3 needed to be relocated to different areas, as they were all too close to sea. One of the 4 nests was also found on St Nickolas, a remote beach that was sparsely monitored due to lack of light pollution and its remoteness. This nest meets all the requirements to stay in the same location, so no relocation was needed.
#TeamArgostoli have had a great week with hatchlings starting to emerge from their nests and adult females still laying nests!
Jane Batchelor & Annya McKenzie
A week of mixed emotions for #TeamSkala; we said goodbye to much loved team members, welcomed 30 new hatchlings to the world and three new colleagues!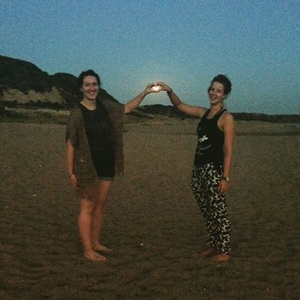 This week saw the departure of Kim, Josh and Jake, as their 9 week Internship and Erasmus Projects came to an end. Thank you to all three for your continued dedication and enthusiasm for the project. You will be missed!
The team warmly welcomed our new Field Assistant, Billie, who has previously volunteered in Argostoli. Billie is new to the Skala area, and seems to be enjoying the abundance of turtles, both adult and young, that we have here. Seeing them whilst snorkelling is a particular highlight.
Katie and Harriet also joined the team this week. They are currently completing all aspects of training, including how to operate equipment and how to complete an all-important nest inventory, skills which will come in handy throughout their 9 weeks with the team. Alongside Billie, they will see this project out to its conclusion.
After 58 days of incubation, our first nest laid on Skala beach, SK1, hatched! It was an incredibly exciting night for the whole team. We welcomed 29 babies on the first night of hatching and one more the night after. The team were very lucky to then witness an adult female emerge, dig an egg chamber and lay her eggs near the hatching nest!
Tourists and members of the public are showing a huge interest in our nests as they start to hatch, and we all seem to be enjoying the public relation side of our work. We look forward to welcoming more hatchlings to Skala beach, and giving them the much needed helping hand to the sea.
Written by Megan Walley