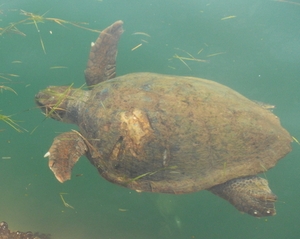 A familiar face has once again been spotted in the Argostoli harbour, Kefalonia. This female loggerhead tea turtle, affectionately named Barb, was involved in more than one emergency rescue attempt last summer after ingesting barbed fishing hooks. However, it's not just this love of fishing hooks that sets Barb apart from the rest.
Female Loggerhead Sea Turtles generally return to their nesting beaches every 3-4 years, spending the time in between performing their large scale migratory patterns to the Gulf of Gabés or the Adriatic Sea…..but not Barb. Her initial tagging in Zakynthos in 2003 has been followed by many consecutive appearances, some in the Argostoli harbour and some on the nesting beaches of Zakynthos, implying a far shorter migratory pattern than most other Loggerheads.
Through close observations of the Argostoli harbour turtles, we hope to better understand these unconventional behavioural patterns and determine whether other turtles might also behave in a similar fashion.
by Laura Bartlett-Short