Beach cleaning for World Oceans Day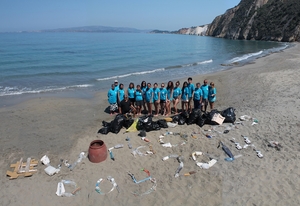 The Wildlife Sense team celebrated the World Oceans Day with a cleanup of Minies, one of Kefalonia's little known sea turtle nesting beaches. Due to its north facing, thousands of plastic items wash out on this beach during spring storms. Plastic bottles, packaging, other plastic and foam-made items, and even part of a fridge and an empty fire extinguisher were collected during the cleanup.
Plastics floating in our seas are a significant hazard to wildlife and humans alike. Although many plastics seem to disintegrate after some time, they do not actually decompose but only break into tiny fragments, becoming almost invisible to the human eye. This debris is collected by water-filtering organisms and through the food chain eventually ends up in predators, including humans. Other plastics are a threat before they break up. Sea turtles confuse them for jelly-fish and other sea delicacies and swallow them. Some are big enough to make the turtle unable to excrete them, and end up degrading the turtle's health or eventually killing it.
We would like to thank all beach visitors and locals who assisted in our beach cleanup.