Beaches of Lefkada surveyed for sea turtle nests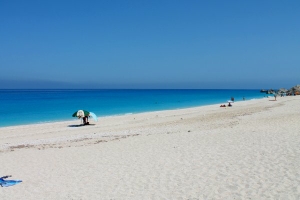 A team of MEDASSET volunteers is currently performing monitoring surveys to assess the status of sea turtle nesting on the island of Lefkada. The surveys will continue for two weeks and consist of morning patrols on all potential nesting beaches of the island.
Sea turtle nests in Lefkada were first recorded after ARCHELON perfomed short surveys in 1990. No surveys have been carried out since, but nests are occasionally reported by the Lefkada Animal Welfare Society and local residents. These nests are commonly found after they have been dug up and eaten by dogs or after hatchlings have been found crawling on the beach during the day or into nearby restaurants and bars during the night.
To understand the current numbers and locations of nesting activity and whether conservation measures may be necessary, we organized a two-week rapid assessment survey with the aim of recording where and how many sea turtle nests are laid in Lefkada. The surveys are performed by a team of volunteers from Greece, Albania, and Serbia, and is financially supported by the British Chelonia Group.