Children rescue sea turtle nest in Ammes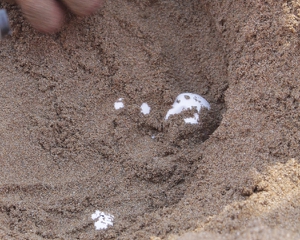 Jude & Emmie Harrison, two young cousins from the UK, were having fun on Ammes beach last Wednesday when something extraordinary happened; while digging in the sand near the waves, they came upon a clutch of white spherical objects that looked like ping-pong balls. Although they are both less than ten years old, they realized that these were sea turtle eggs and notified Jude's mother. She talked to Panagiotis, who operates the rented sunbeds and umbrellas on the beach, who then called Wildlife Sense.
When we received the phonecall and rushed to the beach, we were worried that the eggs were already being washed away by the waves or exposed to sunlight, but Jude and Emmie had followed our instructions and covered the eggs with wet sand to keep them cool until we arrived. This gave us the opportunity to relocate the eggs to a safer location on the back of the beach, away from the waves that slowly encroach on the beach.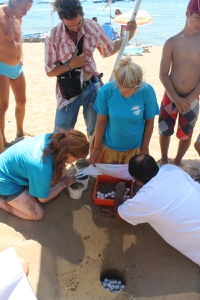 Relocating a nest is not an easy operation; it requires a well-trained and well-coordinated team, as well as special equipment. All eggs were marked and handled carefully to retain their original orientation while they were placed into a special container. They were then relocated into an artificial eggchamber at the back of the beach, at the same depth as the original nest. There, the eggs will incubate without danger from the waves. In seven weeks, we will be looking out for hatchling tracks going towards the sea and take photos to send to our two young friends who found the nest.
Special thanks to Jude and Emmie from the turtles!