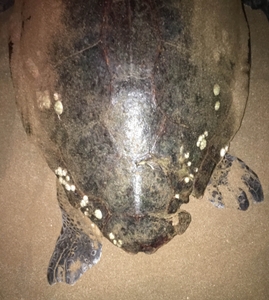 Exciting new discoveries are made on a daily basis here at Wildlife Sense. New and interesting data for the project gets us all buzzing! Over the past few weeks of the nesting season, the team over in Lixouri have been able to tag and record many different nesting females. This is possible due to night surveys carried out on the project area's longest beach Megas Lakkos. During night survey a team of researchers will patrol the beach from dusk till dawn looking for emerging females to which they apply or record tags, perform health checks and collect other important data such as measurements and nesting activity times, all whilst creating a minimal disturbance. The Lixouri team have been fortunate to encounter at least 10 different loggerhead turtles on their patrols. Some individuals have been encountered more than once and a few real characters have emerged!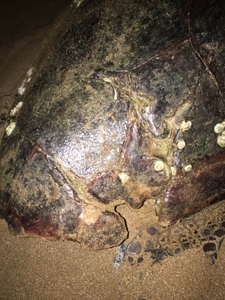 One turtle, in particular, has been raising eyebrows amongst project members since her first emergence on the 22nd June 2017. At 11.23pm night survey spotted a turtle emerging and when the shift leader, the Lixouri field assistant Milly, went to restrain she could clearly see that this particular loggerhead had previously sustained some substantial injuries. After her health assessment, she was found to have a large and intrusive boat strike injury on the rear right of her carapace. An interesting sore/puncture wound on her front right flipper near the shoulder and a small hole near the tip of her front right flipper. Complete with a massive barnacle load and leeches she really appeared to have had a rough life! All leeches and barnacles were removed as she made her way back to sea.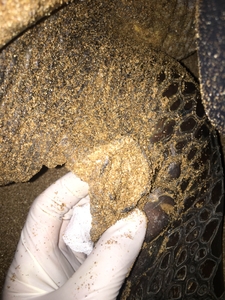 She clearly was not too bothered by having her measurements taken and being tagged as she made a second appearance the very same night. Already Milly had begun to grow quite fond of this turtle's character! On return from the survey the following morning, she decided to name the turtle "Michelle" and believe me it stuck from the word go!
After discussing the injuries that had been recorded and photographed a call was made to the coordinators of the project to decide what action could be taken to possibly help Michelle. The conclusion was drawn that because she had not nested there was a good chance she would make further appearances over following nights. So, the following night survey Harry, the field leader for Lixouri, accompanied the shift on the beach with the aim of conducting a further check of her injuries and take detailed photographs and make an in the field call to decide whether this turtle was a priority for rehabilitation and serious care.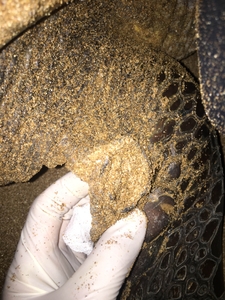 Lo and behold as predicted Michelle emerged again, clearly determined to lay her clutch on Megas Lakkos. Again, she chose not to nest and the team proceeded to conduct more thorough examinations. Although her injuries looked as though they had at one point been very serious they had begun to show signs of progressive healing and since she had not yet nested the decision was made to let her continue as normal with her nesting season but to provide some first aid care whenever she was encountered and continue to monitor her condition.
Michelle proceeded to take some leisurely time to herself for the next few days and refused to make an appearance on the beach. Perhaps she was sick of seeing the same Lixouri faces over and over again! Until finally, she completed her task and on the night of 26th June laid her first clutch under the watchful eyes of guess who…Milly! This was exactly what the team had been hoping for. It was confirmation that despite her hardships she was in a good enough state to lay her eggs.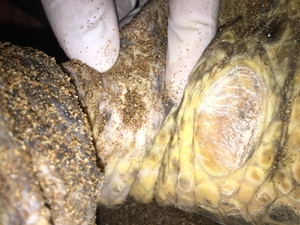 Now turtles are generally supposed to be very methodical animals. Doing what they have done for the last couple of hundred million years and as it turned out Michelle didn't let her kind down! Female loggerhead sea turtles can lay around 4 clutches in a nesting season with approximately a 2-week interesting gap between nests. So, when Michelle crawled upon Megas Lakkos sand once again exactly 15 days after her first recorded nest it was clear that she had read the rulebook. This time the Lixouri field assistant Olly was the leader present and removed the remainder of Michelle's barnacle load. Olly had already established a significant connection with another turtle known as Danielle (the pair just can't seem to avoid each other) but was more than happy to share his affection and tend to Michelle. Again, just as when she first showed herself no clutch of eggs was deposited but the team remained positive she would once again get it right and nest. Consequently, they waited for her next emergence…and waited.
Every evening as night survey departed the cliché phrase developed; 'You'll probably get Michelle tonight.' And although other females were keeping team Lixouri busy Michelle was nowhere to be seen. Had she nested on a different beach nearby? Was she safe? Maybe she just fancied one last stroll on the beach but was done nesting. (No one believed the latter!)
She had almost become a figment of our imaginations until the night of the 15th July. The field leader of Lixouri Harry was leading the night survey when at the end of the first patrol his phone began vibrating feverishly within his pocket. Phone calls made to a leader during night survey are normally very important so when he cautiously lifted the phone to his ear he was not sure what to expect. He certainly didn't expect what he heard next. Chanel one of the Wildlife Sense coordinators was on the other end. "Guess who's nesting on Megali Ammos right now…? A female, with a big boat strike injury!" Gobsmacked is just one of many words that could be used to describe the reaction. It was Michelle! The tag and microchip numbers were confirmed the following day and data was compared. The point is this; Megali Ammos is not a Lixouri beach. It is a beach surveyed by the Argostoli branch of Wildlife Sense. Michelle had chosen to nest 6.62 kilometres from her last emergence a week earlier. In that time, she had navigated her way across the entrance to the gulf of Paliki and nested on a beach a fraction of the length of Megas Lakkos and with a completely different type of sand. The night survey team based on Megali Ammos that night was led by Avithos area field assistant Sam. As soon as he saw the boat strike on the nesting female his suspicions were riled, and he was spot on! Over the previous weeks, word had spread about Lixouri's injured female and Sam was straight on the phone to report who he thought he was seeing!
Although it is not unusual for females to wander slightly during their internesting period they are not commonly recorded laying eggs too far away from their initial nesting beach. And a beach like Megas Lakkos, with nearly 2 kilometres of sand to choose from often sees the same females emerge consistently and complete their nesting season without needing to lay a clutch on another stretch of sand. This is just one of the reasons why night surveys are so important and exciting. What we now know is that a female that crawled on Megas Lakkos with an intention to lay what would have been her second recorded clutch returned to the sea, did not reappear for 7 days and then officially nested over 4 miles away! Where will she show up next!?
Written by Harry Thomas, Field Leader of Lixouri Field Station