A day devoted to the National Park of Ainos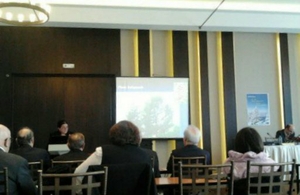 A few weeks ago the National Park of Ainos held a one-day seminar that showcased the events and accomplishments of this year and what their plans are for the future. The meeting included talks from Alexandros Parisis (Mayor of Kefalonia), Evangelos Kekatos (Vice-Mayor of Tourism), Georgia Kamari (Chair of the National Park), Georgios Mitsainas and park staff.
The seminar brought the community together while providing much needed support and clarity after a period in which the future of the park was uncertain, due to a draft law which proposed the closure of the Management Agency of the park.
We were glad to hear confirmations that the Management Agency will not be closed down entirely. As it is currently decided, the Agency will be joined with two other Management Agencies from the Peloponnese.
However, we are hoping for an even better conclusion where the park will remain independent as a Management Agency and keep their important presence in Kefalonia to protect the mountain's endemic species and promote sustainable tourism, which is vital to this island.