Early August 2018 Nesting and Hatching News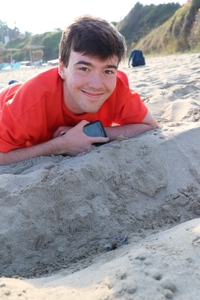 Argostoli Field Station:
The last few days have been quite busy for all of us here in Argostoli, with the arrival of our new Field Assistants (FAs) late last week. We said our sad goodbyes to the FAs who had been with us all the way through the nesting season and said a big hello to the new team (Olly, Simon, Nicola, and Chess) who will be here with us all the way through the hatching season until mid-October. As well as new FAs, we welcomed a new group of wonderful volunteers on Sunday and Tuesday too, so there have been changes all around.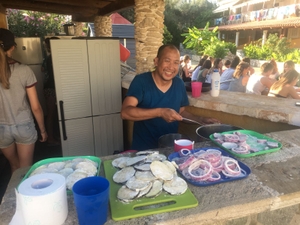 Dinners have also been splendid - from Thai green curries to chili con carne with homemade tortillas, to potato pasta - we've had a week of wonderfully varied and hugely tasty dinners which have kept us full of energy. It's exciting to see the ideas the team brings to the table each night (literally!)
The weather has really been in our favour and our nest count is now up to 55 (with three new nests in the past few days!) with nesting attempts still happening regularly. One turtle in particular (Peggy) had attempted to nest for three consecutive nights before success on the fourth night. Peggy's tracks are particularly distinctive due to the fact she has a disfigured flipper, making her pattern slightly different to what we might expect. We're thrilled that she was eventually able to lay her clutch and we look forward to seeing her eggs hatch in the coming weeks.
And speaking of hatchlings....our nests have continued to hatch and we have just finished our first nest of the season. On Wednesday we did the final inventory on our nest on Eglina which was a great opportunity for our new volunteers and beach-goers alike to take a peep inside a turtle nest for the first time.
As our new volunteers and FAs settle, we're all looking forward to a great few weeks to come which we hope will be full of activity!
-Chess
Lixouri Field Station: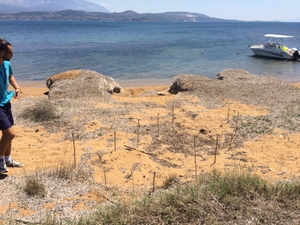 The hatchlings are here! It's been very busy for Team Lixouri as we move from nesting season into the hatching season. There's still a crossover between the two so we are still seeing emergences and nests being laid. This week brought 3 new nests bringing our total now up to 61! This included new nests on Vatsa, Megas Lakkos and Kounopas found by adult female tracks on our morning surveys. An additional nest was also found on Megas Lakkos after lots of hatchling tracks were spotted from an unmarked area! This made for a very busy but exciting morning for our team of new volunteers.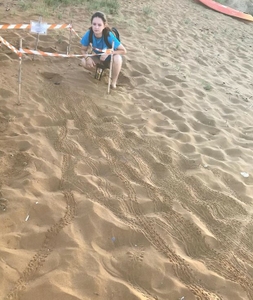 Lepeda beach is where most of the action is with 6 from a total of 11 nests currently in the process of hatching (or due to very soon)! Unfortunately, Lepeda suffers from major light pollution so on our hatchling rescue shifts we have been sleeping on the beach and working extra hard to make sure the hatchlings make it safely to sea. A couple of volunteers were lucky enough to see a record of 93 hatchlings from multiple nests in one night which is amazing! Other nests have also been hatching with 2 nests both on Megas Lakkos and Kounepetra and a nest each on Xi, Cape Agios Georgios, Kounapas, and Loggos, but there are still plenty more nests to hatch! It's especially great to see some of our relocated nests that were most at risk to inundations and stormy weather hatching so well too!
It's not all hard work though, as a group of volunteers enjoyed their time off by going paddle boarding and horse riding in the area. We also went for a group meal before saying goodbye to our amazing Nesting Field Assistants, Izi, and Josh who deserve a huge thank you for all their hard work over the past couple of months! We are looking forward to seeing what next week has in store for us!
-Sarah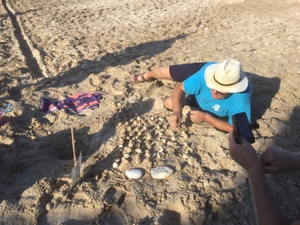 Lourdas Field Station:
There was great excitement down on Kinali beach. Our nest which originated back to the 15th May 2018 on Lourdas (and because of the cool sand was removed for incubation),; was then reburied back on Kinalii, and on 20th July 2018 our first hatchlings were confirmed.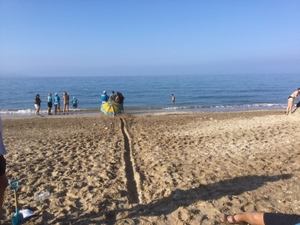 The inventory was taken on the 27th which resulted in a successful count of 29 viable eggs and one pipped egg. We were able to assist 3 hatchlings back to the sea from the nest on this day. So all in all a good result from our first journey into egg incubation.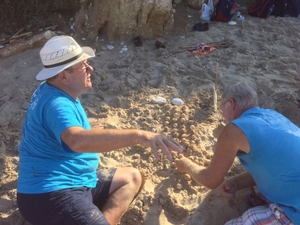 All in all our total count for the Lourdas end is 25 nests with the last one, so far found on the 28th July 2018.
We now also have confirmation of a new nest producing hatchlings on Kinali in a relocated nest from Trapazaki.
We will soon be into the hatching season so its all hands to the deck to ensure safe passage for the little ones to the sea.
- Keith