Early July Nesting 2022 News
.
Argostoli Field Station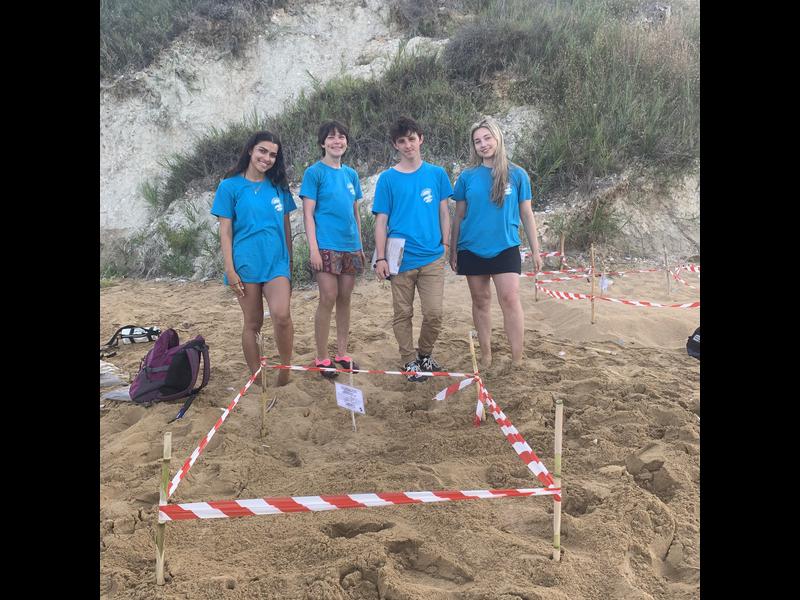 We continue on with our nesting season which is going swimmingly. Our volunteers have been working very hard during morning surveys where they have located 8 new nests during the past week. This brings our total to 40 nests across all Argostoli survey areas. One of these nests was even laid directly under a sunbed! This nest went on to become part of our 5 relocations performed this week. Among our other relocations, we had one particularly large clutch with 119 eggs. One nest proven to be challenging was found on Megali Petra and in order to locate the eggs an evening re-dig was required. Our amazing volunteers worked super hard and were eventually successful in locating the eggs.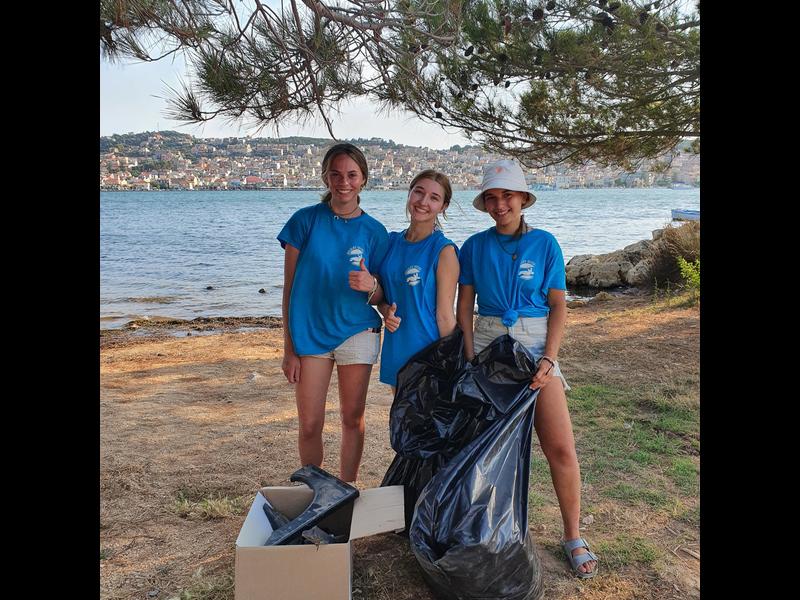 As well as the morning surveys our harbour shifts also continue to collect data on turtle interactions and foraging behaviour. Another key purpose of the harbour shift is to carry out visual health checks. This was especially important this week as our harbour shift spotted a turtle with a net attached to its rear flipper. We were able to locate this turtle with the aid of our drones and team. However, we were unable to secure the turtle due to the weariness of its external environment. Fortunately, later that afternoon a friend of WildlifeSense contacted us to say that they had witnessed the net dropping off the turtle and removed the net from the water. This week there was also another event with an injured turtle on Kalamia beach. The turtle was washed up and found unresponsive, we were called out to assess the situation. Unfortunately, the turtle had passed and the cause of death was determined to be drowning. This further exemplifies the importance of our work in preventing as many of these situations as possible.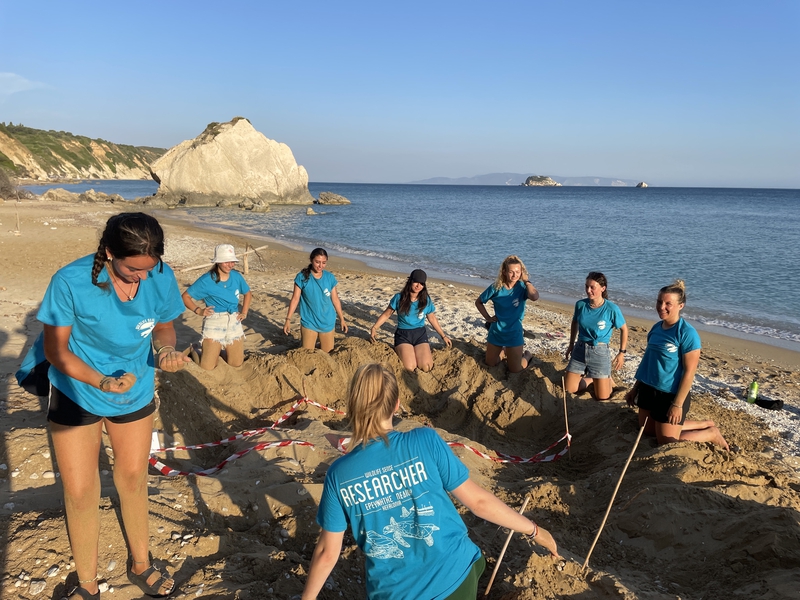 This week we said goodbye to our latest volunteers and welcomed a new group. Our amazing team this week were super active and participated in many volleyball tournaments. They also impressed us with an incredibly successful beach clean in a new location. This proved to be a location in need with our volunteers filling two bin bags and a box with rubbish. We also hosted an exciting game of assassin, making this week full of fun. We are really proud of all our volunteers and have had a really successful week. We are looking forward to training our new group and having a turtely awesome time with them.
Written by Anna Judson and Emily Anderson
Lixouri Field Station
The past week has been a busy one here in Lixouri, with nesting season picking up the pace each day. Our volunteers recorded 61 new emergences and discovered 12 new nests on morning surveys, bringing our total nest count up to a whopping 34 nests! We are thrilled to now have nests in all three of our nesting areas, including Cape, Megas Lakkos, Lepeda, and our first nest on Kounopetra this season! Our night surveys encountered three previously tagged turtles: Solene, Cesca, and Zayanna – last seen over 6 years ago, back in 2016! Cesca was originally tagged by our team during a night survey, where we established a severe injury to her rear carapace, caused by an extremely unfortunate propeller strike. Much to our excitement, we can now confirm that Cesca laid a total of 112 eggs in her most recent nest, in comparison to a clutch of just 28 in her previous nest. However, this nest did require an emergency relocation due to being in close proximity to the sea level and therefore at risk of becoming inundated with water, along with Solene's nest containing a clutch of 108 eggs. Within 24 hours of both nests being laid, our vigilant core team performed two emergency relocations at Megas Lakkos, where each nest was moved quickly and safely to an area further towards the back of the beach for optimal egg chamber conditions and thus maximal egg viability. Our team also tagged two new turtles Tazzy and Fidget, who we look forward to hopefully meeting again soon over the next few weeks.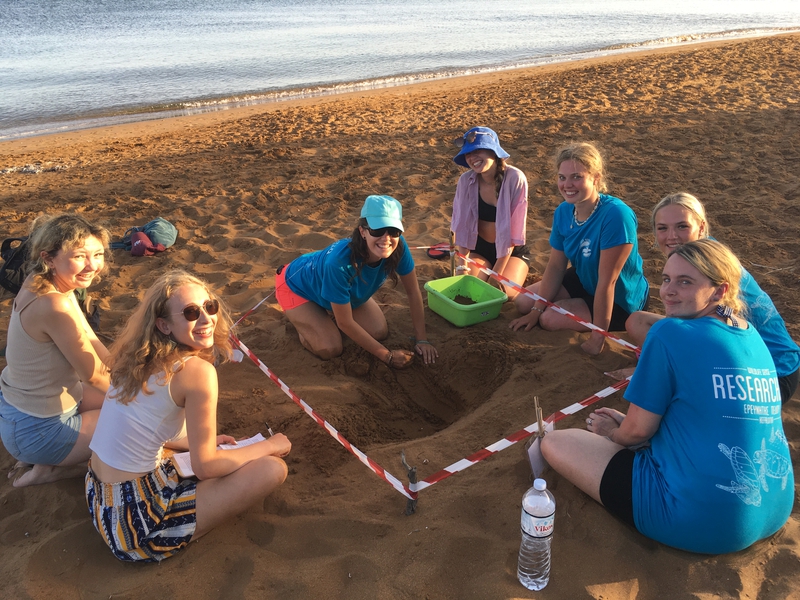 In the absence of tirelessly digging for eggs or tagging nesting turtles, our volunteers have also partaken in evening activities such as beach rounders, souvlaki, and quiz night.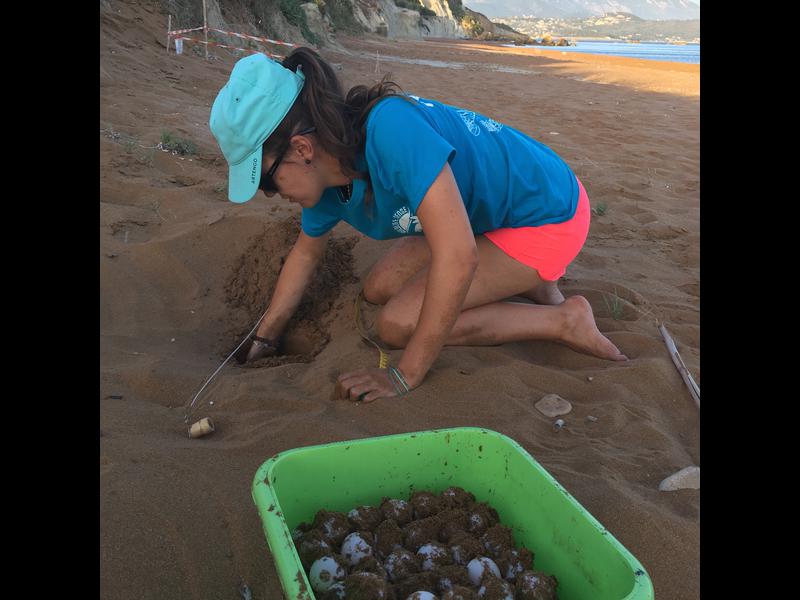 As we approach changeover day, we would like to take the opportunity to say a massive thank you to our wonderful group of volunteers, who have put their heart and soul into the project and maintained a motivated attitude throughout the past two weeks.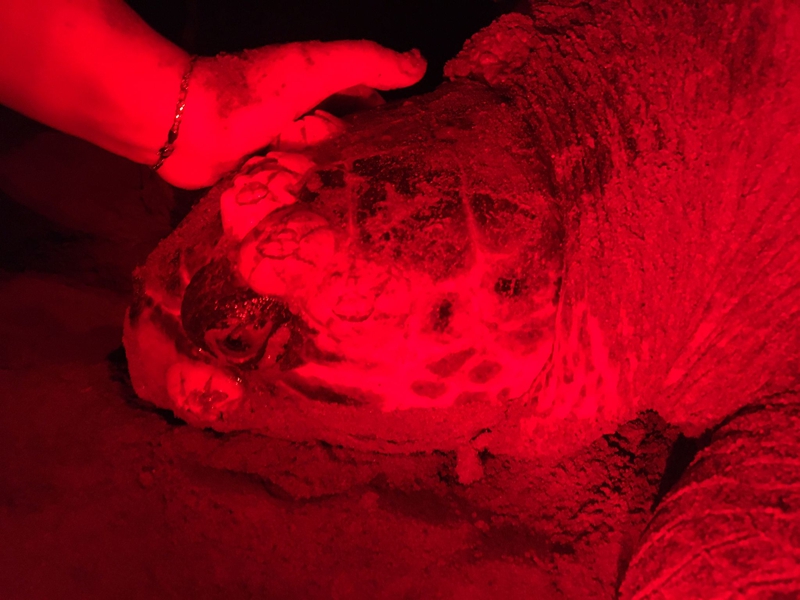 Moving closer to the optimal incubation period of our first nest ML1, we look forward to keeping you all updated and hopefully seeing our first hatchlings of the season very soon!
Written by Mia Holman
Skala Field Station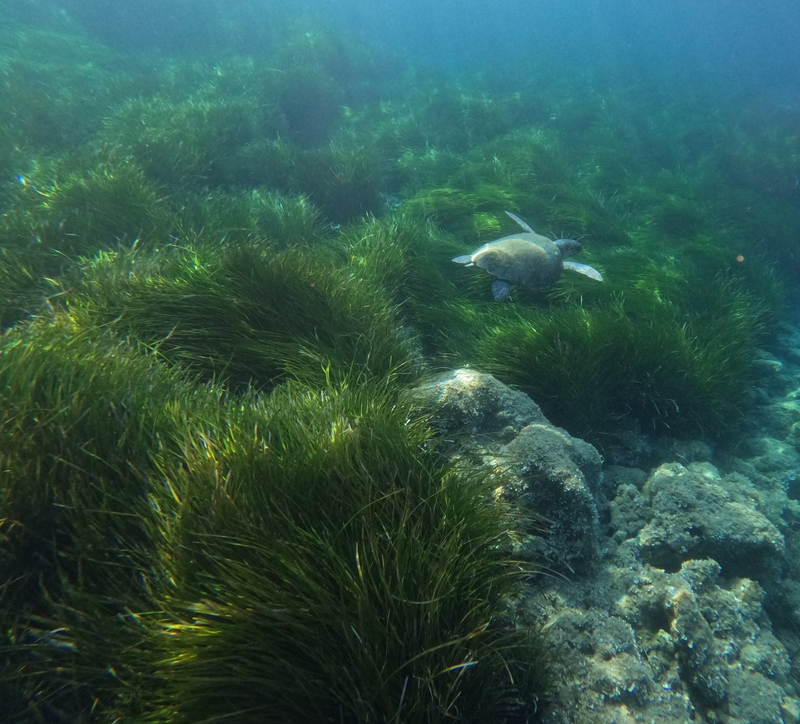 This third week of Posidonia, sand dune and drone surveys went very well. During a Posidonia survey, volunteers were able to see a common eagle ray, jellyfish and even a young turtle. Those who have seen it were so happy and we hope that the rest of the team will also be lucky to see one before they leave. Today our wonderful volunteers swam 1.3 kilometres!!! Regarding the sand dune surveys, we have already identified 8 plant species that hadn't been observed before in the area.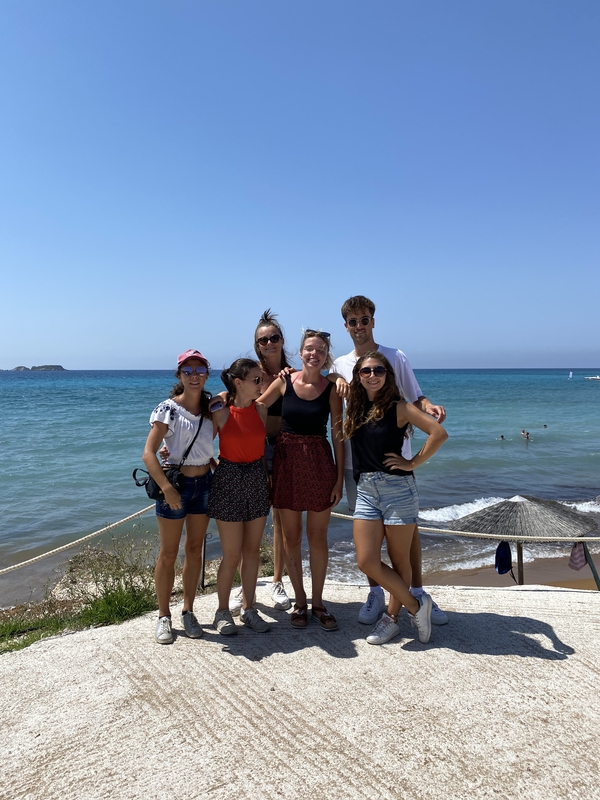 The volunteers had the opportunity to go to Argostoli to visit and see the turtles. On their second day off, they explored the rest of the island and even visited Lixouri. The red sand on Xi beach was amazing!
---