Early October 2018 Hatching News
Argostoli Field Station:
This week we welcomed our final group of volunteers for the year – it's hard to believe it's nearly the end of another season already! We're down to just 3 nests here in Argostoli, all situated next to each other on Minies beach. While Lixouri's beaches may be empty now, they're not quite finished yet as 2 of their nests were actually trans-relocated to Minies Beach earlier in the season. Both of these are still waiting to hatch, while our final Argostoli nest has produced over 30 hatchlings already. With 59 nests across our beaches this summer, it is very strange having only 3 remaining. However, the successful hatching of these other nests means our volunteers have helped thousands of hatchlings safely out to sea!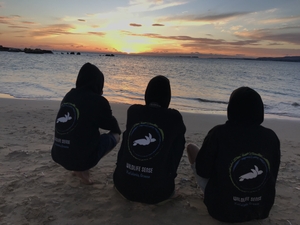 As a special treat, the whole team had a day out together on Thursday. Harry and Sarah from Lixouri joined us on a trip around some of Kefalonia's sights. We took in the views (and crazy winds) on Mount Ainos and stopped in the beautiful Agia Efimia for lunch, before whiling away the afternoon in Assos. This was a great chance for everyone to relax and see some parts of the island that they might miss on their days off, and was a lovely way for us all to let our hair down. However, as with any treat, there's always a catch – this time it took the form of a dramatic storm warning upon our return to base. The wind had been picking up throughout the day and the forecast suggested the severe storm out in the Ionian Sea might be heading our way; so we checked our nests, rescued some hatchlings, and battened down the hatches in preparation.
Thankfully it looks like Kefalonia avoided the brunt of the storm, as we were instead treated to some persistent rain and wind. This was fortunate on our behalf and we hope that others elsewhere aren't too badly affected. The weather is interfering somewhat with our usual routine, with the harbour too choppy to see any turtles let alone hope to do tagging events! Things are due to return to normal shortly, so we can make sure this season comes to a smooth end. Watch this space for some final updates next week!
Lixouri Field Station:
It has been an eventful week for our last group of volunteers here in Lixouri, as we near ever closer to the end of the season!
After weeks of turtle spotting, we were greeted with the perfect opportunity on Saturday evening to be able to tag and perform a health check on the harbour turtle- now officially named Percy! As Team Lixouri and the Project Coordinators made their way to the harbour with tagging equipment in hand, the atmosphere was filled with anticipation and excitement!! The Lixouri field station is well known for tagging nesting females but to tag a male and in the harbour had previously been unheard of. This was the first time a male turtle has ever been tagged in lixouri harbour and what an amazing experience it was for all involved!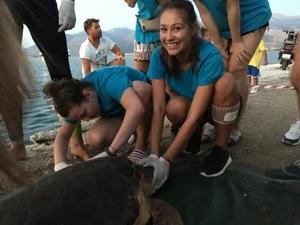 After initially catching sight of Percy in the early evening it wasn't until another 2 hours later, involving lots of searching and perseverance, until Percy was postitioned close enough to the harbour wall for Harry to capture. Percy was then brought out of the water where the volunteers could gain hands on experience in tagging and performing a health check. Percy remained calm as measurements were taken of his plastron, carapace and tail, barnacles removed, photographs taken for further identification, and finally, tags and a microchip were placed. Through the carapace measurements, Percy is predicted to be a juvenile turtle aged between 14 and 17 years old and was fortunately found to be in a very healthy condition!! Not only were we able to spot Percy, but another larger untagged male was also observed in the harbour! We couldn't believe it but were unable to tag this turtle on this occasion but who knows what the future holds!
In regards to our nests, we no longer have nests left to hatch in Lixouri! Our last in situ nest to hatch was laid on a secluded beach named the Cape in the Lepeda survey area. After observing dipping of the nest, the team decided to perform a top egg check as Kefalonia was experiencing incredibly strong winds and a predicted medicane. We were ecstatic to find that the nest had been incredibly successful with 84 out of 87 eggs having hatched! A single hatchling, that had been struggling to reach the surface after high winds had swept layers of sand over the nest, was also released and safely made its way to the sea. Our last two nests now remain on Minies beach under the watchful eyes of the Argostoli team after having been relocated there earlier this season. These are due to hatch in the coming weeks so keep an eye out for any updates!