Early September 2018 Hatching News
Lixouri Field Station: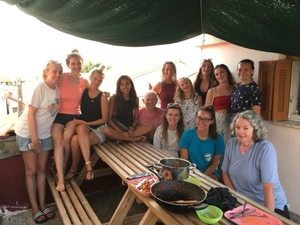 Nests have continued to hatch this week despite things quietening down a bit here in Lixouri. Seven new nests have hatched on Megas Lakkos, Vatsa, and Lepeda beaches, leaving us with 21 nests still left to hatch across our survey areas!
Hatchling rescue teams have been kept busy as a result of this and we continue to see many mass hatchings where more than 20 hatchlings emerge at once. These mass hatchings are most likely due to an increase in temperatures causing more eggs to hatch at once. A new record has yet again been set for the highest number of hatchlings seen in one night! Kirsty and Harry were lucky enough to come to the rescue of 96 hatchlings from a nest laid on Vatsa, by building a trench and making sure that they all made it to sea.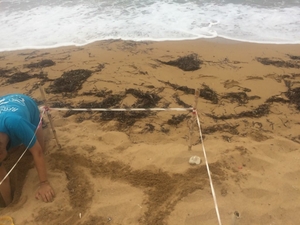 Vatsa beach is where most activity is occurring this week. All nests in the bay have achieved over 80% hatching success with many even reaching 90%. This is the percent of hatchlings that successfully emerge at the nests surface and based on previous years in Lixouri is usually around 66%. The highest success rate we have observed this year is 97%, let's hope this continues!
During the week, we also experienced a spell of bad weather, resulting in high waves. One nest on Vatsa was particularly at risk of inundation where waves were reaching the nest protection. After a moisture check was performed it was decided that the nest needed to be moved and so we carried out an emergency relocation of the 115 eggs. This was a great opportunity for a couple of our volunteers to witness a relocation and the nest has since gone on to hatch successfully!
It was time to say goodbye to a wonderful group of volunteers and welcome our new group of that arrived on Tuesday. With more nests expected to hatch there will be busy and exciting times ahead!
-Sarah
Argostoli Field Station:
Team Argostoli are still having a very busy hatching season, with nests continuing to hatch across our beaches. Our most recent counts bring the total number of hatchlings safely helped to sea as part of our "Hatchling Rescue" shifts to over 1200 so far this season. This figure doesn't include the total number of hatched eggs across our nests, which we expect to be a lot higher! Hold tight as we head closer to the end of the season as we firm up the final numbers!
Friday was a particularly busy day for us, as the first tagging event of the nesting season took place. Over the course of four hours, five turtles were examined by our team of researchers including Snow, Neptune, Luna, Artemis, and Bidule. We carried out health checks, removed barnacles and took key measurements of their carapace and plastron. It was a great opportunity for all of our new research volunteers to see adult turtles out of the water, understand a little more about their morphology and biology and to get involved in taking measurements, removing barnacles and checking for microchips. Feedback from the team was that it was a very enjoyable and memorable moment for them all!
Keep a look out for next week's update!
- Chess