Eary August Hatching 2022 News
.
Argostoli Field Station
Our volunteers had a full week experiencing many exciting hatching and nesting events during their morning surveys and hatchling rescue shifts. We now have hatchling rescue shifts on three of our beaches that started this week. Throughout this week we have had 7 new nests, bringing our total to 75 over all of the Argostoli field area. We are continuing to relocate many nests, including more trans beach relocations due to the storm risk which occurs in September at the end of their incubation period. Out of the three beaches we are currently monitoring on hatchling rescue shifts, three nests on them are currently hatching. The volunteers are doing an amazing job and making sure all hatchlings make it safely to sea. As we are currently still in nesting season and are still protecting new nests each morning, the hatchling rescue shifts sometimes get the chance to observe nesting females that come onto the beach at night. On Thursday night, two nesting females, Gia and Mavis, were spotted by two separate groups on hatchling rescue shifts. We were able to join the hatchling rescue teams to tag these two females after they had nested and before they returned to sea.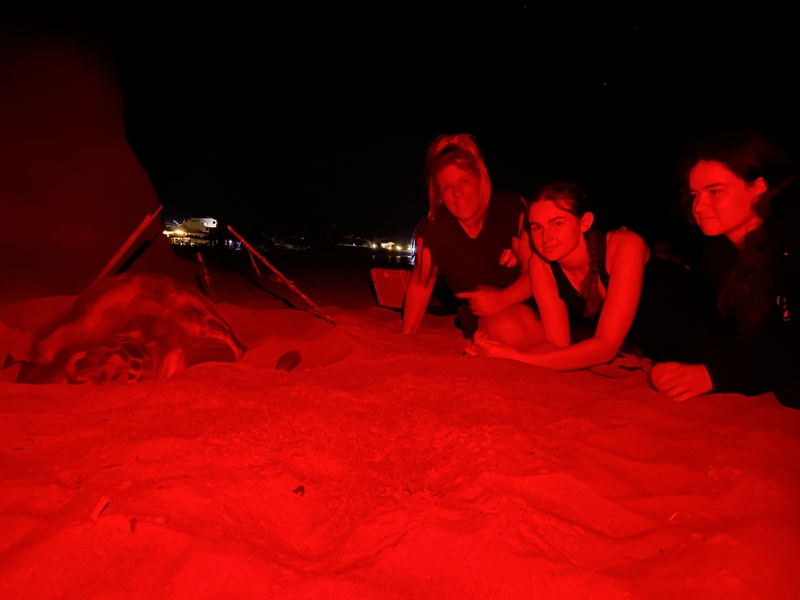 This week we also had our first inventory on a nest that is hatching on Ai Chelis beach. Last year, the first nest that was laid on this beach was in the same location as the first nest laid on this beach this year. From previous experience and inventories, we have seen that many hatchlings struggle to get out of the sand and make it to sea in this area. This beach has also had a lot of human footfall activity due to beach parties and volleyball. This type of activity could disrupt the hatching behaviour of the nest. Therefore, this year we decided to inventory the nest on an earlier day than previous years. This proved to be very successful. We found many hatchlings alive above and within the egg chamber that were struggling to make it out to sea. We were able to successfully help them all make it safely to sea and re bury a few that were not yet ready but have since hatched on their own. It is always very exciting for the whole team to see hatchlings safely make their way to the sea and we're looking forward to continuing this throughout the season.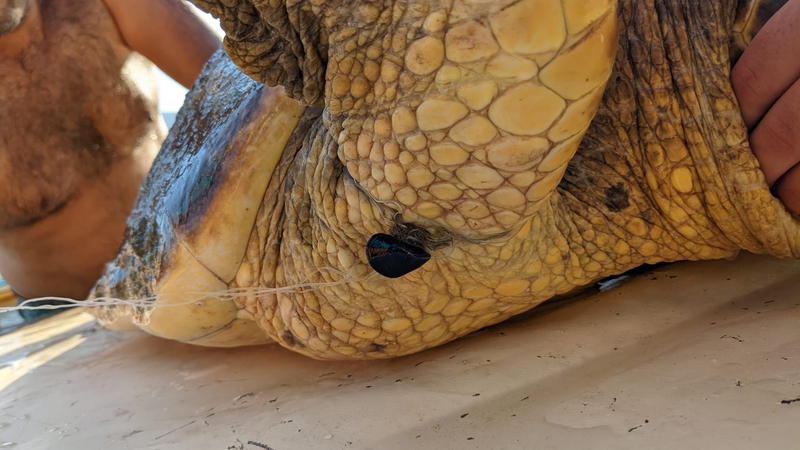 This week has also been busy for our harbour teams. In 3 days, we found and rescued 4 turtles with human inflicted injuries. Three of these injuries were linked to fishing gear, both entanglement in lines and attachment of hooks to limbs. Fortunately, these three injured turtles were able to be addressed quickly and the turtles were released the same day. These turtles are now also all tagged, Hades and Michalakis being newly tagged and Joey, who was already known to us. The fourth turtle injury wasn't quite this simple. However, the untagged turtle was spotted in the harbour by our team via kayak and drones. This turtle was untagged and upon sighting it was immediately made clear it had suffered a severe head injury, likely caused by a boat propellor. We are happy to say that this turtle, now named Enzo, has been sent to the rescue centre in Athens where it is now receiving further treatment. We could not have achieved this without the dedication of our volunteers, our consistent presence at the harbour and our drone surveys. A massive thank you to our team and all who help us.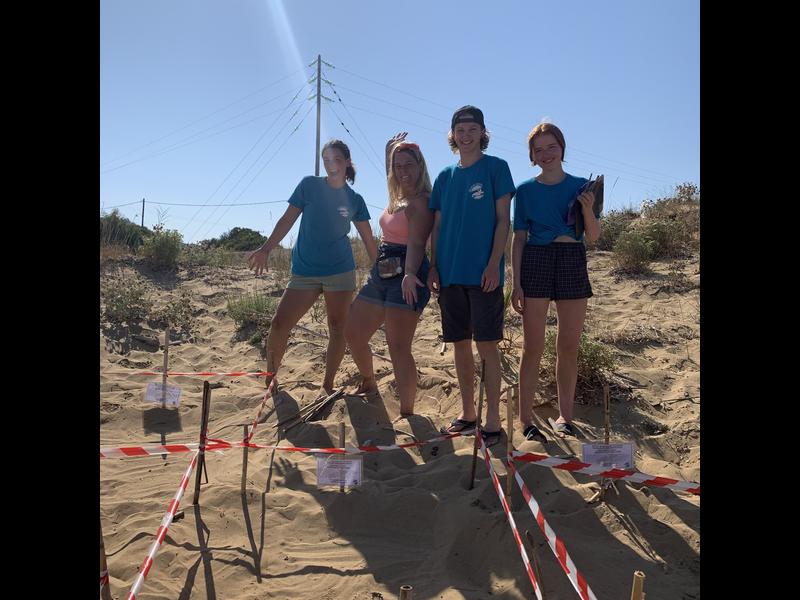 Our volunteers have not only been working hard on shifts but they've also been enjoying some very well deserved free time and days off. Once again, our volleyball nights are proving to be a popular way to spend our evenings. Another popular activity recently has been a photo scavenger hunt which brings together the team and sparks creativity. It is always great to see the team bonding and finding ways to relax and have fun!
Written by Anna Judson and Emily Anderson
Lixouri Field Station
The last week has been another busy one in Lixouri, with new nests hatching left, right, and centre, it is safe to say hatching season is now officially in full swing. We currently have multiple nests hatching on Megas Lakkos, one nest hatching on Cape, and two nests ready to hatch any day now across our Vatsa survey area. As many of our nests on Megas Lakkos have now either been hatching for over seven days or have had mass hatchings, our hard working core team have carried out multiple inventories on these specific nests to ensure no hatchlings are trapped within the egg chamber.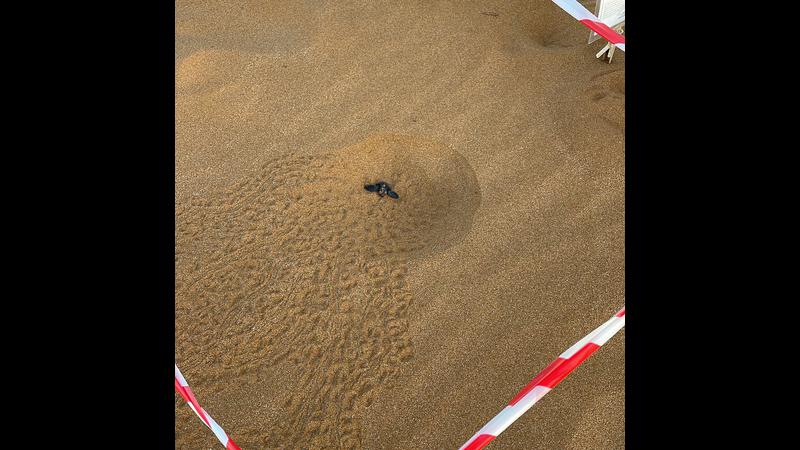 One of our most valued aspects of hatching season here in Lixouri is knowing which nest was laid by which nesting female on Megas Lakkos, thanks to our incredible night surveys. So far, we have seen hatchlings from our tagged nesting females: Plouf, Strawberry, Whisky, and, most importantly, Cesca. For those of you who aren't familiar with Cesca, she was one of our nestling females who we originally tagged on the 12th of June, when our team discovered a severe boat propeller strike to the rear carapace. Due to the severity of this injury, there was great concern for Cesca's health, along with her only laying a clutch of twenty-eight eggs. Despite this, Cesca was spotted again on the 30th of June, where she appeared to be in a much healthier condition and proved so by laying a clutch size of 112 eggs. We were over the moon to see Cesca's progress over these few weeks, so were beyond devastated to hear of her recent death, which occurred due to another, this time fatal, propeller strike. Following on from this tragic incident, we were all delighted to see Cesca's first nest had started hatching and found it so rewarding to watch her hatchlings crawl to the sea.
Staying on the topic of night surveys, we have had a slightly quieter past two weeks in terms of nesting females, with no emergences occurring since Zayanna on Monday the 19th of July. As our night surveys are drawing to a close, we hope our final shift of the season is filled with one last spout of nesting female activity.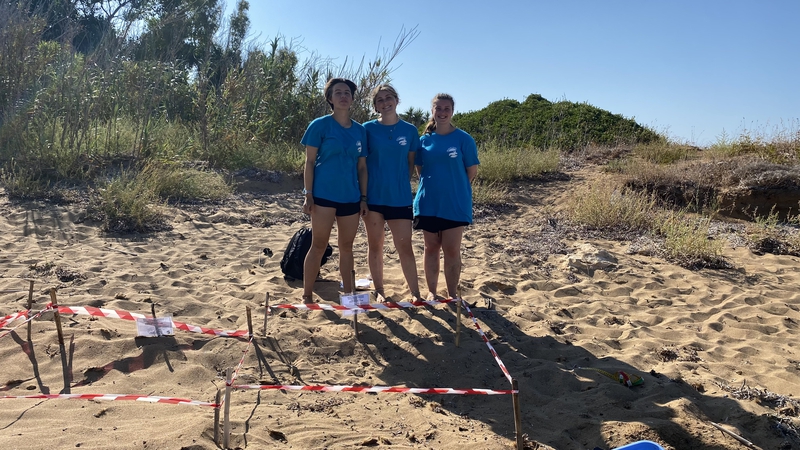 Despite the lack of nesting female emergences on Megas Lakkos, our morning survey teams have been equally as busy counting hatchling emergences and ensuring their tracks go straight to the sea, rather than being misoriented or disoriented. Our hatchling rescue shifts have also been getting busier and busier each day, with an impressive number of 69 hatchlings now having emerged from LP1, and we can expect plenty more of this to come as our remaining three Lepeda nests approach their 45 days of incubation.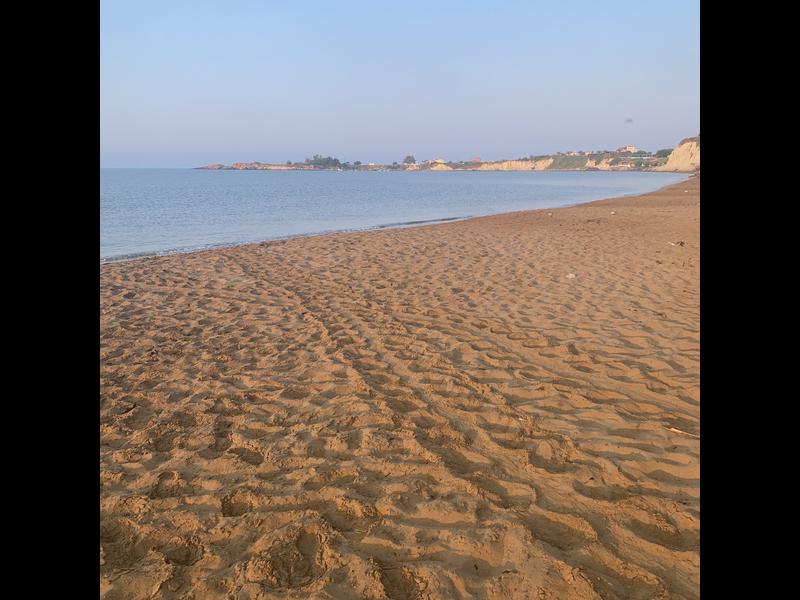 Although we have sighted no recent emergences on Megas Lakkos, this hasn't been the case for our other two survey areas. Lepeda has seen several emergences over the last two weeks, along with five new nests over Vatsa, and two more on Koutala. After a quick relocation assessment from our vigilant core team, it was decided these nests had either been laid too close to the sea or had a height that was too shallow. The nests on both Koutala and Kounopetra had to be relocated to Megas Lakkos, due to these two beaches not being wide enough to allow a large enough distance between the nest and the sea. Thankfully these nests were able to be relocated immediately, to allow for optimal conditions to incubate.
As we approach our next changeover period, we would like to take this opportunity to thank our amazing volunteers for all their hard work over the past two weeks, from awaking at sunrise and patrolling our survey areas to sleeping under the stars and ensuring all hatchlings make it to sea safely, none of the work we do here at Wildlife Sense would be possible without you guys. We hope you have enjoyed your time here as much as we have enjoyed having you and look forward to undoubtedly seeing some of you again in the future!
Written by Mia Holman
Skala Field Station
This week we had the opportunity to swim with a turtle at Mounda beach. Several photos were taken and sent to the people working in Argostoli on the turtle project to try to identify him.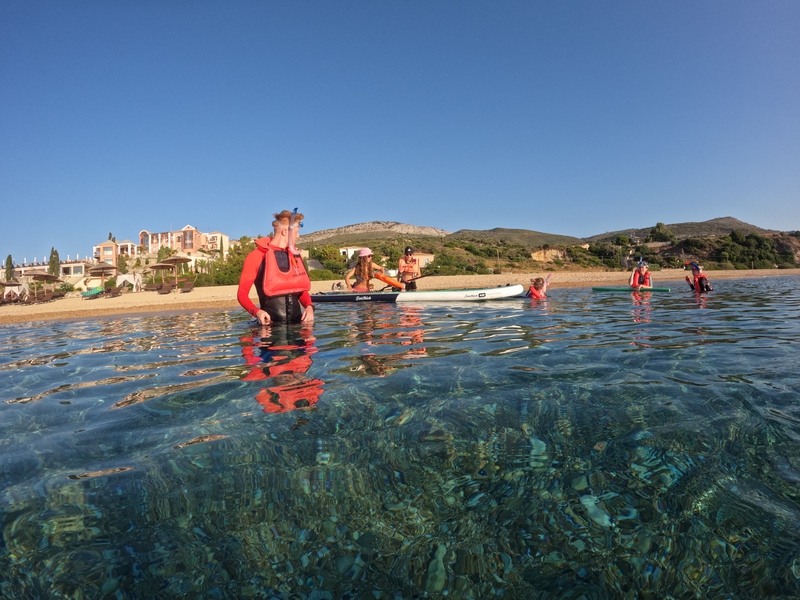 Regarding the mapping of Posidonia surveys, we are in the progress of deleting pictures with the wrong location. Indeed, during our snorkelling surveys, we take pictures every 5 seconds. For a good picture and an accurate location, we have to keep the camera half out of the water but sometimes this can be hard. When this happens, we have an inaccurate location which makes the data invalid and so these pictures need to be deleted to obtain the best accuracy for the map.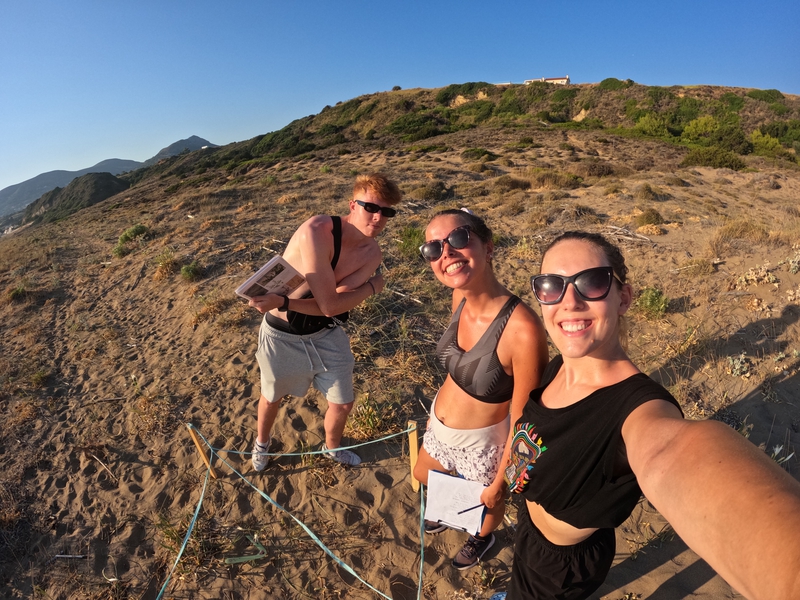 As far as the team is concerned, we are preparing to say goodbye to one of the interns who will be leaving the island at the same time as our volunteers. We will be very sad to say goodbye after spending 9 weeks with her. We wish her the best in her future studies and career!
---