EU to force ban for sea turtles - again!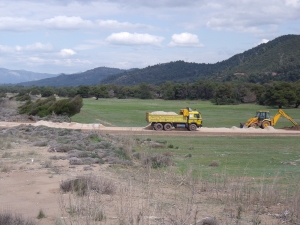 The Greek state is on the final verge of being forced to ban all construction projects within the Natura 2000 area of Southern Kyparissia Bay. This is the latest development after a long exchange of complaints between conservation NGOs, the European Commission, the Bern Convention, and the Ministry of Environment of Greece, in which the latter has repeatedly responded that "appropriate action is being prepared."
Local authorities and businesses have tested the tolerance to environmental infringements in the area for a number of years. However, attention focused in Kyparissia when a private construction company began road construction to serve fifty residences behind the beach without submitting an environmental impact assessment. While the Ministry of Environment maintains that current legislation should be adequate to protect the area, environmental organizations highlight the fact that without a management plan and a management agency directly responsible to protect Southern Kyparissia Bay, its deterioration is evidently unavoidable.
However, not only does the Greek state not intend to create a new management agency for the area, but it has recently proposed the closing of a number of management agencies to reduce their number from 29 to 14. While it is not the policy of the European Commission to interfere with internal state issues, current lack of appropriate action by the Greek state and the deteriorating conservation status of sea turtles leaves little doubt that it is necessary. Both the Environment Directorate-General and the Bern Convention are preparing legal action against the Greek state and local authorities for lack of appropriate action. In the meantime, a complete ban on construction within this area is considered, causing confusion to locals who are guided to believe that the protection of our natural environment is a burden to job creation and development.