Finn's release after months of rehab
.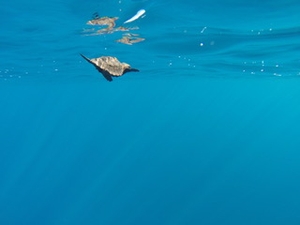 This year we were able to help a hatchling with a deformed flipper who was struggling to swim in the sea. Without our help, the hatchling we named Finn would have certainly died after the first few days out of the nest. Below is the timeline of the hatchling, and how it ended up in our care. From the moment Finn was laid to the day of release.
July 13th, 2018:
After receiving a call from a tourist who had spotted female nesting tracks early evening, we rushed to Avithos beach eager to see what this female had been doing on the beach early evening. A few hundred meters up the beach while looking for these tracks we were lucky enough to spot the nesting female herself (unless there were two females early evening, quite unlikely). We observed her from a distance for over an hour while she successfully nested and covered her eggs. We were fortunate in being able to do a full health check of her, record measurements and place tags. After doing so, we had the pleasure of watching her crawl back to sea while the sunset. Little did we know that we would meet Finn 54 days later.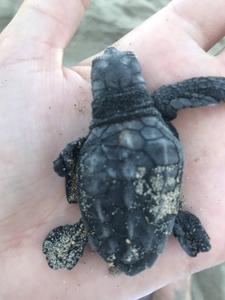 September 4th, 2018:
Finn finally made it to beach level after an inventory, he was initially trapped under other hatched eggs. As soon as we saw Finn we understood why coming out of the nest had been such a struggle; one front flipper was deformed. Once out of the nest it was clear that this hatchling was not lacking energy but unfortunately was unable to crawl straight to sea as only one flipper was being used, so a lot of time was spent crawling in circles. Our responsibility here is to make sure every hatchling that we see has a chance in the sea, so we intervened and put Finn close to water's edge on the wet sand. Finn was able to find the way to water from here and managed to swim well despite the deformity.
September 6th, 2018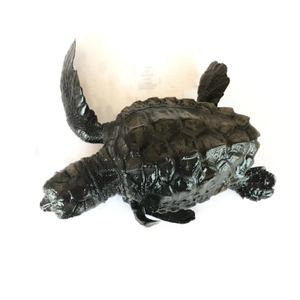 Finn was too weak to make it out to sea and got washed back ashore. We're very thankful for supportive tourists finding Finn and also alerting a Wildlife Sense researcher to the situation. At this point it was decided to take Finn for rehabilitation. Especially after spending two days trying to swim and failing, a lot of this small hatchling's energy had been depleted. Finn weighed 14g and measured in at 3.9cm curved carapace length (CCL) and 3.5cm curved carapace width (CCW).
November 6th, 2018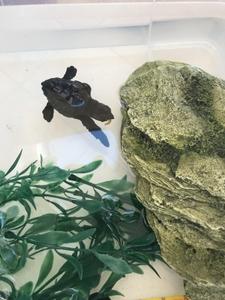 During this time Finn had got considerably larger, learned to dive, was free feeding and also had a lot more movement of the deformed flipper. The CCL measured at 7.6cm, CCW at 7.3 cm and weight was 70g. On this day the decision was made to release Finn as soon as possible with Kefalonia having exceptionally warm weather and sea temperatures for this time of year.
November 9th, 2018
Finn had been in our care for 66 days. Final recorded weight 75g, CCL 7.9cm, and CCW 7.6cm - what a big hatchling. Sea surface temperatures were high at ~23°C (considering the time of year where sea surface temperatures are usually ~19.5°C) and we had a bright sunny day. Finn was taken out on a boat to much deeper sea, we wanted to make sure that there was no risk of being disturbed or eaten by predators in the shallow waters.
Finn was also very behind its brothers and sisters that headed to sea on 4th September. It was a great successful day, we watched Finn swim away from the release site – a great swimmer with incredible strength and energy. Hopefully, Finn will return to the area in 15-25 years' time to produce his or her own offspring.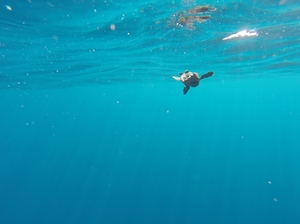 We'd like to thank all those that helped Finn throughout rehab, Dr. Charles Manire from the Loggerhead Marinelife Center for his advice along the way and to George from Pirate Divers Club for helping us release Finn offshore.