First hatchlings in Kefalonia are out to sea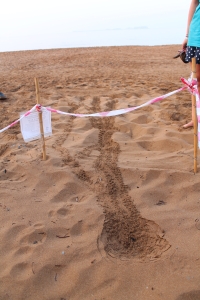 The first sea turtle hatchlings of Kefalonia for this year came out of their nest and crawled to the sea last night. The nest that completed its incubation is located on Megas Lakkos, near Lixouri, one of the many sandy beaches of Kefalonia where sea turtles come out during the night to lay their eggs. The nest was laid on the 11th of June and was protected by the Wildlife Sense team with the help of Phill Davison who lives in the area.
This morning, along with the first hatchling track on the beach, Wildlife Sense survey teams located and protected three new sea turtle nests at Megas Lakkos, Megas Ammos of Minies, and Avithos. These nests are some of the last ones for this year, while we now expect to begin seeing more hatchling tracks towards the sea.
The journey to the sea, though, is not equally easy for all hatchlings. When lights from the street, hotels, or restaurants are present near the beach, the hatchlings often disorient and never reach the sea. For this reason, all lights should be switched off or covered during the nights hatchlings come out - a relatively small effort to preserve these rare reptiles that have existed on the planet since the dinosaurs era but are threatened today by extinction.