First Nest of 2019 Nesting News
.
Lixouri Field Station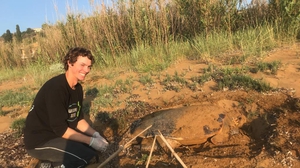 After a week of tracks and body-pits, Lixouri has its first nests! The first nest of the season (ML1) was discovered on 4th June on Megas Lakkos. Due to its location ML1 is set to be relocated. We intend to move the nest to a more suitable area of the beach in order to increase its hatching success rate. Our second nest was laid on Loggos 4 on 6th June. The Morning Survey team were lucky enough to witness the nesting process as they encountered the female whilst patrolling the beach – she was first spotted at 06.42 am. The team was able to take measurements and record boat strike and bite-related injuries that were present. The turtle had recently been numbered and tagged by Wildlife Sense's tagging programme in Argostoli Harbour. This meant that we were able to identify her as Jemima - the 31st Turtle tagged this season.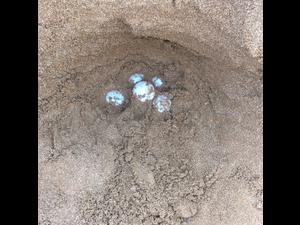 Meanwhile, our first volunteers have arrived and beach profile, light pollution, and morning survey shifts are well underway. Our new harbour and sand sifting shifts are due to start at the weekend. Night surveys have also begun. This shift sees a small team patrolling Megas Lakkos for the entire night. Upon the emergence of nesting females, the team observe nesting activity, take measurements, perform a visual health check and if necessary, tag and microchip the turtle. Night surveys are a fantastic way to see the natural behaviour of loggerhead turtles.
Argostoli Field Station
We have exciting news to share with you from Argostoli today – This morning (6th June) we discovered our first tracks of the season on Makris Gialos beach in Lassi! This is very exciting for us as we have been awaiting our first emergence for a few weeks now. Based on data collected in previous years, it comes as a surprise that our first emergence would happen in Lassi, as this area tends to get less (and typically later) nesting female activity than our other Argostoli survey areas. No nesting attempt was made by the female on this occasion, however, we are hoping that now emergences have begun, we will start to see evidence of nesting attempts and find eggs very soon!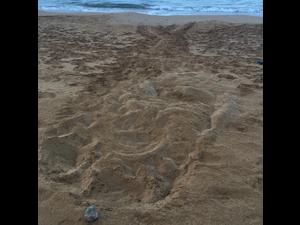 Last week at one of our tagging events, we were lucky enough to find and examine a large male turtle who had originally been tagged by WWF Italy. This was really interesting for us to see as this is the first turtle tagged in Italy that we have been able to catch in the Argostoli harbour. Unfortunately, at the same tagging event, we found a young turtle that had obvious carapace injuries from a boat strike incident. Several of the rear marginal scutes and the pygals have been destroyed and the turtle has also been left with broken phalanges in the rear right flipper and a hole underneath its chin. We are currently monitoring this turtle, now named Quinn, in a freshwater tank and hope that an X-ray will help make clearer the best course of action for their treatment.
Our first large group of 20+ volunteers have arrived and are settling in really well. The weather here has been very sunny over the past few days which has been thoroughly enjoyed by all and will be great for the scheduled beach clean on Saturday for World Oceans Day. Everyone has been very busy with training this week in preparation for hopefully finding our first nest within the next few days – Stay tuned for more news on this!