First sea turtle nest in Kefalonia for 2013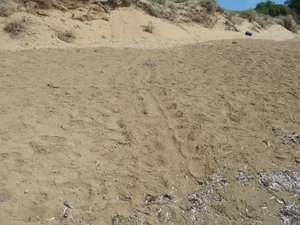 The first sea turtle nest in Kefalonia for the 2013 nesting season has been found on the beach of Megali Ammos, near Minies. The nest was found by Wildlife Sense's field researcher Peter Lee. One more sea turtle track with no nest was found nearby, on the beach of Eglina.
Sea turtles in Greece usually begin nesting in the last week of May, but this year they have started earlier than ever before. On Zakynthos, the first nest was found on the 11th of May, which is the earliest nesting date ever recorded in Greece, potentially due to warmer water temperatures attributed to global warming.
Loggerhead sea turtles are threatened by extinction and are protected by Greek and European legislation. Wildlife Sense studies and protects sea turtles in Kefalonia under license by the Ministry of Environment and in collaboration with local authorities. All sea turtle nests are marked and monitored to avoid accidental damage, and scientific data collected are used to improve their conservation and to raise public awareness.