Hatching season for 2023 is here
.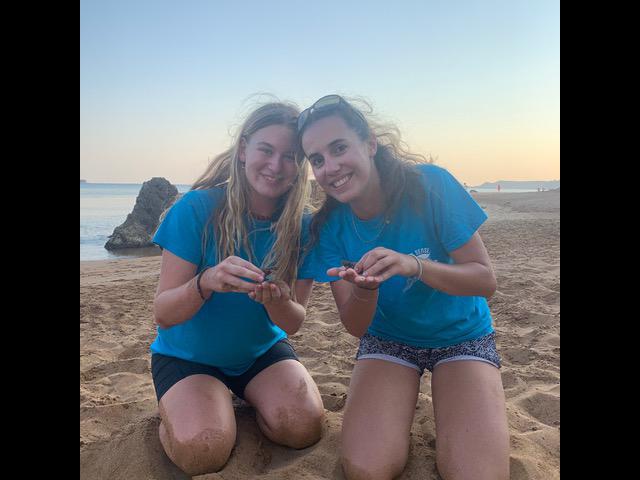 Lixouri
The weeks are flying by here in Lixouri, where we are finding it quite hard to believe that hatching season has crept up on us so quickly! Speaking of which, much to our excitement, our first hatchling of the season was spotted emerging from ML1 on last Monday's morning survey. One week later, our team headed down to Megas Lakkos to carry out a full inventory on this nest, during which we were thrilled to discover a 93% hatching success rate – not a bad way to start the new season! Nest inventories are completed for three main reasons: if there is a mass hatching (more than twenty emergences) the previous night, if a nest hasn't hatched seventy days after it was laid, or in this instance, if seven days have passed since the nest initially hatched. These inventories are incredibly valuable for the purposes of data collection, determining hatching success, classifying developmental stages and freeing live hatchlings trapped within the egg chamber. As of today, we have one completely hatched nest and ten more nests which have reached forty-five days of incubation, these nests are distributed across all three of our morning survey areas (Vatsa, Megas Lakkos, and Lepeda) so will be keeping all morning survey teams on their toes once they start to hatch.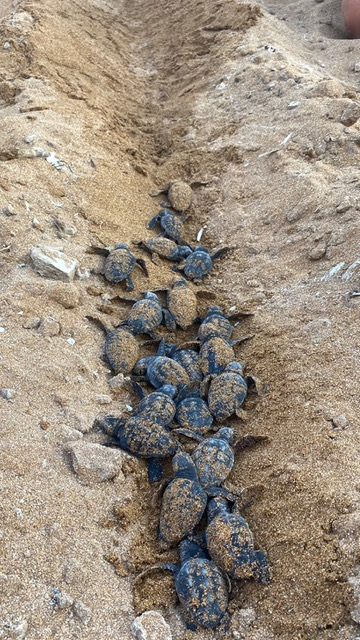 The beginning of hatching season means our hatchling rescue shifts are back in business. Hatchling rescue shifts take place to ensure all hatchlings make their way to sea safely and avoid becoming disorientated by surrounding light pollution, which is particularly prominent on Lepeda due to beach bars, street lamps, and a huge proportion of lights visible from Argostoli. After our team conducted a light pollution survey, it was concluded that our two other survey areas do not require hatchling rescue shifts, due to less light pollution surrounding nests. Vrachinari is surrounded by a small volume of light, however a small enough volume that cardboard shading is an adequate method for helping hatchlings to the sea and obstructing the light pollution.
As we are currently in the transition between nesting and hatching season, our night surveys have been slightly quieter over the last five evenings, with our most recent nesting female being Zayana last Monday evening, who we were pleased to see finally lay her second clutch of eggs. Zayana's nest was unfortunately too close to the sea level, meaning it was at a high risk of becoming inundated with water, along with a risky placement next to sun beds. Thankfully our fast-thinking core team was able to head to Megas Lakkos later that evening to relocate Zayana's 100 eggs to a much safer location, further back from sea level and away from any potential anthropogenic threats.
Although our night surveys have been a tad slower recently, our morning survey teams have been kept busy nether the less with occasional emergences on our other two survey areas, along with multiple hatchling tracks on Megas Lakkos and also Cape from our Lepeda survey area. A first for us this week was the discovery of two new nests on Koutala, an area where we don't normally survey but with the help of our drone footage were able to spot two recent emergences, which required two members of our team to go down to investigate and resulted in two new nests being found!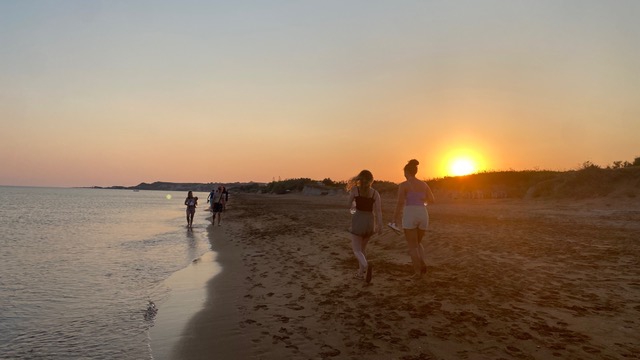 Outside time spent sleeping under the stars and counting hatchling tracks, many our volunteers have chosen to spend their free time spotting turtles in Argostoli harbour or snorkelling with various forms of marine life at Kalamia. During the evenings, we have held activities including henna, rounders, and movie night.
As we move into another week, we are beyond excited for more hatchlings to make their way safely to sea and look forward to keeping you guys updated with all hatchling and nesting female activity in the meantime.
Written by Mia Holman
Argostoli
The pace has picked up again this week, proving that nesting season is definitely not over yet. We have had many exciting and busy morning surveys. There have been 9 new nests this week, bringing our total to 68 nests. Out of these 9 new nests, 6 have been relocated due to their location being unsafe.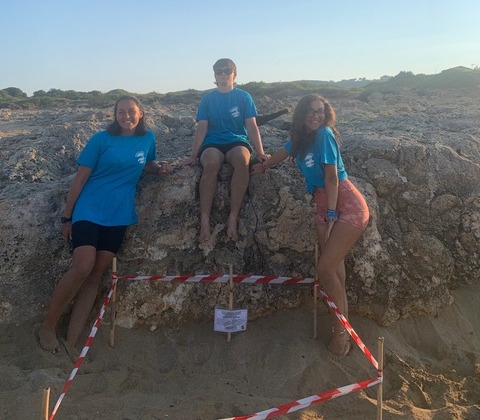 This week we were very excited to have our first nest on St Nicks beach. This beach does not normally have many nests on it due to its rocky nature. However, we found this new nest in an area where there is a sandy cove. It was decided that this was a safe location for the nest to incubate and was, therefore, left in its in situ location. On the other hand, we have completed 6 relocations this week. Two of these were trans beach relocations. Nests now being laid on beaches such as Ai Chelis and Avithos are at risk of storm damage near the end of their incubation period in September. For this reason, new nests being found on these beaches are being relocated to different beaches entirely. This provides more challenging relocations but the team still work amazingly and carry out these trans-beach relocations in speedy times.
Also, this week we have welcomed another new batch of volunteers and they have been wonderful. We started the week with lots of training and were lucky enough that every one of our new volunteers was able to help find a nest on their first day! This was a nest on a beach we do not survey by foot due to difficulties with accessibility and so, instead, we drone it. The timing was just perfect as we spotted the nesting tracks in the morning and were able to take all the new volunteers out the same evening for them all to experience nest finding and track examinations hands-on. It was a very helpful experience as part of their training. The new volunteers have also participated in many fun activities this week, such as a volleyball tournament and a quiz where they can demonstrate their new turtle knowledge as well as entertainment and general knowledge rounds.
Although we are still in nesting season and finding new nests, three of our nests have hit the 45 day incubation period. This means that the eggs are ready to hatch from this point forward. Therefore, we have started hatchling rescue shifts where the volunteers are able to sleep on the beach and check the nests regularly throughout the night for hatchlings. We have not had any hatchlings yet but we are ready on the beaches for when they arrive.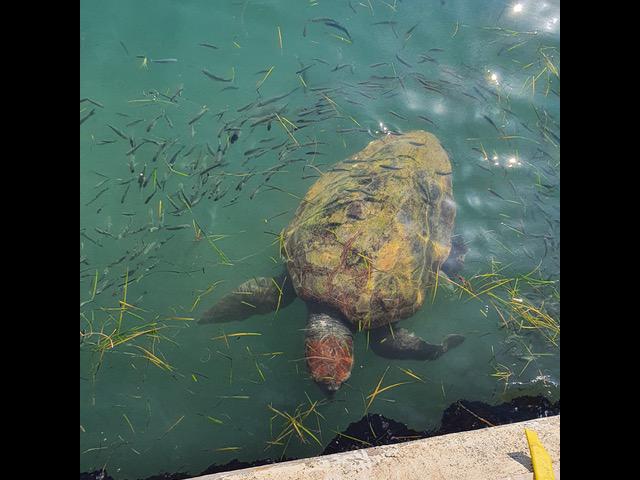 Our harbour shifts have continued as usual this week. We carry out surveys on adult turtle foraging behaviour and interactions. As well as this, the volunteers perform visual health checks on the turtles, which leads us to very exciting news about an injured turtle found in the harbour last week. The turtle, now named Houdini, was rescued from the harbour with an ingested line and net entanglement. Houdini has since had a successful trip to the vets where an x-ray showed no hook attached to the line Houdini had ingested. This meant we were able to cut the line inside the mouth as far as we could and now the line should pass through. All of this meant that it was safe for Houdini to be released and returned to the harbour. Additionally, this week a returning female adult sea turtle was spotted: Barb. Barb is one of our long-term returning sea turtles in the Argostoli harbour. She has been sighted multiple times nesting in Zakynthos earlier this year and has now returned to Kefalonia. We are very excited to see her again and have her back in the harbour. Welcome back barb! We are looking forward to seeing how this season unfolds in the next few weeks and the possibility of our first hatchlings!
Skala
We've completed our sixth week of the Posidonia and Sand Dunes project (14th June – 21st July). At the end of the sixth week of the project, we are proud to announce that we have achieved 21 Posidonia surveys, 34 sand dune surveys, and 25 drone surveys. Great news we have a new drone to help us map more!
Behind all these field surveys are photo classification, data entry and mapping to best interpret the results.
Regarding the litter survey, we have so far carried out 20 surveys and collected more than 45 bags of waste.
For the moment, according to the results of the Posidonia surveys we have carried out, Mounda Bay has more Posidonia than Skala Bay.
Since we have found more Posidonia in Mounda, this is where we go in our free time to see turtles (always the main goal of volunteers and interns). Two trainees managed to see turtles feeding on the Posidonia at Mounda in the late afternoon. Both the new volunteers and those who have already been with us for a few weeks will do a lot of snorkeling to make sure they also see a turtle before they go home!!!!
Of course, even if we don't see turtles all the time, we have the chance to see many different fish. Moreover, the spawning season should not be long in coming as most of the fish have huge bellies.
Finally, our new volunteers have finished their training and are ready to take over!
---