Hatching season is upon us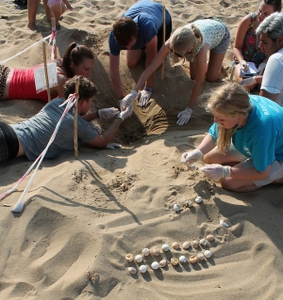 As nesting season is coming to a close here in Kefalonia, we thought it would be a great time for a general update on what we at Wildlife Sense and more importantly the loggerhead turtles have been up to this summer.
The areas that Wildlife Sense monitors are Lassi, Airport and Avithos with local volunteers monitoring further afield beaches in Lourdata and Lixuori.
Our volunteer team perform beach patrols every morning, with all emergences being recorded during these patrols we have found and protected 45 nests which are now incubating and beginning to hatch. Beaches located within the airport area have proven highly popular with the loggerheads this summer with 23 nests located on these beaches.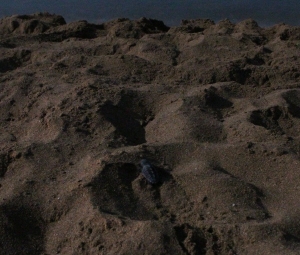 We are especially pleased with the 5 nests found in the Lassi area as this is the first year that they have been monitored as a result of information given to us by local residents. Regular beach profiling has also been performed within the Airport and Avithos areas to monitor and record changes in beach levels, which could in further years help determine whether this has an effect on beach selection by nesting female turtles.
As previously mentioned hatching season has now begun, with the first tracks appearing on Megas Lakkos. To ensure the hatchlings make it safely to sea we perform weekly night surveys to assess whether the hatchlings are at risk of disorientation due to excess light pollution. For these nests which we determine to be at risk shifts are organised to ensure all newly emerged hatchlings go straight to sea.
Seven days after the first hatchlings we perform excavations; this gives hatchlings adequate time to leave the egg chamber by themselves. Excavations supply us with vital data which allows us to look at the success rate of the nest, and to hypothesis why a low success rate might have occurred. This cycle of boxing and excavations will continue throughout the rest of the season.
As well as recording all turtle emergences and nesting activity we also obtain data on the behaviour of turtles that frequent the Argostoli Harbour. Throughout the summer, observations have been made of the social antagonistic behaviour between interacting turtles as well as their feeding behaviour. Their social interactions are important to be monitored as turtles are usually solitary animals this activity generally only takes place far out at sea.
However, it has not all been good news as unfortunately in the past week we have had three turtle stranding's whilst these are incredibly tragic events and are an inevitable part of life, it is frustrating that two of these confirmed fatalities are due to human activity in the form of propeller strikes and fishing nets.
Overall, we have been overwhelmed by the success of nesting and hatchling rates on the beaches we monitor and have high hopes that this will continue throughout the summer.
Written by Laura Bartlett-Short
Edited by Rachel Byrne