Hatching update: August 15, 2017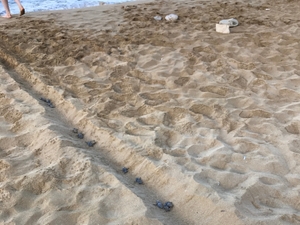 Argostoli
Our hatchling rescue teams saved 38 hatchlngs this week. Those would have crawled to light pollution instead of the sea, but our teams once again made sure this didn't happen. We've also had two new nests on Miniés and Megali Ammos. These were laid very late and may be the last of the season.
On Wednesday, our van filled with volunteers and two loggerhead turtles travelled to the Sea Turtle Rescue Centre in Athens. We took our rehab turtles Maua and Captain Nelly there for further rehabilitation. The rest of our team took part in a tagging event at Argostoli harbour, where three turtles were given health checks. Two of them were new turltes and we placed tags so we can identify them.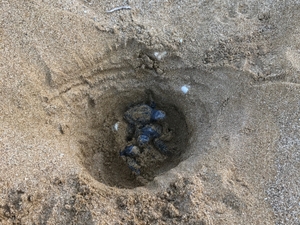 On a more sombre note, this week has presented us with two dead turtles, one on Miniés beach and one at Fanari. Sadly this occurs frequently and is often the result of anthropogenic activity, which really highlights the importance of the work we do here at Wildlife Sense.
Our fortnightly meal out this week was at Sirtaki's in Lassi, and the team had a fantastic night off revelling in delicious food and great company. The week ended with some sad goodbyes to a number of volunteers, and some warm welcomes to many newcomers.
A few words from our volunteer Romain, in French: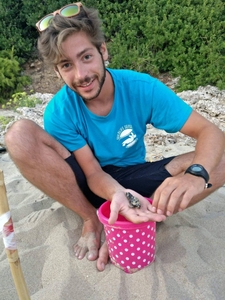 "Les journées ici passent à une vitesse alluçinante, après avoir patrouillé sur la plage ou le long du port vous pouvez profiter du reste de votre journée à vos occupations. Je passe ici une experience inoubliable, pleine de rencontres et de découvertes uniques. Les nuits sur la plage sont parfois fraiches mais vous donnent l'opportunité exceptionnelle d'accompagner des bébés tortues pour leurs premiers pas vers la mer. L'île est sublime, je vous recommande de louer un quad pour en faire le tour, j'y ai découvert des lieux sublimes en allant me perdre dans les montagnes. Aussi préparez vous à parler anglais car la majorité des volontaires viennent de Grande Bretagne! You'll learn quite a few new bloody expressions! Parfois il se peut que l'on nous signale des tortues en danger, c'est alors une mission contre la montre pour aller la sauver, vous ne vivrez pas ça deux fois dans votre vie croyez moi! Pensez bien à emmener votre crème solaire ar le reste du temps consistera à pofiner votre bronzage!"
Lixouri
There weren't any new nests in the Lixouri area this week, but the hatching rescue team ensured 118 hatchlings made it safely to sea. Five full inventories and one partial allowed us to take a closer look into the egg chambers of our nests. We observed our most successful nest of the season so far on Megas Lakkos, with a 95.8% hatchling success rate. This nest was laid on the 17th of June by one of our most notorious turtles, and Olly's favourite girl, the female Loggerhead known as Danielle.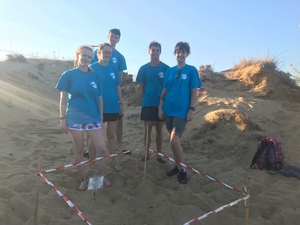 On Wednesday all teams joined for a tagging event in the harbour of Argostoli. Two new individuals were tagged and given an overall health check-up. Measurements were taken and barnacles removed from the carapace to ensure the turtles stay healthy. Another turtle was also temporarily removed from the harbour as it was seen to have fishing line complete with float and hook attached to its front right flipper.
Another emergency relocation was needed this week in Lixouri as extremely large waves struck Kounopetra on Sunday morning. The water table had reached 42cm, and one of the nests under immediate threat was moved further back to an area of higher beach profile, where the sand and water table were beter.
Avithos
In Avithos it has been busy this week. We've had one tagging event, two inventories, one partial inventory and started our light pollution monitoring.
Firstly the entire group traveled to Argostoli harbour to take part in a tagging event. This entailed walking along different sections of the harbour looking for untagged or injured turtles. In total we helped 3 turtles in the harbour by removing fishing line that they had become trapped in, and cleaning barnacles off of their carapaces. We also tagged two of them that were untagged. The tagging event was a great chance for volunteers to practice how to restrain and measure the turtles. During the tagging event a green turtle was spotted in the harbour, but unfortunately we were unable to tag it as it swam off before we could get it.
The two inventories took place on Friday and Sunday, on nests on Minies and Avithos. The inventory is where we check a nest seven days after it begins hatching, to see how many have hatched, unhatched or to see if any hatchlings are trapped in the egg chamber. We count the number of hatched and unhatched eggs to see its hatching success. We also check how many have bacteria and fungi.
A partial inventory also took place this week, with what was originally just a top egg check. The nest was due to hatch but hadn't so we dug down to the top egg. Before we got there we encountered an eruption of hatchlings with 33 in total counted above the egg chamber. After some minor stress we placed these hatchlings in a trench and watched them all go to the sea. We then removed the hatched egg shells until we reached the top layer of unhatched eggs, making sure to look out for any more trapped hatchlings. We had to rebury three hatchlings as they didn't have enough energy to make it out to sea.
This week we also started our light pollution survey, which involved walking the length of a beach while stopping at intervals of 40/80 metres to measure the amount of light pollution. We measure the light pollution on the beaches, so that we can record the figures for use on how it may impact any hatchlings, which are drawn towards white light as it is the brightest horizon to them.