Hatching update: August 29, 2017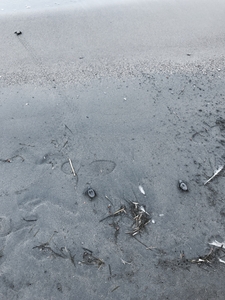 Argostoli
The work of our team here at the Argostoli field station this week has contributed to the successful hatching of over 300 baby loggerheads, as our hatchling rescue shifts aid them on their journey from sand to sea. Many inventories, both partial and complete, have been carried out this week also, where many a young turtle has been rescued from being trapped at the bottom of a nest and aided to sea.
On Thursday we waved goodbye to our rehab turtle Adonis, as he began his voyage on to the rescue centre in Athens. Another of our resident harbour turtles, Syna, was spotted this week, though unfortunately in a bad situation. She was seen with a fishing net trailing from her beak, but a swift response from our team saw her well. In the time between the net first being spotted, and when our team were able to help her, the net had gone from trailing behind her to almost completely inside! If not for the promptness and efficacy of our team, she wouldn't have got off so lightly.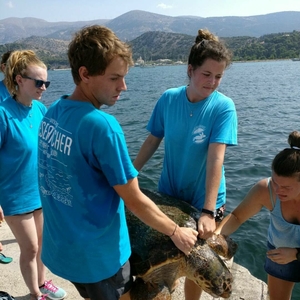 We had our team meal out on Friday night at Zorba's – another night of delicious Greek food and dancing. Saturday, some of our volunteers took a kayak out to explore the island further.
Avithos
In the Avithos area this week, it has been busy with inventories, hatchling rescue, beach profiles and light pollution all taking place! This week so far we have performed four inventories on our nests located on Minies and Megali Petra. As well as a partial inventory on a nest that mass hatched a few days ago. We have restarted hatchling rescue on Ammes again now that AM3 has reached its 45 day marker! This means we now have two teams out with one on Minies and the other on Ammes. We are also joined by a group of students this week that are helping and learning what it is we do here at Wildlife Sense.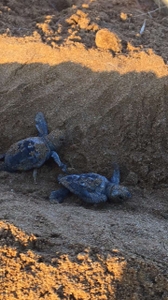 The inventories we did this week were on nests AV2R, AV4R, MP2R and MP3R. Some of these inventories were advertised on our Facebook page, which encouraged the public to come and watch us work, all with the hope of seeing some hatchlings! This also gave us the chance to educate not only our new volunteers, but interested members of the public. It also gave us the chance to answer any questions they had and explain why some eggs didn't hatch.
Our partial inventory on AC3R after it mass hatched was successful, we removed any hatched eggs and helped any trapped hatchlings to sea. This makes it easier for any unhatched eggs to make their way out of the nest when they do hatch.
On Ammes now that AM3 is hatching, we are sleeping on the beach again to make sure the hatchlings can make it to the sea. Unfortunately the nest protection has been moved a few times. This highlights one of the big problems the sea turtles face, with some locals either not caring or not understanding why we protect the nests.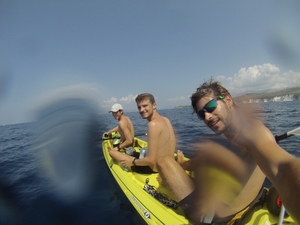 Lixouri
This week in Lixouri has been jam-packed with hatching nests and inventories. Sunday the 27th was the day of our public partial inventory for one of our nests on Megas Lakkos beach. A large crowd gathered for the duration of the inventory, as the volunteers sectioned off the trench and handed out information leaflets. The partial inventory was called upon due to a mass hatching event of 42 hatchlings, on the 17th of August hatchling rescue shift. 105 eggs total were observed from this nest. The majority of the clutch successfully hatched throughout the past week. From the inventory, 22 hatchling were freed and sent down the trench to sea under the watchful eyes of our volunteers. Without this crucial inventory those hatchlings may not have been able to push past the 70 hatched egg shells and compact sand to make it out of the nest alive. The team at Lixouri did a fantastic job at raising the public's awareness of Wildlife Sense and we are very thankful for their hard work and passion throughout the inventory.
On an extra note, another abandoned puppy was found and taken to Animal Rescue Kefalonia (ARK) by volunteers Keelan and Beth. The adorable pup was found alone near Megas Lakkos, and the rescue shelter were happy to care for him.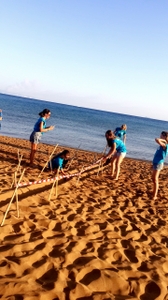 A few words from our volunteer Gareth:
This is the third week in sea Turtle conservation with the Wildlife Sense team in Kefalonia, and yet the experience can't be measured by time, each day feels like a week, but each week feels like a day.
Most mornings begin with a sense of mutual purpose amongst all the volunteers, it is paralleled with exhaustion from a night of heat and fending off mosquitos. But ultimately, there is keenness to set out and engage with the task at hand.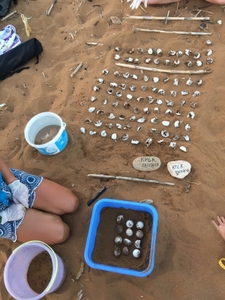 Morning surveys are carried out every morning before sun rise, and by the time you're on the road cycling, the sun has begun to make an appearance. Most people have claimed to prefer the Airport beaches (Ammes, Eglina, Megali Ammos and Miniés) but I have realized that I prefer Avithos and Lassi, which are both recognized for the their size and daunting distance from the apartments. But it is for the time that they demand that I appreciate surveying them; the experience is made worse by the longing to return to bed. Though tired and exhausted, it is nothing a gentle stroll during early sun rise in a sea that is of perfect temperature no matter how you feel can't mend.
Harbour shift is always wanted as it offers you to roam the island's capital town of Argostoli. As a volunteer of Sea Turtle conservation, navigation around the town is no longer done through names of roads or places but in the terms of sectors along the harbour where we observe the activity of the turtles. During the shift, there is plenty of interaction between you, tourists and locals, all initiated by a common genuine interest in the lives of the sea turtles.
Every now and then you will find yourself on hatchling rescue, where distant towns and the night sky become the same thing. Most times when you are required to wake up to scan the nests, there won't be much, but every now and then you will come upon a swarm of hatchlings climbing out of the sand.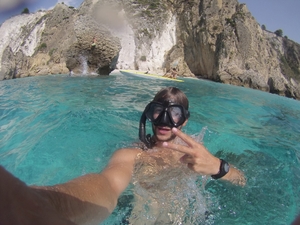 The balcony is the team's hub, it lets you overlook the courtyard and kitchen and is where all kinds of languages such as French, Greek, English, Norwegian, Spanish and Polish can be heard. There is always energy, even on the quietest days; when I'm not on the balcony or in the kitchen making omelette wraps I go to the pool up the road to make use of the floating devices and get a club sandwich or I go down to the beach two minutes away.
The work is not hard, and time is in abundance when used properly, allowing for mini-adventures; so far I have gone out to sea with the kayak to small islands off the coast, been swimming with goggles and a handful of co-volunteers to the glowing white beach along Miniés, cycling journeys to towns, visit to the winery and help found an art society. Most days will present you with an opportunity to take part in the inventories which allow you to observe first-hand the incredible yet challenging world that the sea turtles are born into.
I have been very lucky to engage with the conservation of sea turtles alongside a very special group of people, during the past three weeks, I have taken a step out of the staleness and sharpness of the world to a place where you remember how much bigger the everything actually is, the key has really been to allow myself the time. -- Gareth Barrett