Hatching update: August 8, 2017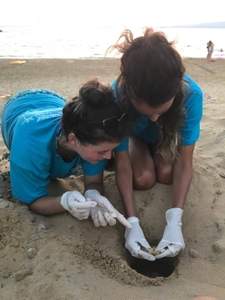 Argostoli
The nesting season is coming to an end here for the Argostoli field station, with only one new nest laid this week on St. Nicholas beach. Nests on this beach are at a high risk of inundation, so this one was relocated to Megali Ammos beach to give the embryos a stronger chance.
Our first few nests have started hatching this week, with a total of 50 hatchlings emerging from both Makris Gialos and Ammes beaches. This has got our team very excited, and we're expecting many more this coming week.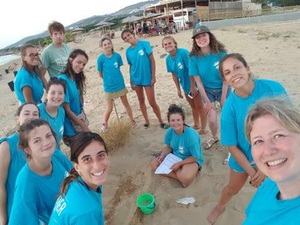 A partial inventory was carried out on one of our nests, as after a top egg check it was noticed that some of them didn't look too healthy. This involves moving unhealthy eggs out of the way so emerging hatchlings aren't trapped in the nest.
We have a new rehab turtle called Captain Nelly, who was spotted at Argostoli harbour with a severe buoyancy problem. An X-ray highlighted a lot of air trapped inside him, which caused the buoyancy. Our other rehab turtle Maua also went for an X-ray and it appears that his hook has moved slightly.
We had another birthday this week; one of our volunteers, Heather, was lucky enough to celebrate her birthday with one little hatchling that came out just for her! We also celebrated with an evening of Souvlaki and cake.
Lixouri
It's been a busy week in Lixouri as five of our nests are in the process of hatching. Danielle, a female loggerhead that has been nesting in the area had her first nest hatch on the 5th of August. Over 40 hatchlings made it safely to sea. Nests on Megas Lakkos and Kounopetra are hatching, and a nest located on Loggos is due to hatch any day now. One of the nests had to be emergency relocated on its 47th day of incubation due to a severe storm, but hatched on its 55th day of incubation.
Nesting has continued this week as a late clutch was laid by a turtle we've named Mabel on Megas Lakkos. Her egg count of 105 was typical of an above average female Loggerhead.
On Tuesday, a sea turtle was spotted struggling to swim just north of Lixouri harbour. We were quickly informed and a rescue team was sent out within minutes. We spotted the male loggerhead amongst the rocks in shallow waters struggling to breath. The turtle was gently lifted onto a damp towel and examined whilst the team waited for the rescue van from Argostoli. The turtle was covered in leeches which indicated a diminishing health condition. Fishing line damage was also spotted on his front-left flipper. The turtle was examined by our vet Spyridoula Vavasi, who gave him antibiotics and fluids. He survived for the first night at our rescue facility in Argostoli but his health was so diminished that he passed away the following evening, just before we were about to drive him to the Sea Turtle Rescue Centre in Athens.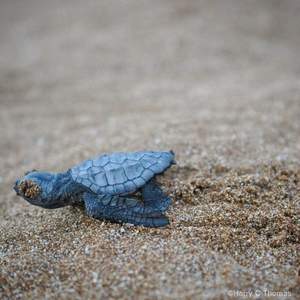 From Becky and Jack:
"Turtles are not the only animals we've had the pleasure of helping, from providing water and playtime to some kittens, to rescuing an abandoned puppy with heatstroke. Winston Nibbles (so named by the group due to his nibbling play 'fights' and bobby-head) came up to us at the pool looking for cuddles. We soon found out he was majorly dehydrated and hungry. We fed, watered and cooled down our new friend before taking it in turns to carry him in a wet towel, whilst walking him from our station in Lixouri, onto the ferry, and to animal rescue Kefalonia (ARK). Although it was touch and go from being unresponsive to wanting cuddles and nibbling our bags, Winston is now happy and healthy at his temporary home in ARK. He is waiting for the rest of his health and legal paperwork to go through before we hope to take our little fella back to England. His ability to make everyone smile has inspired Jack and I to plan to train him to bring happiness to those who need it most, in care homes, hospitals and hospices."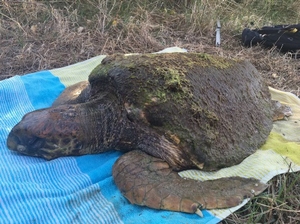 Avithos
Our first nest started hatching, with a total of 52 hatchlings recorded so far. We have been placing a box over the nest to deter pine martens and block light from the beach bar. The lights pose a problem to hatchlings as they will move towards the brightest place meaning many could gather around the beach bar and die instead of crawling to sea. We prepare a 12 metre trench to the sea and place hatchlings in it, giving them an easy route to safety. A nest inventory will be carried out on Friday, where we dig down to the egg chamber and remove the hatched and unhatched eggs and see if there is any fungi or bacteria present.Morning survey found a single hatchling track on Avithos from a nest that had been relocated to a safer spot further up the beach however unlike the other nest this will not require a box to be placed over it's on a darker, safer part of the beach.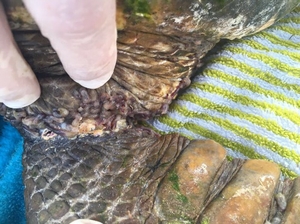 Morning survey found a single hatchling track on Avithos from a nest that had been relocated to a safer spot further up the beach. However unlike the other nest this will not require a box as it's on a darker, safer part of the beach.
From Elliot:
"I saw hatchlings loggerheads on my second hatchling rescue shift when we checked the box at 11pm. We placed a total of 12 in the trench we dug in that hour alone. It was incredible to see how strong and confidently they headed for the sea and even more amazing to think some of these baby females may return to the very same area to lay nests in a few decades."