Hatching update September 18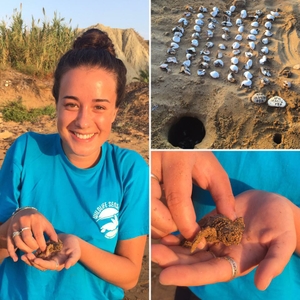 As the season continues storms occur more frequently over Lixouri. We arrived on the 6th of September to poor weather, flights were even delayed or canceled and the news that some of the nests had been inundated with water. The storms meant that some of our shifts, particularly night shifts, had to be canceled as the weather was still too bad to go out. When we could make it out for shifts, many were to nests which had been washed over or damaged by the storms. In these cases, we were forced to complete partial inventories of the nests and then re-bury any eggs which were thought to be viable in safer areas. Tragically, one nest (KP8) on Kounopetra had been washed over and covered in clay. As we cleared the clay the sand below was immensely water logged, unfortunately, we found 70 dead hatchlings above the egg chamber. However, two viable eggs were recovered and re-buried along with the clutch from the KP9 nest to Megas Lakkos. Shortly after this, emergency relocations and unexpected inventories meant that any nest requiring hatchling rescue were complete, resulting in the end of night shifts.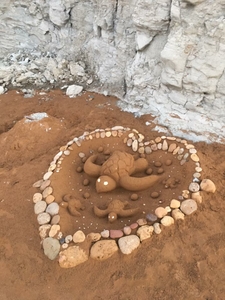 Throughout the rest of the week, we visited lots of the other beaches, including Cape St.George. On this beach, we completed the last inventory. This meant that the beach was now complete, and the last nest had a success rate of 95%. We also completed more inventories, one of which was on Kounopas where we found a pipped alive turtle in the egg chamber. The hatchling then broke free of its egg in front of us and despite being quite weak, made it down the 12-metre trench to the sea. For the new volunteers, this was the first hatchling they had seen recovered alive from the nest and was great to watch the hatchling finally make it to the sea.
The new volunteers also took part in an activity called find the drop. This enabled the volunteers who had arrived in hatching season rather than nesting season, the chance to see a human-made replica of a turtle nest. They then practiced the procedure which is completed when finding a new nest, including finding the drop in the sand due to the egg chamber being present.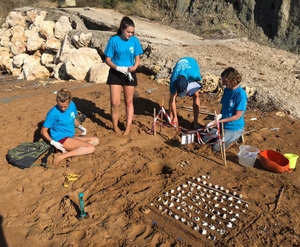 From Skala...
So a combination of stormy weather and the terrible signal on my part has meant a lack of updates from the Skala team so get comfy because we have a lot to catch up on!
After the last post-Skala was hit by 4 days of bad weather, the first of which hit us right in the middle of a hatchling rescue shift! I have never experienced lightning and rain like it and unfortunately the restaurant we took refuge in had a bamboo roof which led to myself and Dani needing rescuing from torrential rain at 5am - Thanks to Nicos for saving us! The weather caused huge damage to Skala beach and meant that two nests, SK27 and SK28, both needed emergency relocating as the area of beach they were originally laid on was almost completely washed away by the tide. Thankfully I have good news from these nests as both have now started to hatch so it looks like it takes more than a bit, or should I say a lot of rain to stop the Skala hatchlings!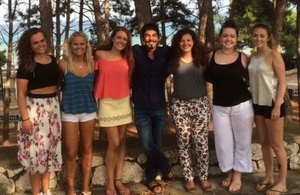 SK11 and SK22 were also badly hit by the storms but because they had already started to hatch, emergency relocations turned into inventories. When we started to dig up the nests to move the eggs we discovered that thankfully in the case of SK22 the majority of the nest had already hatched out and made it to sea. SK11 was approaching its 70 day mark and unfortunately the nest had been badly washed by the tide. There were more unhatched eggs than we are used to on Skala beach and unfortunately some hatchlings had got stuck in the nest and drowned but we were thankful to be able to rescue as many as we could and rebury 10 eggs that looked viable.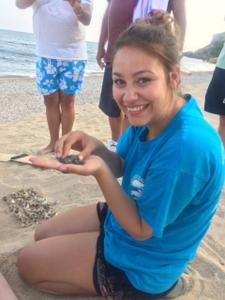 The rain also meant that we gained another nest on Skala - TR7 was relocated from Trapezaki beach and placed on Skala taking our total on the beach this year to 30! TR7 was only laid on the 1st September so we have a very late nest to keep me busy all the way up to the end of October!
When the rain had passed it was time to say goodbye to Maz, Pippa, Dani and Kelly and thank them for their hard work. We had another lovely meal at the pines and even managed to fit in some crazy golf in between the rain showers.
The girls are very much missed but once again it was time to welcome new volunteers! This time, we said hello to Nick, Sarah, Grace, and Charlotte but with only 6 nests now left on Skala beach and 1 on Gialou we were worried they would be in for a quiet 2 weeks. Of course, this was not the case and within the first two days, Charlotte and Grace got to experience one partial and one full inventory. We checked the eggs reburied from SK11 and were thrilled to find that 3 of them had hatched and the rest still looked viable and SK23 gave us an inventory with over 20 live hatchlings and a great hatchling success rate of above 90%!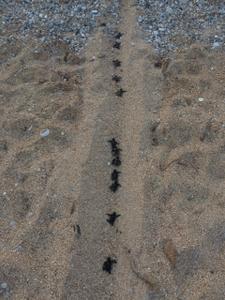 This week nests SK25-28 have all hatched meaning everyone has had a chance to see hatchlings and we have even been able to do our first lot of hatchling orientation experiments! With all the nests hatching one after the other we have a busy week next week and our new volunteers will be able to get stuck straight in when we do two group inventories on arrivals day! This also means that as of next Friday we only have 2 nests left on Skala and the 1 final nest on Gialou!
In between all the business of our 'quiet' 2 weeks, the volunteers have managed to fit in trips to Argostoli, Zante, and Ithaka! Ben has also FINALLY completed the bet he made months ago and somehow managed to eat 4 souvlaki pitas in one go. For anyone not in the know, this is a huge amount of food and I still have no idea how he managed this. Still to come this week we have the pub quiz and movie night and hopefully, my signal will hold out enough so we can update you on all the excitement guaranteed next week. Until next time - #teamskala out!
From Argostoli...
It's been a busy few weeks over in Argostoli! Two weeks ago the storms hit us, causing a large increase in both sea level and the water table, we also suffered from inshore water and clay run-off. Unfortunately, we lost one nest completely from water washing down onto Megali Petra and several other nests were partially washed away. The team worked hard to relocate and save the nests, moving them to safer positions on drier beaches. This week, the team were glad to see two nests that had flooded have now hatched! It's always great to see hatchlings make it to sea even against all odds.
In spare time, volunteers have enjoyed a salsa lesson from one of our 6-week volunteers, Jess – everybody got their sass on! On rainy days we've enjoyed a good catch up of the Great British Bake Off and also enjoyed a pizza night!
This week there was excitement in the harbour as a green turtle was spotted! This is the second time this month we've seen a green turtle swimming nearby. Spotting Green turtles is very exciting for us as they are not known to nest on the island, they can seldom be seen foraging of the south of the island whilst on their migration route. Hopefully, important data can be collected on these elegant turtles through future sightings!