Hatching update: September 29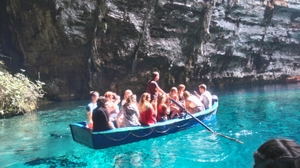 The end of the season is approaching fast but things are far from quiet here in Argostoli. Everyone is still working hard to protect our remaining nests, with several currently hatching and seven still incubating. On Saturday this week, Team Argostoli got together with Team Lixouri and Team Skala for a big Greek adventure, a tour of the island's top sights. We drove from Argostoli harbour up to the top of Mt. Ainos before visiting the beautiful Melassani caves.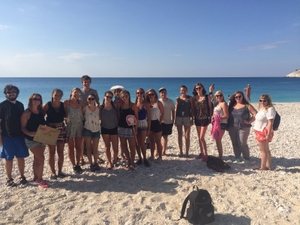 In the afternoon we met up with Chanel and Nikos for a spot of Lunch in Agia Effimia. After stuffing ourselves at lunch, we decided to stop off and admire the gorgeous Myrtos beach with a bit of rest and relaxation added in. It was great to join up with the other groups for the day! There was plenty of time for cheesy photo opportunities and there was always some good road trip tunes blasting from the vans!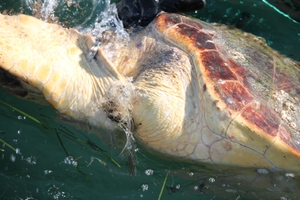 The fun continued on Monday when Wildlife Sense had a very successful tagging event down at the harbour. A total of 4 turtles were taken out of the water. Two were given their annual health check, checking for parasites and any other external injuries. They were also measured and photographed so we can see how our adult population is slowly changing over time. One of these turtles also needed a front tag replaced. Whilst down at the harbour we also rescued a female turtle who had fishing line tangled around her front flipper. The line had started to cut off circulation, without intervention this injury could have resulted in the loss of the flipper. Finally, we were able to tag a new male turtle spotted in the harbour hopefully, we will see him return to Kefalonia in the coming years. All in all a successful day in Argostoli!
From Lixouri...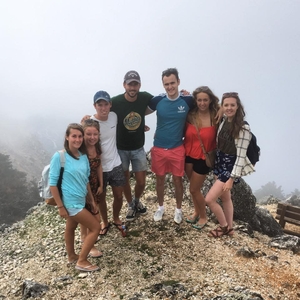 To bring this brilliant year to a close a collective trip was organised joining the three teams from across the island for a great day out! The volunteers who were amongst the last of this year were able to sight see, starting with a chilly/cloudy visit to the highest peak which made for the perfect photo opportunity, the view, when some of the clouds cleared, was breath-taking. Continuing on to Sami we took a short boat trip around the beautiful caves of Melissani with crystal clear waters. Dinner at a nearby restaurant was followed by a few hours enjoying the sunshine along the white pebbles of Myrtos beach.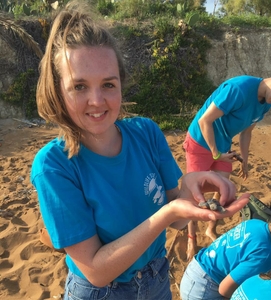 Monday's tagging event also got Argostoli and Lixouri volunteers working together in the harbour and was super successful. Early morning hopes were dwindling as the harbour shift hadn't spotted any of the untagged turtles. After a short while of looking we got a turtle with only one tag, we tagged the other flipper and gave her a routine health check. Harry and Annya were both in the water getting on the job training by Nikos on catching and guiding in the adult turtles. Nikos miraculously managed to spot a turtle with abandoned fishing wire tangled around its flipper, this would have been difficult to spot from out of the water and if unnoticed would have caused a lot of damage. It was important to get this turtle out and release its flipper before the fishing line cut in. Whilst walking to the next area we spotted an untagged turtle with many barnacles on its carapace, but unfortunately, it was a little too quick to be caught, this time, Annya did, however, manage to spot one that was sleeping on the bottom which was brought in for a health check and measurements.
Meanwhile, the Lixouri volunteers Beth and Charlotte were still patrolling and found the final turtle of the day, another untagged large male very soon after which was confirmed by Jodie. Nikos managed to catch it just before it went out of sight and brought it in for a health check and tagging with important measurements being taken by Jodie and Rory. All information collected on this male was vital as it would be the first time out of the water. This also meant it was slightly distressed and aggressive therefore careful restraint and effective team work made the process quick and efficient. The tagging event as a whole was very successful and highlighted the importance of regular health checks.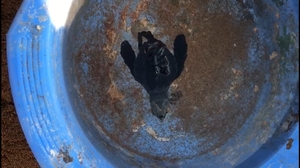 The new volunteers completed their first partial inventory of ML27R which we have recorded 14 hatchling tracks from and is Field Assistant Rory's last. Beth lead and begun by digging out the nest chamber to reach the top egg which was unhatched and still in relatively good condition, therefore, placed aside for possible reburial. The whole team was present so we each had separate roles to keep things running smoothly. Ryan made sure all the chamber content was organised well, Ellie scribed and Charlotte shaded eggs and hatchlings. Within the chamber, we had a live hatchling giving the new volunteers a chance to see what all their hard work is for and how to handle hatchlings correctly. This hatchling surprisingly did very well and made it out to sea with minimal assistance via the trench despite only having one eye. Toward the end of the chamber, Beth noticed some more movement and found one pipped alive hatchling struggling to emerge from its egg. Usually, we allow time for them to release themselves from the egg but this one had been tightly packed in so it was necessary to give some aid. This hatchling, named Buddy, is a fighter and needed some physiotherapy and help to get its flippers mobile given by Jodie, for now, this hatchling has been reburied. It's possible it may crawl out to sea tonight as this article is being written. If not Chanel and Nikos, the coordinators, will be giving this hatchling some extra TLC.
From Skala...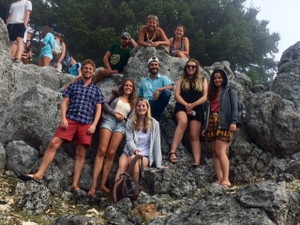 Team Skala has 2 nests left. 2 NESTS! We've bad another busy week here with 4 inventories and we have now inventoried all our nests on Gialou for the year. This means morning survey on Gialou is now every other day and as of Sunday is completely finished. We've had a great year on that beach so it will be sad not to be waking up and heading down to the beautiful sunrises Gialou gives us every morning.
Unfortunately, before we managed to inventory our last nest we had trouble with pine martins digging up the eggs. Although it was lovely to get the opportunity to sleep on Gialou on pine Martin watch, it also meant that we lost a lot of eggs and didn't have a great hatching success rate.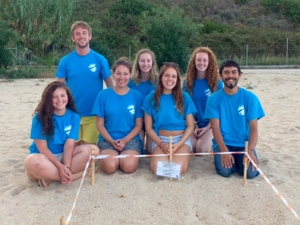 SK26, SK27R, and SK28R, however, were all very successful - even more so because 27 and 28 were emergency relocated during the storms! Our new volunteers Hayley, Lily and Mel got stuck straight in on their first day with the inventory on SK28R and they were lucky enough to see 4 live hatchlings just hours after their flight had landed! The next day was more of the same with another group inventory on nest SK27R and although we didn't get any hatchlings out we did have a 90% hatching success rate which is amazing news for a nest that was hit so badly by the storms.
On Friday it was another day of goodbyes to Ellie, Charlotte, Grace and Sarah which we celebrated the night before with a meal out and cocktails at Metaxa. Mel, Hayley, and Lily (with Nick remaining) are the last lot of volunteers we will have on Skala this year so we are hoping to make their 2 weeks the best ones yet!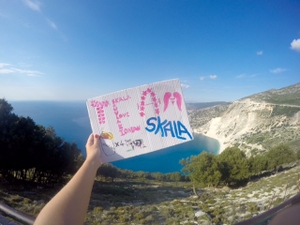 We were off to a great start with the island tour of Kefalonia kindly organised by Chanel and Nikos. The lovely project field leaders drove us around Kefalonia and we got to see the highest point in the island, lake Melissani, Myrtos beach and even had time to fit in a lunch stop! It was great to get to socialise with all the other field leaders, field assistants and volunteers and a fab time was had by all!
This week Skala has beach fun day and another pub quiz planned and it's also the return of hatchling rescue!! Yep, this is not a drill, after we thought hatchling rescue was well and truly over we are giving it one last go on SK29 because we'd like to carry out more hatchling orientation experiments with the light pollution along Skala beach.