Hatchling in the Harbour of Argostoli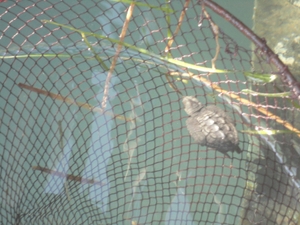 The sun has set on the nesting season; another year of observing adult tracks is over. But the volunteers aren't slowing down in the slightest! There is still a lot more work to be done and the hard working group is always around to jump on their bicycles or into the van in emergency situations.
Thursday proved to be one such day. A nearby boat owner alerted the patrolling harbour team to the presence of a young hatchling in the harbour. This incident has occurred only one other time with a hatchling in the harbour as they tend to swim straight out into deeper oceans after hatching. The boat owner had done exactly the right thing in catching the hatchling in a net and temporarily holding it in the harbourwater.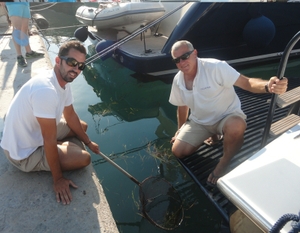 The team acted quickly and efficiently to ensure the safety of the hatchling before transporting it to one of our local beaches where it was released successfully. We would like to extend our thanks to the two men involved for their quick thinking in alerting us. Wildlife Sense is always grateful for any tip offs and extra help we receive from locals and tourists alike. It is a fundamental part of the project to have the back up of the general public so please do pop over and have a chat with us whenever you see us out and about in our blue "Researcher" tops!