Hatchling season continues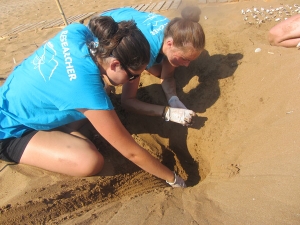 The past few weeks have been very busy here at Wildlife Sense. We entered hatching season with 45 nests and now only 23 remain across the areas we patrol; Lixouri, Avithos, Lassi and around the airport. Those beaches closest to the airport have seen plenty of hatchlings with most of the nests reaching the optimum hatch date of 55 days. We have one un-hatched nest in Lassi, and several in Avithos.
Seven to ten days after a nest has begun hatching we will perform an excavation. This helps us to determine the hatch success rates of each nest using a ratio of hatched eggs to un-hatched eggs. We also use these excavations as opportunities to study why a nest was more or less successful. So far all our excavations have been carried out successfully with some fantastic public support. The results so far have revealed a great variety of hatch success rates across the beaches we monitor. Some nests have low hatch success rates whilst others have very high ones. There are many variables that can contribute to these varying success rates including sand grain size and distribution, temperature, sand humidity, moisture content, predation and anthropogenic effects.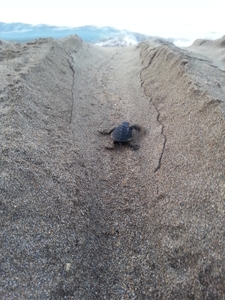 Boxing and shading is still being conducted every night on the beaches where the nests are most susceptible to light pollution and this has proved a great success in reducing the amount of disoriented hatchlings.
One nest in the Avithos area had been subjected to a few instances of inundation due to its close proximity to the sea. The water level had risen significantly since the initial laying of the nest and this left the nest at risk as water in the egg chamber can have a disastrous effect on embryonic development As this nest was laid fairly recently it was successfully relocated to a more suitable site closer to the back of the beach. Hopefully this relocation will give the hatchlings a better chance at successfully hatching from their nest.
Data collected daily from the harbour on the resident adult population is still providing a useful insight into their behaviour. A mini-project to individually identify the turtles was launched earlier this month and we have now successfully identified 27 of them this season using markings on their faces and carapaces.
So that's it for this round up, it has been great to see so many hatchlings successfully make it into the sea and we can only hope that this pattern of success continues until the end of the season.
By Laura Bartlett-Short