July 18 Nesting Update: Turtle tagging and nest numbers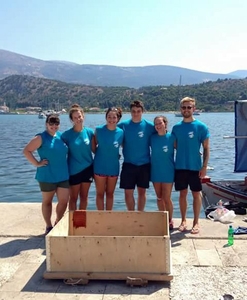 #TeamSkala have had a very exciting week, by locating three new nests between our two nesting beaches, bringing our total up to 10 (that's a lot of hatchlings!).
Unfortunately, one of our nests had to be relocated due an abundance of seaweed surrounding the egg chamber, and also being too close to sea - which could be detrimental for the hatchlings! The relocation process involved moving the eggs further along the beach to a more suitable location. The egg chamber was replicated and all 96 eggs were put in their new home. So far, on average, our nests have contained a much higher number of eggs than previous years.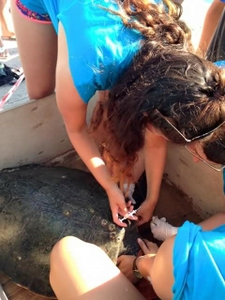 Another highlight for the team this week, was joining the other volunteers in Argostoli for tagging and health checks of their resident harbour turtles. For most of the team, this was their first up close encounter with a loggerhead. We practiced taking measurements, metal tagging and microchipping, in preparation for night surveys. When not directly involved in the tagging process, the team spent time interacting with members of the public, informing them about Wildlife Sense and loggerhead conservation.
Overall, it had been a fabulous week for all. Fingers crossed our nests start hatching soon.
Written by Megan Walley and Rebecca Warner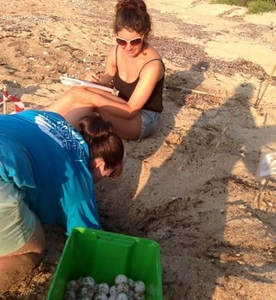 Another week has flown by here in Lixouri, and there has been plenty of turtle activity.
The daily Megas Lakkos morning shift found another nest, however it had to be relocated due to being too close to clay. This would have been a problem as in heavy rain, the clay could pool over the nest and radiate heat onto the eggs when it dried, thus damaging or even destroying them. Relocations are not only interesting to find out the clutch size, but they can also give us a better idea of the condition of the turtle that laid them. For example, in this clutch, there were 3 shell-less eggs that had to be removed as these would not have survived, and would have spread bacteria to the other healthy eggs. This was probably caused by an infection in the female's oviducts that affected egg development.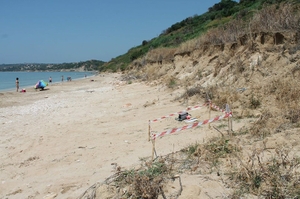 We have also been continuing our beach profile surveys, a vital part of our data collection, as it shows how a beach's gradient can change not only over a season, but also over several years. It also helps us to determine which gradients turtles prefer to nest on, and is useful to establish a minimum S value for relocations.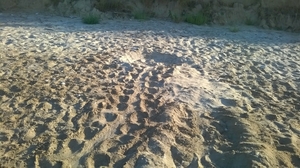 So after this week, we have 11 nests on Megas Lakkos, 2 in the Vatsa area and 3 in the Lepeda area, and we are hoping for more next week!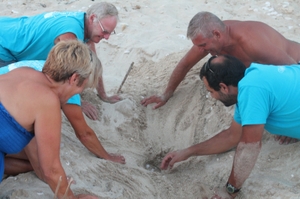 Written by Sophie Prater
In Lourdas area we also had a busy week with two nests one on Kanali Beach and the other on Trapezaki Beach! The local volunteers' efforts are beginning to pay off. With a total of 11 emergences, 2 of the emergences had successful nesting attempts. The other attempts along the emergences were aborted because of the large presence of shingle on the beach. At least one of the emergences was by a young adult who was so desperate to nest that she managed to crawl partially up the cliffside. As this is peak nesting time, we expect another few nests along these beaches.