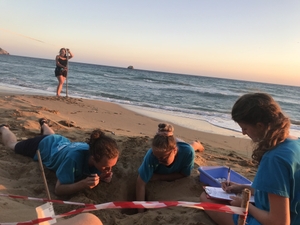 Lourdas:
The Lourdas based team were in action very early in the season as we became the first recipients of a very early next. This was brought to our attention by a member of the public, and on further examination, by our members, 97 eggs were found in a nest on Lourdas beach on the 15th May 2018.
Being so early in the season and with the sand still extremely cold, it was decided to remove the eggs and with assistance from the environmental centre in Argostoli the eggs were placed in separate plastic containers and then placed on trays into an incubator.
The plastic cups contain a sponge for water retention and sand from the next to enable the eggs to be replicated as if in their environment. Checks are made on weight and where deemed necessary water is added to rehydrate the container. This is a somewhat different and difficult scenario, with much time spent with the eggs at the centre.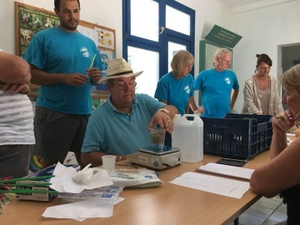 Our up to date nest count is now 18. A number of the Lourdas beach nests have been relocated to Kanali beach for safety reasons.
We welcome our new members aboard, Mark, Rebecca, Graham and Charlotte and Anne and David.
We hope two of our stalwarts, Mick and Maria Kinsey enjoy this summer on their trip of a lifetime to Thailand and of other surrounding countries.
Lixouri:
The Lixouri team have had a busy few weeks tagging and recording 11 different female turtles on night surveys, relocating unsuitably positioned nests, and starting hatchling rescue shifts early due to the early nesting season of 2018.
In the past week alone, we have gained 11 new nests making our nest count reach 48, with Megas Lakkos in the lead with 11 nests, whilst Lepeda beach follows closely behind with a total of 10 nests. Our other survey area: Vatsa, has 11 nests alongside 100% nesting success.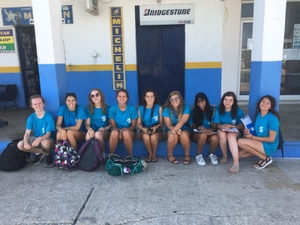 This season, we have seen the continuous emergence of Peggy, a female turtle with a missing rear right flipper, who leaves behind very distinctive tracks. However, our team managed to tag her at sunrise and a member of the team even helped her dig an egg chamber but unfortunately, she abandoned due to a large amount of clay beneath the sand. We are really hoping she returns and is able to nest successfully.
The freak stormy weather throughout June and July has resulted in more early season relocations due to clay runoff from cliffs on many of our beaches including Megas Lakkos and Kounopetra. When we relocate a nest, we are able to count the number of eggs in the clutch. So far, we have recorded record highs of 175 and 156.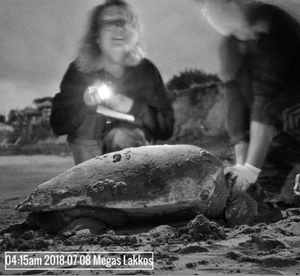 We are currently conducting hatchling rescue for our first nest of the season, located on Lepeda beach, however, the extreme weather and cooling caused by the rain means we expect incubation to take slightly longer than usual.
The Lixouri team have a busy few weeks ahead with further hatchling rescues and the exciting prospect of tagging more females still to nest on night surveys.
Argostoli:
The Argostoli team is delighted with all the nesting activity that is going on this season. We have more nests this year compared to 2016, which holds the record for highest nest count! In total, we have 47 nests. The beach with most nests is Avithos.
The weather has been perfect since the last storm hit the island two weeks ago. This is great news for the eggs as they are now in perfect conditions to develop into hatchlings, which are due to hatch very soon.
The team has been very busy with relocations, most due to being in a vulnerable position on the beach. When a nest is less than 10m from the water line, like most found at Avithos beach due to how narrow the beach is, we will perform a relocation of the nest to a safer place in the beach in order to avoid inundation of the clutch, as this can reduce oxygen exchange in an egg chamber and is likely to suffocate the eggs.
It is now coming to the end of our third group of volunteers, who have been very busy finding nests, recording interactions between turtles at the harbour, spreading the word about the conservation of turtles to tourists and friends and giving a hand during relocations. During free time, we have enjoyed an entertaining quiz night and movie night. We are looking forward to our meal out where we will all take part in traditional Greek dancing and plate smashing.
We are all very excited for the upcoming weeks as hatchlings should be starting to emerge! Stay tuned for more updates from the Argostoli team!