July 22 Nesting Update: Nesting continues as hatching season draws near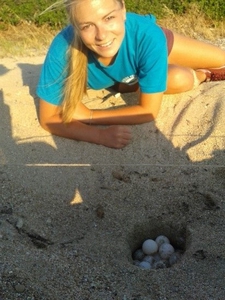 After a week of working in Lixouri, we are all settling into the daily routine of waking up at 5.20 and cycling to the nesting beaches to look for turtle tracks, body pits and nests, and no matter what we find, it is always exciting!
It has been fairly quiet here this week, giving us a moment to prepare for hatchling season. We have only had one emergence on Megas Lakkos, with a body pit and extended body pit but unfortunately no nest; however, the night survey team were able to tag and take her measurements which provides us with important data.
While Megas Lakkos hasn't seen quite as many emergences or nests as in the past few weeks, Lepeda has been a bit busier. Just in the last few days we have found two new nests, bringing our total to five. The nest found Sunday was actually reported to Wildlife Sense by a member of the community who witnessed the turtle emerge and lay her nest. The second nest was found the following day after tracks were spotted during morning survey. To help further protect nests in areas where they may be at risk, we have laid metal grids over the marked off areas to further insure nest safety,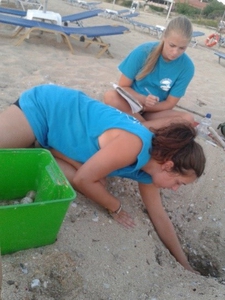 As well as morning surveys, we also go on light pollution surveys, where we measure light pollution every 40m, and night surveys where we walk the beach and tag any turtles with metal tags which have Wild Sense's address on, so we can be contacted when she is spotted again.
But it's not just about the turtles, it has been an awesome experience where we can meet people from other countries, practise speaking in different languages and socialise with other volunteers. During the day, we can go to the beach outside the apartments where we can go swimming and relax in the sun. We have also planned future activities such as movie nights, day trips and souvlaki on the beach!
Our current totals are 5 nests on Lepeda, 11 on Megas Lakkos and 1 on Vatsa, and we have now started preparing for hatchling season by determining which nests may need to be boxed due to light pollution. Who knows, maybe next week we could have some hatchlings!
Written by Haddie DeHart and Nicolas Alexandre
It's been an exciting first week here in Argostoli, from tagging turtles to digging nests, this new set of volunteers have had some great exposure to the amount of science that goes into protecting this amazing animals.
The week started with its usual trembling new arrivals practically bouncing on the balls of their feet with doubts and tingles about their first ride through the Kefalonian knolls. Like most rookies, they were a bit green when it came to taking on their first shifts, but several days of lecture and practice, built confidence and skill, all of which came handy with the unpredicted events that would grace this lucky bunch.
With fresh knowledge in their minds and callousing skill the group took on their first turtle tagging, a treat not every volunteer gets to experience. The day began calm and cool as many a turquoise shirt volunteer scanned the murky waters of the Argostoli harbor searching for the iconic algae and barnacled carapace of the Loggerhead. It didn't take long for the squeals of recognition to echo along the three sectors of the harbor and fingers to point past the black and white snaking cobbles towards the Caretta caretta that laid below.
Nikos, head of wildlife sense, expertly dons his snorkel and flippers and plunges himself into the oil strewn depths to retrieve the unknowing reptile. With quick hands and a bit of a wrestle he has wrangled our first Loggerhead, a female, and has led her to the harbor stairs were eager hands waited.
This prized catch was cautiously restrained by the application of a sea water soaked cloth over her face, until she gave the sought out 'relaxed sigh' that told researches she was calm. Ready to proceed, the team went right into action, tagging both flippers, inserting microchips, taking measurements and snapping photos while a flustered scriber furiously recorded the precious data of this rare found chance. As the seasoned assistants and leaders went through the nearly habitual motions, the wide eyes and anxious hands of volunteers surrounded them as every volunteer present was offered the chance to aide, hands on, with the completion of this capture. The female being deemed done, was then released with happy relief from onlookers, researches and reptile alike.
Two more would follow her into the tagging box, however, their stays would be quicker now that lectures had already been given and abilities learned. The morning closed on early afternoon ending a marvelous tagging session, which only endured two hiccups, one of a rude onlooker chanting loudly about killing the turtle as it was tagged, however he was quickly dismissed by a protective fisherman, who wildlife sense was happy to have on their side; and, secondly two turtles who had to have leech eggs removed from their shell, one male from its plastron, and the final female from a puncture wound to her head (the latter is being monitored and proper authorities have been notified).
As if this itself was not engaging enough, this morning shift was filled with happenings, as the Avithos troop fished illegal nets from the waters, and the Airport crew found an unlikely nest stashed like hidden treasure among the white sand beaches and marbled blue waters of the Blue Paradise beach. Wildlife Sense is currently working on both of this issues, and will address any new findings with next week's updates.
Written by Amanda Robbins
After a successful day tagging in Argostoli, #TeamSkala were well prepared for the first night survey without Jess on Friday 15th as she was in Lixouri for a few days and the show must go on. Josh and Bekkii took on the task and after a few hours they came across a turtle digging her egg chamber in amongst the sunbeds. After patiently waiting for the turtle to finish laying, the team moved quickly and successfully tagged the turtle before she returned to sea. The morning team then dug to the top egg and protected the nest. Because of the location of the nest, it was decided that it should be relocated out of the sun beds to a quieter, darker part of the beach. After taking bets on how many eggs there were, the final total was 123 - more than the average this year. This has brought the nest count on Skala beach up to eight. Two other emergences on Skala showed the signs of being a nest but after further assessment, and digging, it was determined they were not nests. Emergences have continued on Spithi beach however the nest count remains at three.
Written by Hollie Clarke and Kim Guieze