July 3 Nesting Update: A great start to July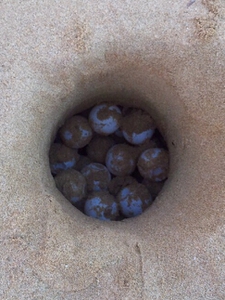 It's been another exciting week at the Argostoli project, with more nests being discovered and even more relocations taking place. On Friday we had reports of a dead turtle found washed ashore on the beach of Saint Nicholas, a small area of sand near the airport. As with all stranding events, a team was sent to assess the turtle and to determine, if possible, the cause of death. To everyone's huge surprise, upon arriving at the beach, another nest was found! This was made all the more impressive by Nikos predicting it five minutes beforehand! As Saint Nicholas is an extremely narrow and remote, it was determined that the nest should be relocated the nest to nearby Megali Ammos to reduce the risk of inundations, and allow it to be monitored more closely.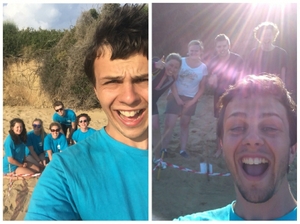 Megali Ammos was the focus again on Monday, as our morning beach patrol team found not one but two nests on the west side of the beach, bringing our total number of nests up to eleven. As seems to be the running theme of the Argostoli project at the minute, one of these nests needed relocating. This was then carried out that evening. At 105 eggs it is not one of our biggest of the season but it is still comfortably over Kefalonia's average of 88 eggs. With most of the team only arriving at the weekend, they had experienced an eventful first few days to their time on the island.
Written by: Ben Walker and Sam White
We have had lots of turtle activity this week in Lixouri, with lots of emergences, nests, taggings and relocations.
Our morning survey teams have found another 2 nests on Megas Lakkos, meaning team Lixouri has now protected 9 nests in total. One of these was laid under a canopy, meaning it would be shaded at 12pm, which would reduce the temperature of the clutch, and affect their development. Therefore we relocated this nest, and counted a total of 103 eggs, yet again exceeding Kefalonia's average.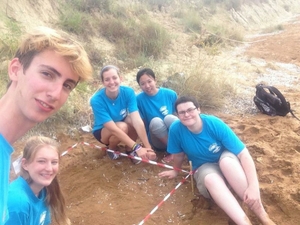 We have also tagged more turtles, one of which had already been tagged on its rear right flipper, which is really interesting to see! Like our own, this metal tag had a unique code and an address, so we will be able to determine where this turtle was tagged and contact the group. All the volunteers who have helped with tagging have done a fantastic job by correctly restraining the turtles so the tags can be successfully applied without harming either the animal or the tagger!
A new set of volunteers arrived at the weekend and already all of them have seen turtle tracks, and some of them have already found a nest! Using our track keys and their recent training, the new team was able to determine the attempt type, safely dig for the eggs and measure and protect them correctly, an awesome achievement for a team that have only been on the project for 2 days.
We have been really impressed with our new volunteers so far, and can't wait to see how they get on next week.
Written by: Sophie Prater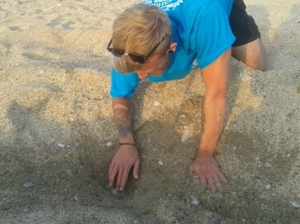 Following on from the night survey training, #TeamSkala began regular night surveys. The first few nights were uneventful but on the night of the 26TH our two boys, Jake and Josh had an encounter with a large female turtle who had emerged to lay her nest. We found a single up track around midnight, which led to the female camouflaging her freshly laid eggs. Following Jess' guidance, we tagged her with two metal tags, micro-chipped and measured her. The morning team then followed up on this by digging down to the eggs, confirming it was indeed a turtle nest. This was #TeamSkalas' fourth nest, which was swiftly followed up by a fifth nest a few days later.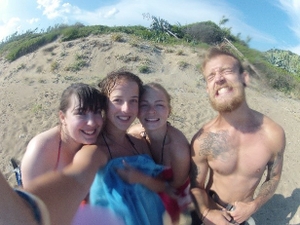 The other beach we monitor was less successful; with emergences being plentiful but no nests to report. We believe any turtles emerging on this beach actually will go to nest on Skala. #TeamSkala are continuing snorkel surveys every few days, regularly seeing turtles, noting their gender and identifying if they are tagged, to give an idea of where they spend their time between nesting.
Fingers crossed we have more night time visitors in the next few weeks!!
Written by Rebecca Warner and Josh Moore