July 12 Nesting Update: July continues to be fruitful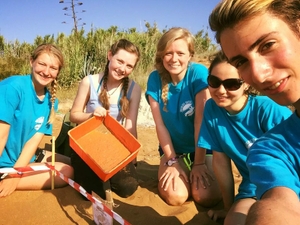 It's been a very busy week here in Lixouri, with plenty of new nests and a particularly busy day with 2 relocations.
The week started with emergences on Lepeda, one of our new nesting beaches, including an abandoned egg chamber and a body pit. It is unclear why the egg chamber was abandoned, but some reasons include high levels of clay, plant roots, or the turtle being disturbed while digging.
Our night survey team have tagged more turtles, including a female who nested but laid her eggs too shallow, meaning we had to relocate it. This was to make sure the eggs were not harmed by the thin layer of hot sand covering them, and to give them more protection from surface disturbances. On the same day the Lepeda team found a nest on Agios Georgios which was our first sign of turtles on that beach. However, these eggs were also laid too shallow, so this nest too had to be relocated further back the beach.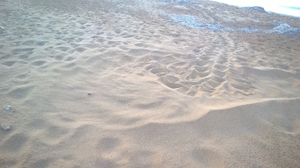 We have also been continuing our light pollution surveys, an important part of our work, as it provides invaluable information that can be used to help monitor hatchlings. If a beach has high levels of light pollution, the hatchlings could travel towards the light source, usually beach bars or hotels, instead of going straight to the sea. Therefore, it is important to monitor light pollution levels to determine which nests need to be monitored towards their expected hatching date.
Following this week, our current totals are 7 tagged turtles, 4 relocations, 10 nests on Megas Lakkos, 3 on Lepeda and 1 on Vatsa, making 14 nests in total. We will be continuing beach profile surveys, where we monitor gradient changes, and will also start light pollution surveys in the Lepeda area due to an increase in turtle emergences.
Written by: Sophie Prater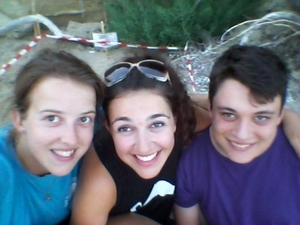 This week saw a first for #teamskala with the appearance of a nest on the smaller of the 2 surveyed beaches. Contrary to last week's thoughts, the single emergence on Spithi lead to an extended body pit and, after quite some digging, a nest! Unfortunately, with numerous landfalls across the whole of Spithi, the nest's safety is our team's top priority and may eventually find us relocating.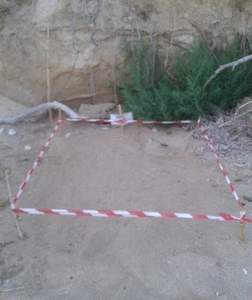 Conversely, the larger of the 2 surveyed beaches, Skala, proved less fruitful for emergences than previous weeks, with only 2 small tracks located very close to the sea, both labelled as no attempts.
The discovery of this week's 6th protected nest was a welcome boost, and we are ever hopeful that this number is sure to be on the rise! The lack of night-time activity this week has not put us down. Even if we are tired we will continue night surveys and light pollution shifts with more energy and enthusiasm than ever!
Written by Jake Horton and Kim Guieze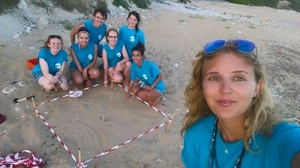 Yet another busy week was had by all at the Argostoli camp. With another three nests being found. One on Ammes beach in the airport area, and the other two being in the avithos area, located on Ai Chelis and Avithos beaches respectively. As has been the recurring theme this nesting season in Argostoli, all three of these nests once again required relocation. Those keeping up to date with our activities here in kefalonia will be aware that most of our nests this season have had to be relocated. This is mainly due to nest proximity to sea and nest depth in the sand. Both of these factors warrant relocation, because nests can quickly become inundated with water if placed too close to the sea, and if placed either too shallow or too deep in the sand can experience extreme temperature fluctuations or fail to reach incubation temperature entirely. While we aim to keep the nesting process of sea turtles as natural as possible, it has recently been necessary to relocate a large proportion of our nests. With all the practice our volunteers are getting, they are fast becoming experts at relocating sea turtle nests.
By Ben Walker & Sam White