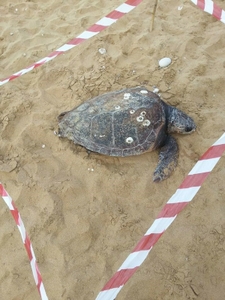 After the first nest was found last week in the Argostoli area we have had a further 6 non-nesting emergences on our beaches. The volunteers have been biking daily to and from the nesting beaches to see what the sea turtles have been up to the night before. Unfortunately Wednesday brought a stranding of a young female sea turtle in the Avithos area. Our morning survey team carried out various external measurements and examination in an attempt to understand why this young female had died as well as adding to our data collection. In this case, there was no external signs that indicated the cause of death.
On Sunday our researchers stationed at the harbour of Argostoli witnessed Artemis tangled up in fishing line, which is not the first time this has happened to the famous sea turtle. It was important act swiftly and remove the line that could easily cause further damage to her flippers. With the help of one of the local fishermen in the harbour the majority of the fishing line was cut off. By the time our full rescue team travelled to the harbour she was able to remove the rest of the line herself and she was not to be seen for the rest of the day. The following morning the rescue team was waiting for her arrival, where they conducted a thorough exam of Artemis without removing her from the sea to confirm all the fishing line had been removed and no hooks were present.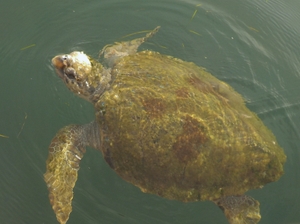 All in all the Argostoli location has had an eventful and fun first week with the sea turtles and volunteers and we are excited to see what is in store next!
In Lixouri area, the season began with a very exciting first morning shift on Megas Lakkos with an astounding 10 tracks showing emergences from turtles out of the water. This provided the perfect opportunity to teach volunteers on their very first shift how we distinguish between a turtle track emerging from the water and one going back to sea.
After a busy and exciting first morning shift it appeared the turtles were keeping us patiently waiting for any further signs of nesting in the Lixouri area. A week after our first morning survey we found our first nest of the season on Lepeda beach. This beach is a new location we are surveying in Lixouri this year and creates a lot of excitement in the wait of what is to come this nesting season.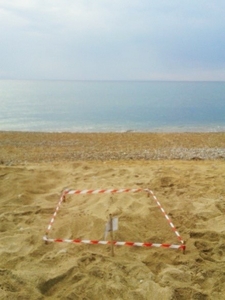 On the 9th of June we celebrated World Oceans Day by undertaking a beach clean on Xi beach. An enthusiastic and hardworking team of Lixouri researchers and local island volunteers gathered together to clear up litter that had been left behind on the beach and washed up by the sea. The group effort saw 4 large bins filled with rubbish that had been removed from the beach. Our nesting records show that this area is a prime location for nesting sea turtles and clearing this rubbish will help to keep the beach in a better condition for a turtle to lay her nest.
Our volunteer and research team based near Skala have had an excellent start to the sea turtle nesting season, successfully identifying one nest and several non-nesting emergences within their first week. The nest and some non-nesting emergences were located on Skala beach and several more emergences were located on Spithi beach. Both these beaches have not been consistently monitored for sea turtle nesting activity in the last 20 years.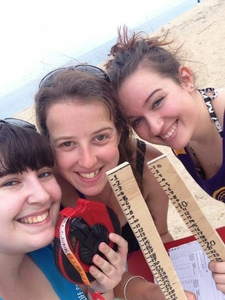 Spithi and Skala are located close to each other but have very different properties that may affect sea turtle nesting and hatchling emergence. Spithi beach is a very quiet and isolated beach with almost no light pollution. In contrast to this, Skala beach is very popular with tourists and the back of the beach is lined with street lights, restaurants and beach bars. The bright lights at the back of the beach are likely to cause disorientation when hatchlings emerge in approximately two months so these nests must be carefully monitored throughout their incubation and especially during their hatching period. In addition to monitoring the nesting activity, we are also busy assessing the level of light pollution on each beach and the slope of the beach to sea (the beach profile).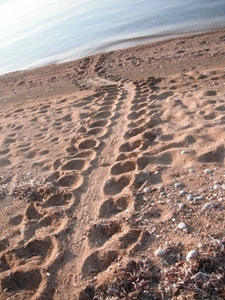 We are very fortunate that our team based in Skala are all long-term volunteers or completing an internship with Wildlife Sense. This means the team is able to follow a nest through its whole incubation period from locating the eggchamber when the female lays her eggs to conducting a nest inventory when the nest has finished hatching in August or September. We hope the season continues in such a positive and successful way!
Our team of locals in Lourdas area are happy to report some sea turtle activity as well. There have been a few crawls along Trapezaki, but no nesting attempts along these crawls. We hope to report a nest in the area by the end of next week!
Written by: Annya McKenzie, Sam White, and Jess Betts