June 29 Nesting Update: New nests in Skala and limited activity on Lourdas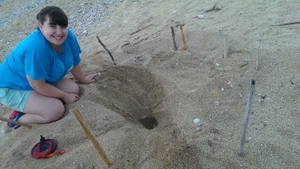 After a quiet start to the week, the 21st June saw #TeamSkala come across an emergence leading to an extended body pit. Careful examination lead to the identification of an escarpment, and thus digging began; a short while later, the team successfully located the top egg and hence the second nest of the season!
Spirits were high going in to the following morning survey and once again #TeamSkala recognised three more emergences on Skala beach. After analysis of the three emergences, one showed signs of a nesting attempt. After cordoning off the area, digging commenced once again; initially covering a large area, the top egg was eventually located and the third nest of Skala beach was protected.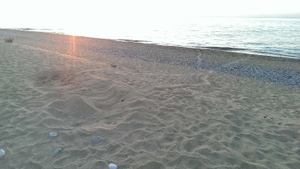 Following the occurrence of the two new nests, it was time for the team to complete their night survey training. A presentation by Jess informed the team of how to restrain, tag and microchip a turtle, as well as the knowledge required to take the required measurements.
Spithi, our smaller beach, proved less fruitful as once again only a small number of emergences were identified. We are hopeful for more turtle activity as we progress further into the nesting season.
Written by Hollie Clarke and Jake Horton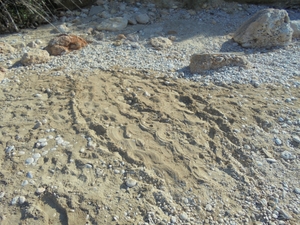 In the Lourdas area the team has encountered over 15 emergences this summer with not one sucessful nesting attempt. It has been quite frustrating for the team, but we are confident that in the near future there will be a nest. Last year by this time there was only one nest, but the beaches had six nests by the end of July. The observed tracks have indicated that the nesting females often crawl to the back of the beach where they encounter several large rocks and shingle making them decide to abandon based on poor beach suitability. There are suitable areas to nest on in the area so we hope that they will find them as two of the three beaches in the area have little to no light pollution and nests in the past have had high success rates.