Late August 2018 Hatching News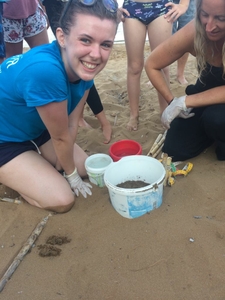 Lixouri Field Station
We've had an unbelievable week with 2 new nests identified bringing our total now up to 70! One nest was laid on Megas Lakkos after adult turtle tracks were spotted on a morning survey shift following an emergence from the previous night. The clutch size was below the average of 88 eggs with 61 eggs being laid, which is expected this late on in the season. In a sweepstake, each member of Team Lixouri guessed the number of eggs and Jade won with the closest guess of 67 eggs! Due to its location, the nest has been relocated over to Minies beach which will be monitored by the Argostoli team, where it will have an increased chance of hatching due to the incubation temperatures on this beach.
The second nest was identified on Lepeda, this time through hatchling tracks. More than 20 tracks were observed all heading to the sea and after a lot of searching the eggs were found along with 8 more hatchlings that all made it safely to sea. This nest is now protected making it our twelfth nest laid on Lepeda this season.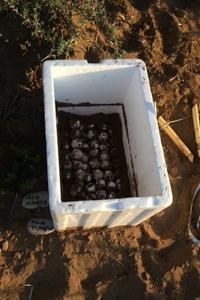 Our hatchling rescue teams have also had eventful nights and were lucky to witness four new nests hatching this week. This includes 2 on Lepeda and 2 on Vatsa, all with very high hatching success rates which is exactly what we like to see!
A public inventory was also carried out this week on Loggos. This gives tourists and locals the opportunity to come along and ask any questions about the work that we do. It is also an opportunity to see some hatchlings for the first time! All of our volunteers have been working exceptionally hard over these past two weeks and as the week draws to a close we will go out for a group meal to celebrate their time here before our new group of volunteers arrives!
Argostoli Field Station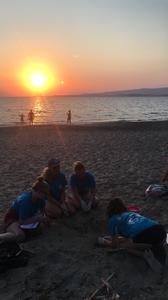 A triple-whammy of situations developed for Team Argostoli on Thursday morning. Within a very short space of time, when we received calls from our Morning Survey researchers with reports of two hatchlings who weren't swimming properly, a call from our Lourdas team with a similar situation and a call from our researchers at the harbour, informing us of a potentially very sick, lethargic turtle.
Our team jumped into action with the four hatchlings delivered back to our base to undergo "Hatchling Rehab" - where we keep them under observation whilst they take some time to develop and build strength.
Whilst one half of the team helped with the Rehab Hatchlings, the other half of the team jumped down in the van to the harbour. We were able to get the turtle named "Ayla" out of the water very quickly and immediately started to treat her. Ayla was covered in leeches, a sign she had been inactive for a long period of time on the sea-floor and she had also sustained an injury to her head. After a cleanup and some rehydration, we put her on the bus to Athens where she was received by the team at the Rescue Centre there for further treatment.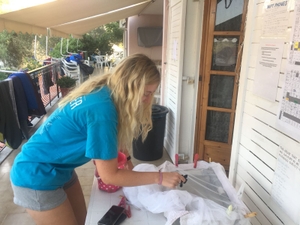 In the volunteer-related news, on Sunday we say goodbye to our first four-weekers of the hatching season. Ella, who has been a researcher with us for four weeks, reflected on her time in Kefalonia and wrote a wonderful piece for us. We wanted to share this extract with you all "When you sleep on the beach, you wonder who is going to walk past, how many mosquito bites you will get. But it all goes out the window when you see that wee head pop out of the sand and scramble to try and get to the sea, it's a once in a lifetime feeling and experience...
I'm not going to say the course is all hunky-dory, as it's not. It's a challenge at times, but some of the best challenges I've ever had. I have learned so much about myself, realized I could do things I didn't think I could."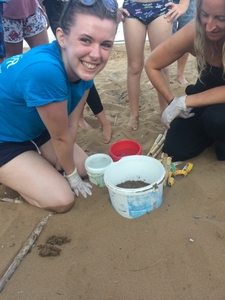 It's so wonderful for us FAs and FLs to see how our researchers grow over the course of a few weeks, knowing they go home having grown in confidence, built their skills and knowledge, helped save the lives of many turtles and develop life-long friendships. Seeing these changes is incredibly rewarding for us all!
As we look to the weekend, we can see a storm on the horizon due to hit us on Saturday...check in again next week to see how we pull together and make it through!