Late-August 2019 Hatching News
.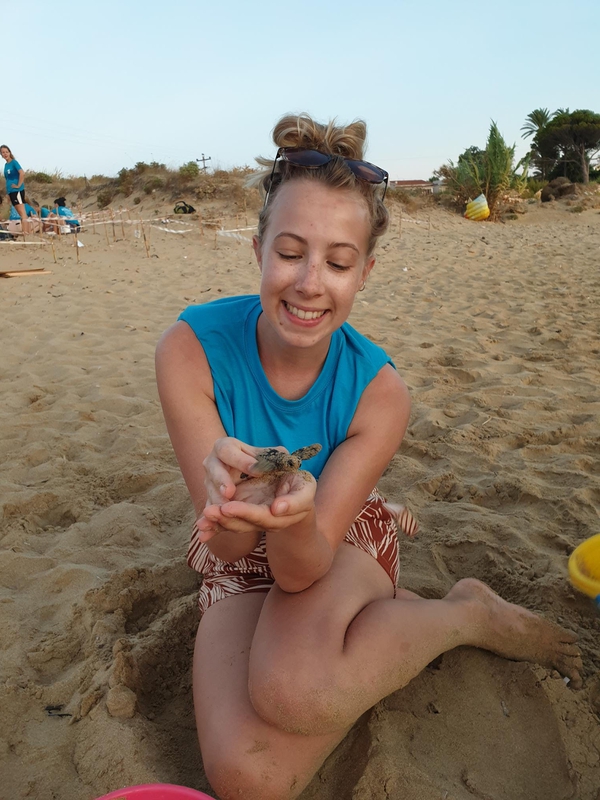 As Kefalonia welcomes its peak holiday season, hatchlings and tourists alike head straight for its clear waters. However, due to ongoing light pollution, a "straight" path to the sea might be overly optimistic for our baby turtles, and so the Argostoli team are busy as ever entering the third week of hatching.
From a volunteer perspective, this week has been abundant in learning curves, emotional highs, and, more, unfortunately, practical training on how to deal with daytime hatchings.
Whilst surveying Avithos on the 15th, our group noticed that one nest had been visibly dipping as the morning progressed. After contacting the team on-site, we sprung to action and performed a deep comb to release any hatchlings lurking above the egg chamber, before the sun could do its damage. With both the heat and number of tourists building, what could have been a stressful shift turned into one of the most successful. Beachgoers lined the trench with towels to provide shade, and children kept a fair distance despite their excitement. All twenty hatchlings, including one with a curved rear flipper, made it safely to sea - proving the importance of collaboration between tourists, residents, and conservationists when protecting this species.
Hatchling rehab opened for business this week, with our Field Assistants rushing to Makris Gialos to retrieve an injured hatchling. However, despite our best efforts, this one did not make it through the night. Sad as it is, this is the reality when working with hatchlings.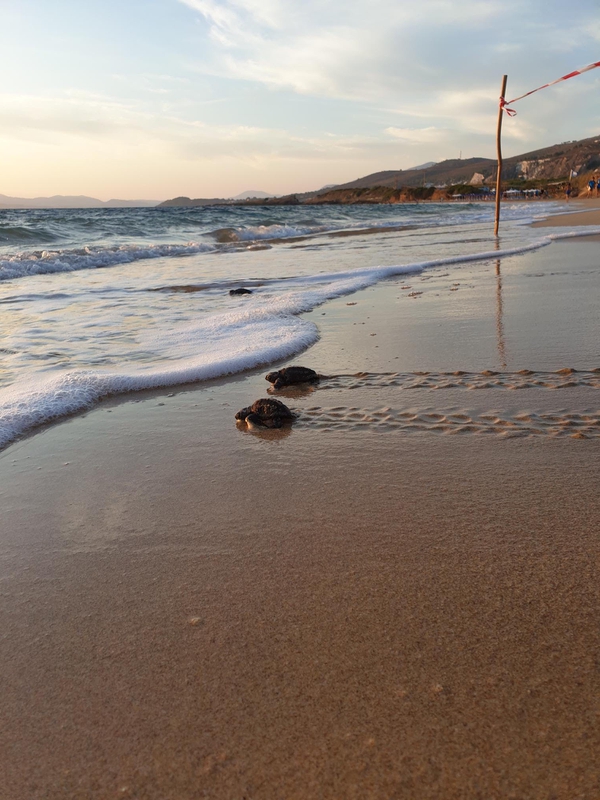 Amidst such a busy week, it can seem as if every beach is swarming with turtle life. Yet despite the number of hatchlings, some nests can go eerily quiet, and seven days after the first hatching, the team will perform an inventory to uncover any problems. Lots of inventories mean more chance for us volunteers to learn, and even open some eggs if the leaders have confirmed that they will not become hatchlings. With so many of us willing to get stuck in, opening the eggs became reminiscent of a 'lucky dip'. Smellier finds ranged from aptly named 'cottage cheese', a spectrum of fungi and bacteria (including the elusive hot-pink variant), and embryos frozen in various stages of development. On Monday, an inventory on Miniés discovered two partially developed embryos in one egg, connected by the same yolk but not conjoined. This was incredibly interesting for the team, and such finds stress the value of each nest - even the ones that aren't very successful.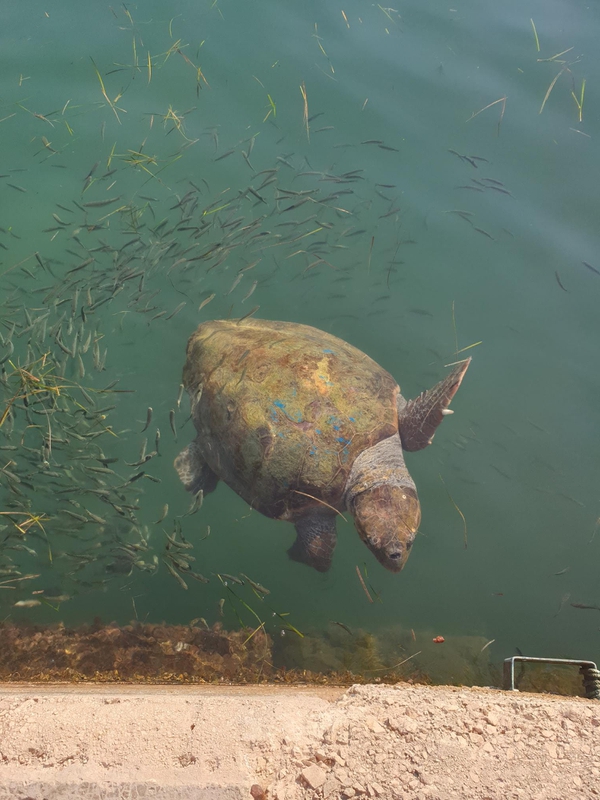 With hatchlings in the spotlight, as a new volunteer, it's sometimes easy to forget that Argostoli's adult turtles need our help more than ever, and the week's harbour activity served as a poignant reminder of this.
On Monday's morning harbour shift, the reasoning behind our daily patrols became clear, as we spotted a tagged male with his back flipper caught in a net. Fortunately, it was caught on his claw, and so fell off easily. But to prevent any future entanglements, Field Leader Simon plunged into the murky waters bordering the fish market, and after a few minutes, surfaced with the offending net.
This was near-miss for this turtle, but others are not so fortunate. While Monday's tagging event went relatively smoothly, with two healthy turtles successfully captured and released, Wednesday's installment was far more harrowing.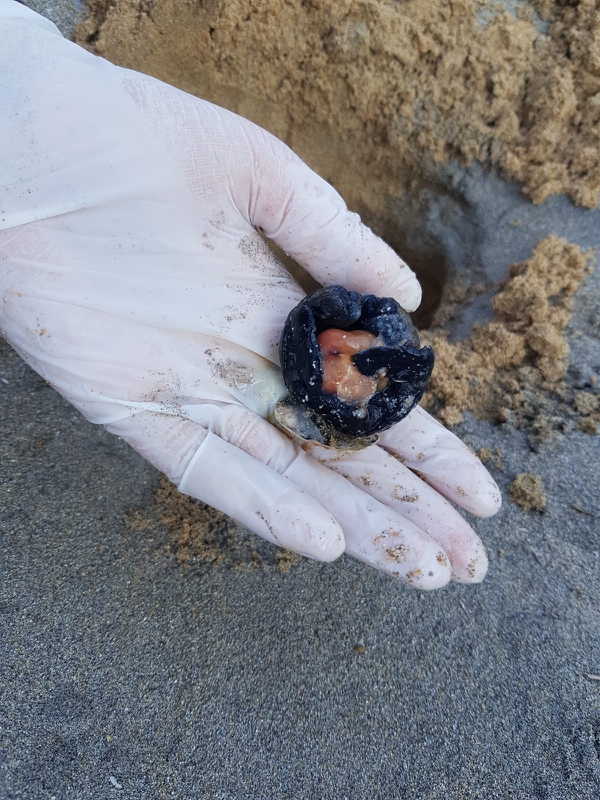 The entire group was shocked by an entanglement-based injury that has only been seen once before. One of our resident turtles, Tilly, was found with a fishing hook and separate net both lodged in her throat. While she had ingested the net, the hook was firmly lodged. The core WS team had clearly got to her just in time and were able to remove the items.
Shortly after, our field coordinator Harry returned with an untagged male with a severe propeller strike to the rear of his carapace. Though the wound was fairly old, it was clearly causing him some pain, and it was a miracle that the rear flippers had retained full mobility. Chanel explained to the shocked public that such injuries often result in spinal severage, and full paralysis. After an iodine wash and a chat to the Athens rescue centre, he was safely re-released, and we are optimistic that he can recover from this injury.
Written by Molly Higgs
Lixouri Field Station
Another week, another series of mass hatchings here in Lixouri. While the hatchlings are keeping us busy, our famous Lixouri nesting females may very well be done for the season. We haven't found any nesting tracks this week. Of course, we never say never. There's still a chance we could come across one last nest, but it grows more and more unlikely each day.
That's not to say that we haven't encountered any adults. Our old turtle friend, Percy, has made many appearances in the Lixouri harbour. The team also met up with the Argostoli crew for two tagging events at the Argostoli harbour. These were great opportunities for the team to learn how and why we tag sea turtles and perform health checks. Plus, we're always happy for an excuse to see our family from the other side of the bay.
With a new group of volunteers arriving, team members haven't had quite as many chances to explore the island as we did last week. Nonetheless, there has been snorkeling (while always hoping to spot a turtle!), riding jet skis, and even a trip to beautiful Assos. And everyone has big plans for their upcoming days off!
Written by Nick Miller
---