Late August Hatching News
.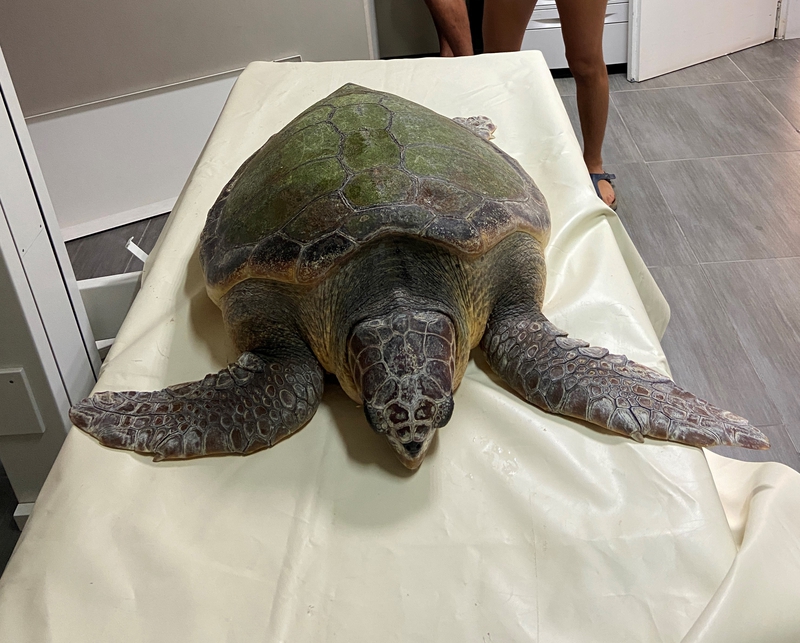 A diving team in Poros gave us a call at the beginning of last week to report a lethargic turtle they had spotted struggling in the water. We were able to bring this turtle back to our field station where she stayed in a tank for monitoring for the next day and a half. The x-rays confirmed she had not ingested any hooks or lines which was a relief, and after being examined by Spiridoula Vavasi, a veterinarian here on the island, and resting in the tank for a while, it was evident she was fit to go back to the sea again. With the helpful input of our volunteers, we decided on the name 'Kali' for this beautiful, previously untagged, female.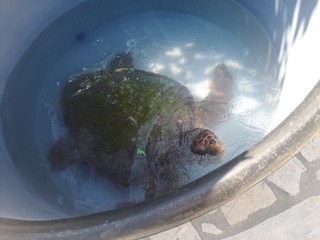 We took measurements of Kali, as well as fitting her with metal tags and a microchip, before releasing her back into the water off Megali Ammos beach. The team watched in awe as she raced across the sand, unlike Quinn, one of the turtles we released last year, who seemed to be in no rush to head back home.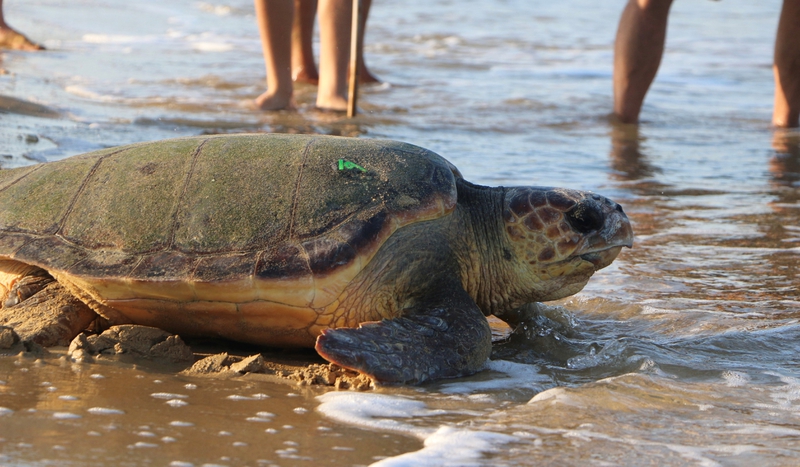 On 28th August, we were sadly notified of a dead turtle washed up on Minies beach, so the team drove straight to the scene for a closer look. Some old carapace wounds from a possible boat strike were present, however, no obvious cause of death could be found upon examination, so we believe this turtle likely drowned at sea. We are always saddened to hear of such a stranding event, but we were particularly disheartened to learn this was an untagged male turtle.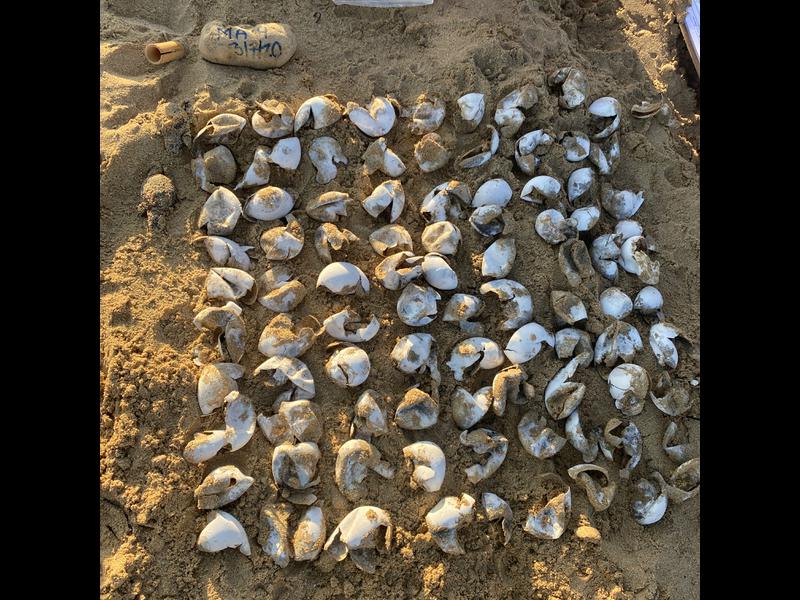 Given the current global climate and the sex-ratio bias producing more female than male hatchlings due to temperature-dependent sex determination, it is becoming more important than ever to protect our adult male population in every way we can. Unfortunately, we continue to see cases of turtles drowning due to entanglement in fishing nets and being unable to come to the surface to breathe. These events highlight the importance of education surrounding sustainable fishing practises and the changes people can make to help protect and conserve our precious turtles.
A vigilant group of volunteers at the Argostoli harbour on 2nd September spotted a turtle (later identified as Oddy) swimming with a fishing line attached to the top of his carapace. Once joined by the core team, the group was able to spot Oddy again, and whilst Josh was guiding him to the harbour wall ready to be pulled out of the water, the line came free. He was still pulled out and given a full visual health check, then released once the team was happy he was healthy.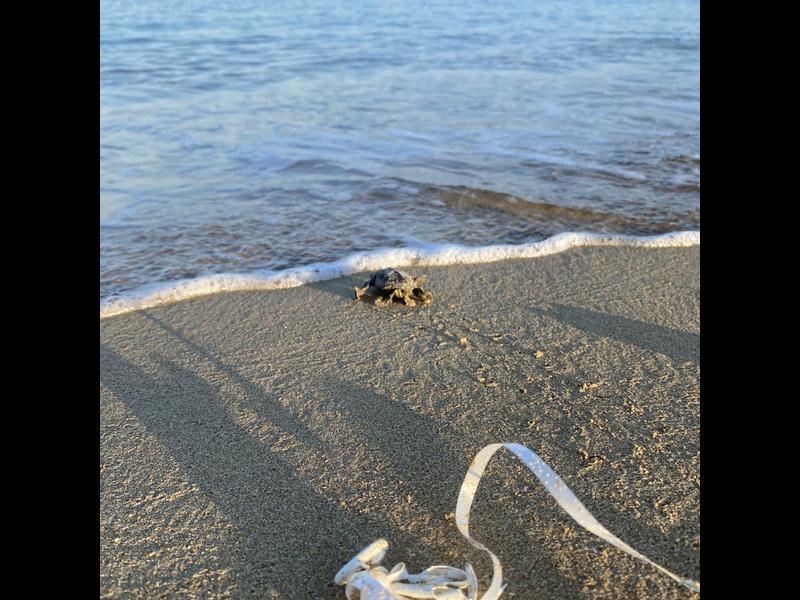 The team has been kept busy daily with several partial and full inventories of nests now that hatching season is well underway. We are currently left with 53 nests across the beaches in the Argostoli area, with this number continually decreasing as we see more hatchlings begin their big adventure. On 2 recent occasions, when opening the remaining unhatched eggs of nests that had completed their incubation periods, twin embryos were found within 1 average-sized egg and had reached a late stage of development. As quite a rare event, this was very interesting for our team to observe.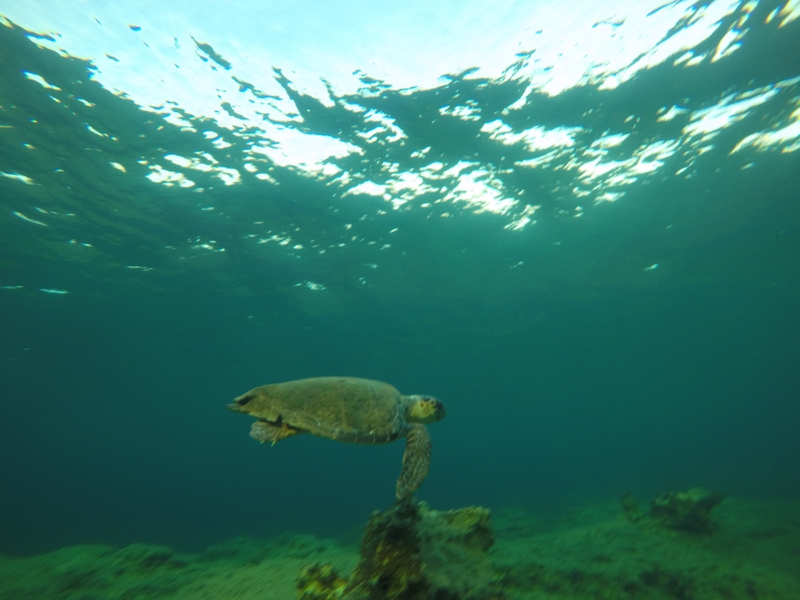 After a busy week of training, our latest group of volunteers have been a huge help on the beaches and collecting useful data on foraging events and interactions at the harbour. Hatchling rescue shifts have seen some very busy nights with several mass hatching events providing much excitement for our new group, many of which have never had the chance to see hatchlings before.
---