Late July 2018 Nesting and Hatching News
Argostoli:
This week has been relatively slow in terms of turtle activity in the Argostoli area. Unfortunately, there have been no new nests and very few tracks over the past 7 days, which might be attributed to the windy weather and rough water. Despite this low in turtle activity, this morning's Airport beach survey team came across 3 new emergences on Ammes and Eglina, so hopefully, we will see some new nests over the next couple of days (and several more before the nesting season gradually draws to a close!). Our current nest count at the Argostoli field station is 54. At 14 nests, Avithos beach continues to house the most nests.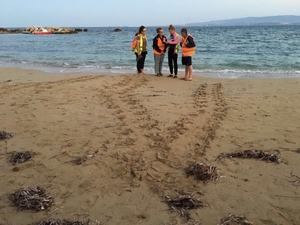 On Sunday and Tuesday, we welcomed some new volunteers, who have been kept very busy since their arrival. On Wednesday we were lucky to join two of our new volunteers, Martin and Jill, in celebrating their 10th wedding anniversary.
With 3 nests currently due to hatch on Ammes, Megali Ammos, and Eglina there have been several hatchling rescue groups staying overnight on these beaches to closely monitor these nests during this time. We are especially anticipating the impending arrival of our Eglina nest which is due any day now!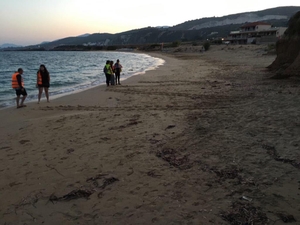 We are also excited about the introduction of a sand sifting shift in an effort to remove microplastic debris from some of our beaches. The plastic is believed to have originated from overboard shipping containers, with oceanic currents depositing a considerable amount on Ammes and Avithos beaches. Over the coming weeks, we hope that our teams can reduce the presence of this microplastic on the beaches in the Argostoli region.
Lixouri:
After an eventful season this far, the Lixouri team saw the end to their night survey shifts, bringing the total of tagged and recorded individual females to 13 for the nesting season of 2018. However, after a somewhat lack lustre period we experienced at the beginning of the week, things have started to get exciting again as we have seen an increase of nests and emergences making our nest count reach 58. Megas Lakkos is still in the lead with 14 nests whilst Lepeda beach follows behind with a total of 11.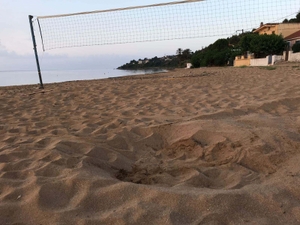 One of our more characteristic female emergences we recorded this week was noted on Cape Agios Georgios. This female managed to completely decimate a nest protection already present on the Cape, whilst partially removing another as she crawled over and around rocks, and finally nesting with a hose pipe imbedded within her camouflage!
This past week has seen an increase of hatchling rescue shifts for some of our most vulnerable nests positioned closely to intense light pollution from tourist hot spots. Volunteers are sleeping beside nests waiting eagerly for our first hatchlings of the season, which we anticipate being our first nest laid on Lepeda beach.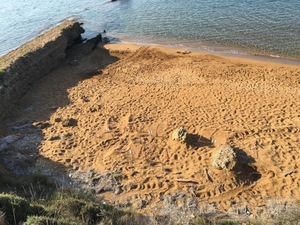 This season, Lepeda beach has highlighted the balance struck between tourism, the local community and the needs of Caretta caretta. On two occasions, females have nested within the parameters of the local's volleyball court which has prompted emergency relocations. Lepeda also has protected nests within sunbeds, for which the local community has been supportive and cooperative with our efforts, suggesting a shift in the community's attitude as the vital conservation of Loggerhead turtles is becoming further understood.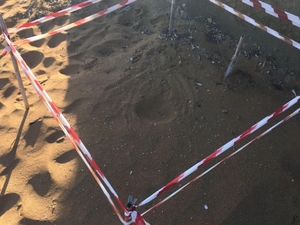 Alongside Lepeda and more recently in the past 48 hours, dipping has occurred in our first relocated nest in Kounepetra, so we expect to see signs of hatchlings very soon!
The Lixouri team are beginning to focus heavily on hatchling rescue surveys in the upcoming weeks and are very excited about the prospect of the transition into hatchling season with the hopes of increasing our nest total further.
Lourdas: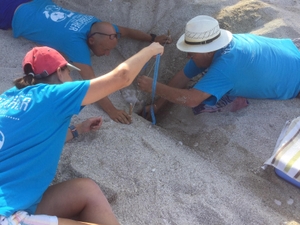 An interesting day, Sunday 8th July 2018, when John Tarr one of our researchers visited Lourdas beach to find 4 emergences and a nest. He met up with Rebecca and Mark who had also struck a nest on Kanali, plus an emergence. So Sunday was our busiest date for photos and nest protection.
Our total now for Lourdas stands at 24, and three of the Lourdas nests have been re located to Kanali (2) and Trapazaki (1).
The most interesting other feature is the removal of the eggs from the incubator and put them back into the sand in Lourdas area. And in fact, roughly a week after putting them back into the sand the nest hatched and we started having hatchlings!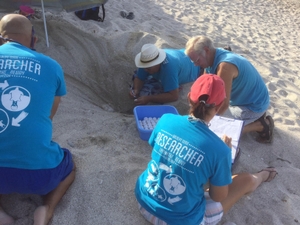 New heightened activity towards the end of the week. Mark and Rebecca found a nest where the nesting female got her house measurements wrong and had nested too close to the waters edge on Lourdas beach, and with the heightened water level with the winds, it began to be washed over. Very swiftly the nest was moved to Kanali and hopefully, all is well.
Now we have the best of all as David and Gil Green came across a female turtle actually on Trapazaki laying her eggs. They kept watch and monitored her movements before carrying out the usual measurements and GPS
All for now, back soon!