Late July 2020 Nesting News
.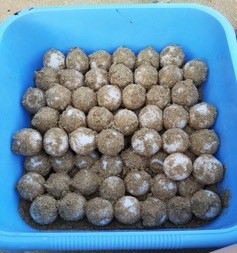 On Monday 27th July, a morning survey team arrived at Ai Chelis beach to find an up track but no track leading back to sea. The core team were called and were able to witness a nesting female finishing laying her eggs before tagging her, performing a health check, and watching her head back to sea. This was a very exciting opportunity as this may be one of the final sightings of a nesting female in action this year as we begin to move into hatching season. Since then, turtle activity on our beaches has reduced quite a lot, with only a few emergences recorded in the Avithos area and only 1 further nest found and protected on Megali Petra. With the top eggs within this nest sitting at a shallow 13cm below beach level and a distance from the sea of only 7m, this nest will be relocated as soon as possible to ensure the eggs are incubating at a safe temperature and are less at risk of inundation in any future adverse weather conditions.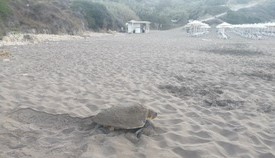 As of 30th July, the Argostoli project has a total of 67 protected nests across the various beaches. Megali Ammos beach is currently home to the majority of these, with more than 20 clutches incubating there. Hatchling rescue shifts are now well underway on both Avithos beach and Megali Ammos, and with Lixouri now having their first hatchlings of the season, we are eager to share with our volunteers the excitement of seeing loggerhead hatchlings for the very first time!
For many of our volunteers, days off this week were an opportunity to take a trip around the island and see the sights of Fiskardo, Sami, Myrtos beach, and more. The whole team has also enjoyed movie nights and sunset swims after some busy days at the project. As the week draws to a close, we would like to thank this committed group of volunteers for all their hard work as we prepare to welcome newcomers this weekend!
---