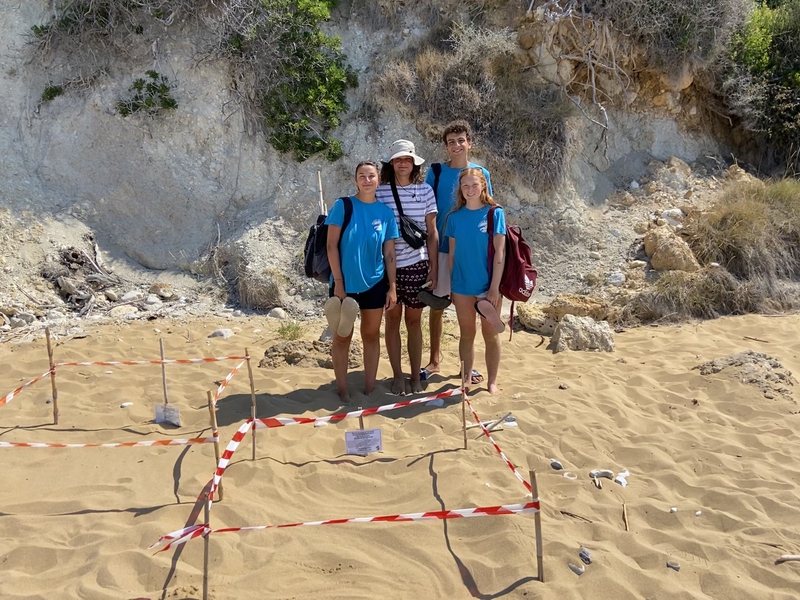 Argostoli Field Station
To start off with some exciting news from the Argostoli field station, this week we have had our first hatchlings of the season! On Thursday one of our morning survey teams found 11 sets of hatchling tracks coming from our first nest of the year on Megali Petra. With some of our early season nests now quickly approaching the end of their incubation time, hatchling rescue shifts have now begun on some of the light polluted beaches in the area.
Going back to last week, we had some very busy morning survey shifts, with a total of 22 nests being found across the Argostoli area beaches in one week! 7 of these were found in one morning, which is a record number of nests for one day so far this season. Our volunteers did a great job finding and protecting all of these nests, often staying out on the beaches until late in the morning – we really appreciate all of their hard work and enthusiasm despite the heat! One of these nests was from a turtle the team have nicknamed Stumpy, as it can been seen from her tracks that she is missing part of her rear right flipper. Avithos morning survey teams had been seeing nesting attempts from this turtle for a few weeks now so we were really excited to find that she had successfully nested on Tuesday morning.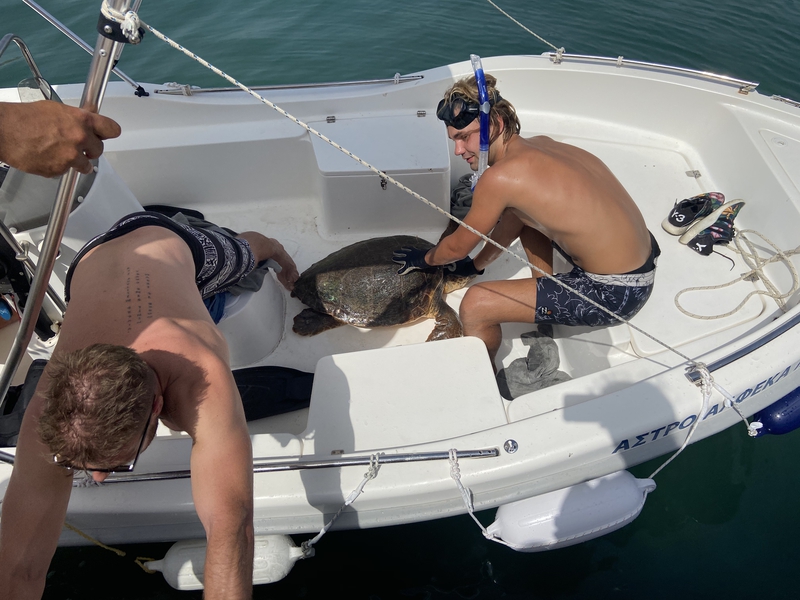 We also had some more rescues last week including one on Wednesday after a call out about an entangled turtle in Argostoli. Josh, accompanied by volunteer Lorenzo, ended up paddling out in a boat to go and disentangle what turned out to be one of our tagged turtles, Remy, from a line near the ferry port. They were then picked up by some (very confused) tourists in a speedboat, who kindly brought them back to shore where we were able to release the turtle. On Sunday we found another male turtle, now named Thunder, in the Argostoli harbour entangled in a fishing line. After an x-ray to confirm he had not ingested any hooks, we were able to remove the line and release him that evening down at Megali Ammos beach.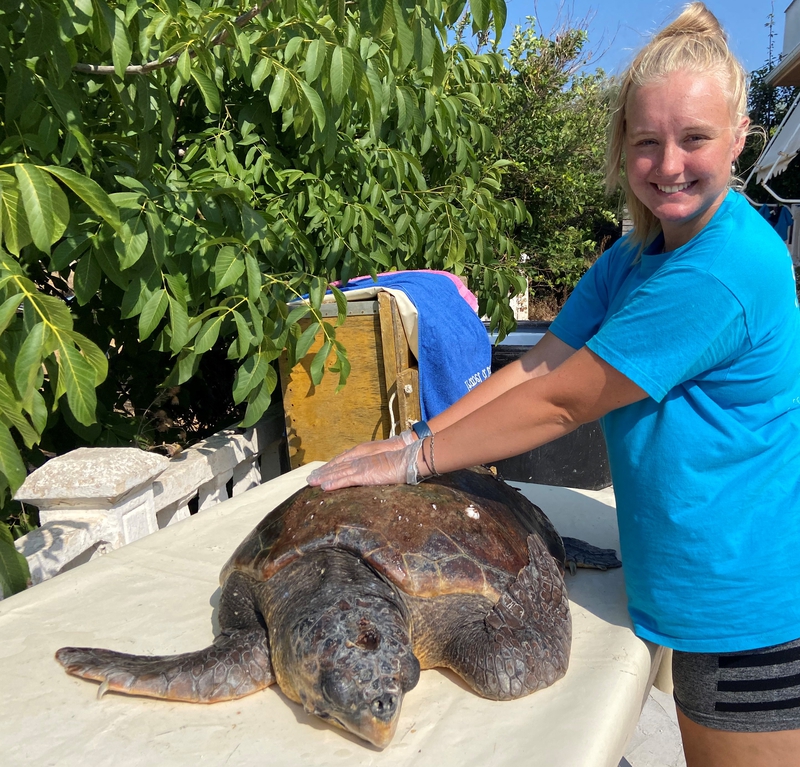 After a busy two weeks it was time to say goodbye to another group of volunteers so we finished the week off with a barbecue in the evening before changeover day on Sunday. We then welcomed a new group who have had a quieter week in terms of morning surveys compared to last week, with 9 nests being found since Monday. There was a lot of excitement on Wednesday morning though, as one incredibly lucky group of volunteers came across a female turtle nesting when they arrived to start their morning survey shift on Avithos beach.
On Thursday, we had a turtle sent over to us from Zakynthos after it was found floating at sea with possible line injury in addition to a head injury. Following an x-ray confirming the turtle had not ingested any hooks, we have been monitoring this turtle onsite and hope to release it after treatment. Also, back from Zakynthos after nesting is Barb, one of our resident turtles here in Argostoli, who has made her own way back to her usual spot by the fishing boats in the harbour.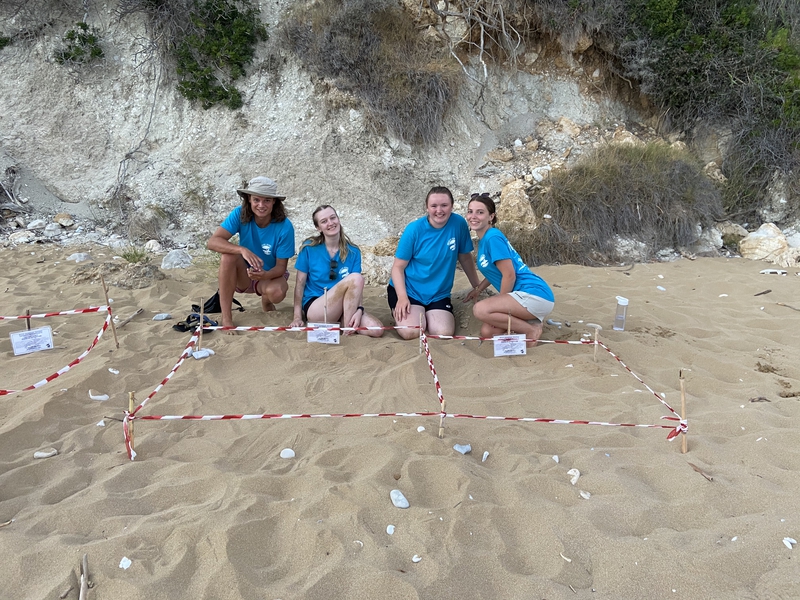 Despite the relatively quiet morning surveys, the new group of volunteers are settling in well and have been kept busy with training and a number of nest relocations throughout the week alongside their regular shifts. On Wednesday, a team also went down to do a beach clean on Minies and had an interesting find of a turtle tail bone! In terms of activities this week, we've had the ever-popular henna night, a group quiz, and a movie night later in the week which was, you guessed it, Mamma Mia (again!)
After a few more nests later in the week, our current total now stands at 97, with nests now having been found on every single one of the Argostoli area beaches this season! Bets are on as to whether we'll break our record of 120 nests from 2019 so we'll be sure to keep you up to date as nesting season draws to a close and hatching season begins!
---