Late July Nesting 2022 News
.
Argostoli Field Station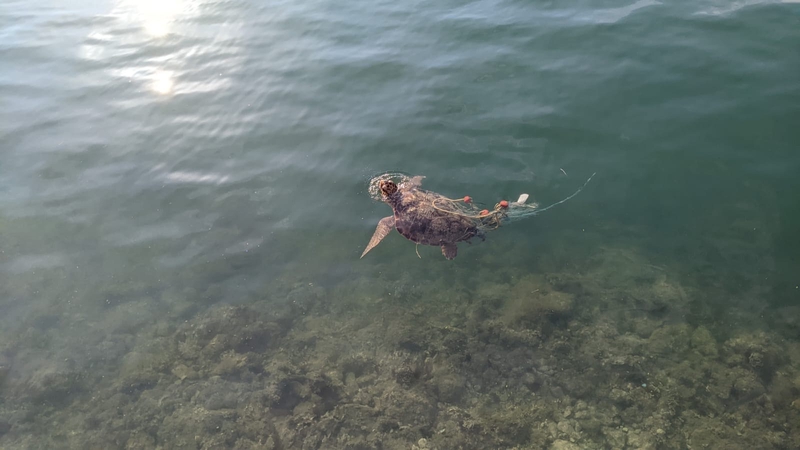 This week we have been busy preparing for our upcoming hatching season and continuing on with our nesting surveys. The Argostoli team have seen our nest count rise from 55 to 59 over the past week. Although this has been a slow week with 4 days of no tracks on our airport survey area, we are now seeing tracks there again. The team has been extremely motivated on morning surveys with lots of thorough digs, sometimes digging for over an hour, and occasionally an evening re-dig. We have also had many nest check shifts this week where the volunteers have been maintaining the nest protection and ensuring our data is accurate. We are very pleased to see such great enthusiasm and dedication from our volunteers in protecting our sea turtles.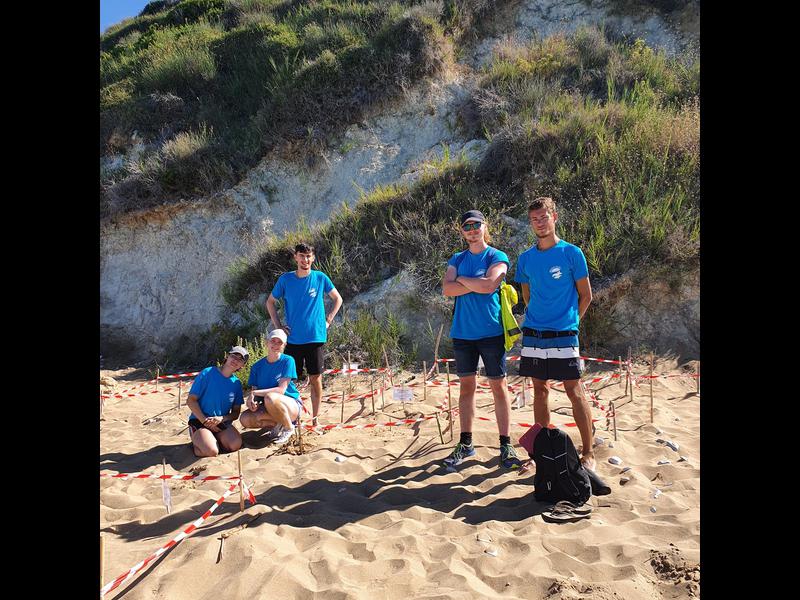 We have also been continuing our very important harbour shifts, which have helped us identify a deceased turtle near Fanari. A tourist alerted a member of our harbour team to the issue and we were able to swiftly assess the situation. This turtle was identified dead at the scene due to propellor strikes and was known as Cesca, one of our Lixouri nesting females. Unfortunately, this is not the only deceased turtle we have found this week. One of our morning surveys also reported a dead turtle washed onto shore on Minies beach. This turtle was heavily decayed, making the cause of death extremely hard to determine. However, with good news, we have been successful in rescuing a turtle from the harbour who had been entangled in a net and ingested a fishing hook and line. This turtle has been sighted multiple times, the first time being in June. We have been unable to catch it after multiple attempts. However, this week we were successful in locating and catching the turtle with help from The Lagoon Activities in Argostoli. We were able to remove the fishing net successfully but we could not remove the ingested hook and line. Because of this, this turtle is being safely looked after while it awaits a trip to the vets to receive further treatment.
This week has also been very exciting for us as we have had a film crew visit us. The crew filmed a few aspects of the Wildlife Sense project in order to produce a mini-documentary for a German TV Channel called Galileo. They filmed and observed one of our harbour shift and morning surveys. We are looking forward to seeing the outcome and really appreciate the opportunity to share the importance of loggerhead sea turtles.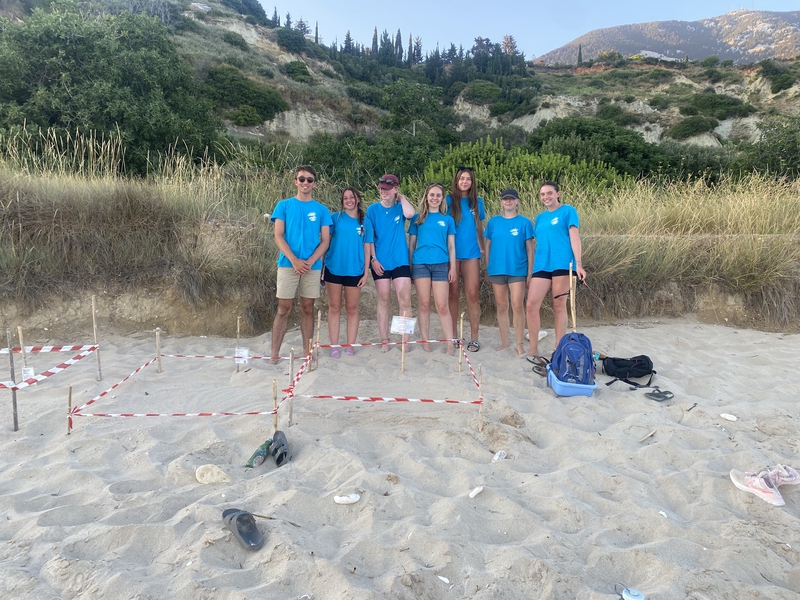 Not only have our volunteers been busy on shift, but they have also been spending their free time doing many exciting things including activities such as sunset swims, tours of the island, and trips to Melissani lake and Drogarati caves. We have also been hosting another eventful game of assassin, which was extremely popular and a fun addition to the week.
Written by Anna Judson and Emily Anderson
Lixouri Field Station
Life at Wildlife Sense is always super busy and rather unpredictable, which is exactly what we love about it, and this week has been no anomaly. Our morning survey teams have discovered eleven new nests, all of which have been watched during the laying process by our hard-working night survey teams. The addition of these most recent nests takes our nest count up to a total of fifty-two, which is eleven more nests than we had across all three Lixouri survey areas at this same time last year. By the end of last year's nesting season, we recorded a whopping seventy-seven nests, with the last one being laid on the 19th of August. Nesting season is far from finished and we are excited to keep an eye out for any final few nests of this season - hopefully even more than last year!
Our night surveys have started to pick up the pace, once again, after three consecutive nights without spotting any nesting females or even emergences. Over the last few evenings, our teams spotted both Ruth for the second time and Zayana for the third time, although neither female attempted to nest. On Friday night, a newly tagged female laid a nest, who the team tagged, measured, and named Laura. Unfortunately, despite the strong efforts we put into the project day in and day out, the work we do here at Wildlife Sense doesn't always result in such a positive outcome. On a slightly sadder note, one of our nesting females, Cesca, washed up dead on Vinaries last Thursday. Cesca was first sighted on the 12th of June when we observed a severe propeller strike injury to the rear carapace, causing it to slightly hang off. Due to the severity of the injury, our team was concerned for Cesca's wellbeing, however, did the best they could to tag her, take her measurements and clean her raw wounds; she laid a clutch of just 28 eggs. Our team spotted Cesca for a second time on the 30th of June, where she appeared much healthier and laid a clutch of 112 eggs. Unfortunately, Cesca suffered a deadly propeller strike earlier this week, which completely severed her carapace and plastron, resulting in instant death. Events like these truly hit home to us here at Wildlife Sense, where we do so much work to protect this threatened species and get to know our nesting females over the season, especially individuals who have recovered from such injuries and returned to lay multiple clutches. As a team here at Wildlife Sense, we all share the same hopes that one day we can mitigate such detriments and create a more harmonious world for these creatures to live more freely.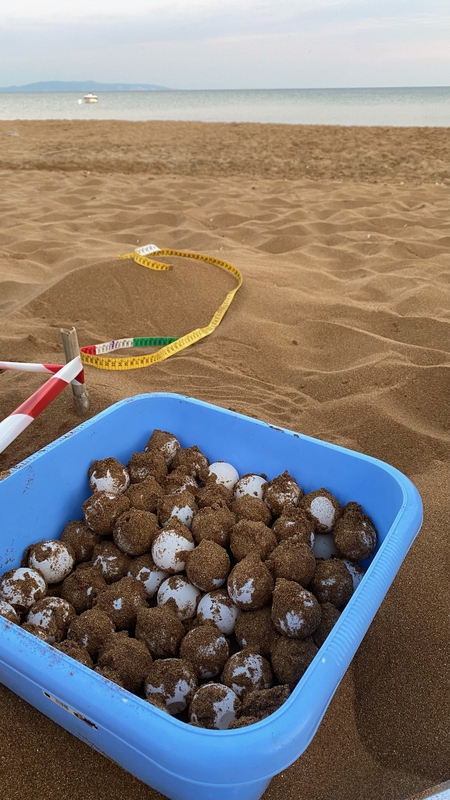 As well as scheduled evening shifts, we decided to organize a spontaneous beach clean with volunteers who weren't on shift one evening. Keeping our nesting beaches free of plastic is vital, as this prevents the obstruction of nesting females. Collectively, we managed to remove three full bags of rubbish from our Lepeda beaches.
Although this past week has been a busy one, we have ensured our volunteers take some time to recharge their batteries, aside from patrolling the beach for nesting females and protecting freshly laid nests. Our volunteers have partaken in activities such as a scavenger hunt, souvlaki, and cards – where everyone channeled their inner competitive sides.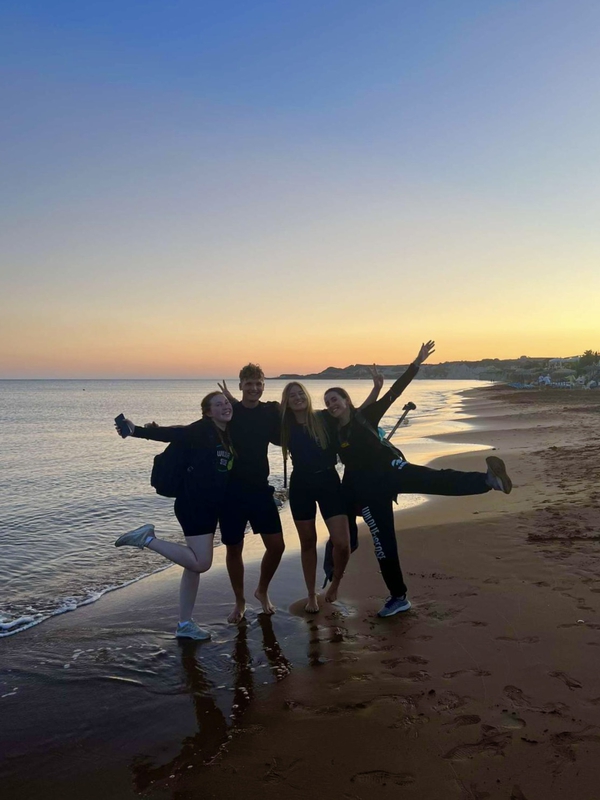 Over the past week, we have also tested some new temperature loggers in some of our nests across all three of our survey areas: Vatsa, Megas Lakkos, and Lepeda. The purpose of these loggers is to measure the temperature of the egg chamber and therefore indicate how long the incubation process will take and the ratio of male and female hatchlings that will hatch from each nest.
Our first nest of the season ML1 has now reached 46 days, meaning we could be expecting hatchlings any day now and are therefore making sure to be extra vigilant whilst on night surveys to keep an eye out for any potential hatchlings, along with our nesting females. As we move into another week, we look forward to keeping you all updated with our nesting females and first hatchlings of the season!
Written by Mia Holman
Skala Field Station
In the previous weeks, we had already started to plot all our Posidonia surveys on QGIS software. Each time, we obtained points representing the location of the photos taken during our study. Now, thanks to a new methodology, each point will have a different color depending on the content of the photo. For example, the point will be green if the picture contains Posidonia, yellow if it's sand and orange if it's rocks. This will allow us to have an idea of the proportion of Posidonia in the areas studied and to see which environment and depth these sea plants prefer.
We applied the same methodology to the sand dune surveys and we obtained the same kind of map with a different color for each plant species. This will allow us to understand which environments are favorable for the development of each species.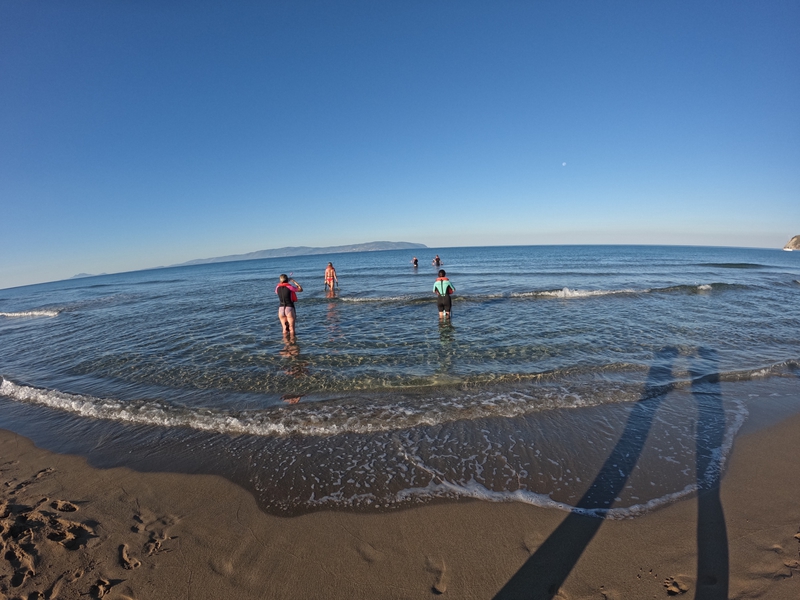 We also started mapping the drone survey and got quite large maps representing the current state of the surveyed dunes and the threats they face.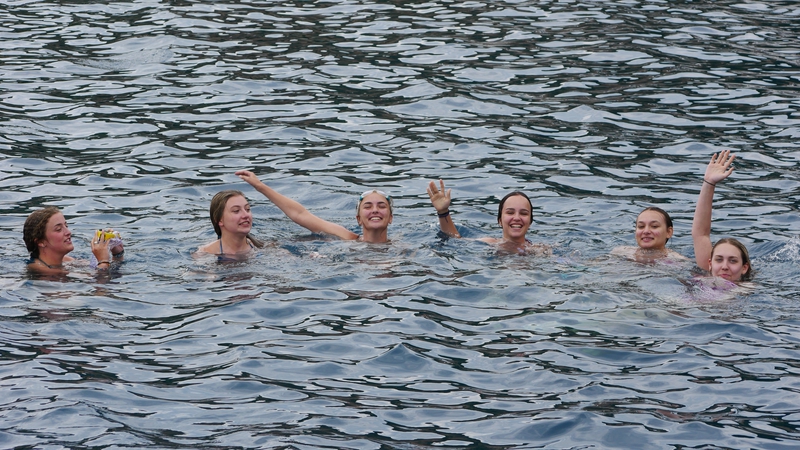 We are very proud of our team members and for all their hard work, efforts, and enthusiasm they show for the project. We are looking forward to the rest of the season and welcoming the new team.
Written by Justine Martin
---