Late June 2021 Nesting News
.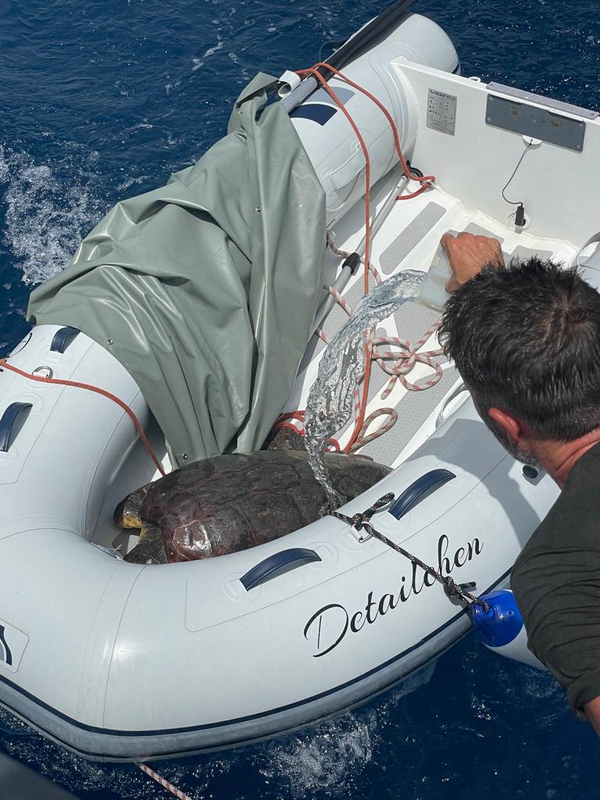 Argostoli Field Station
It's been a busy (and very hot) week here in Argostoli. We've welcomed a new group of volunteers and they've been kept busy with lots of training and turtle activity. Despite this week's heatwave and resulting rota changes, the whole group has been doing an amazing job, including our 4-weekers who have been taking the lead out on shifts.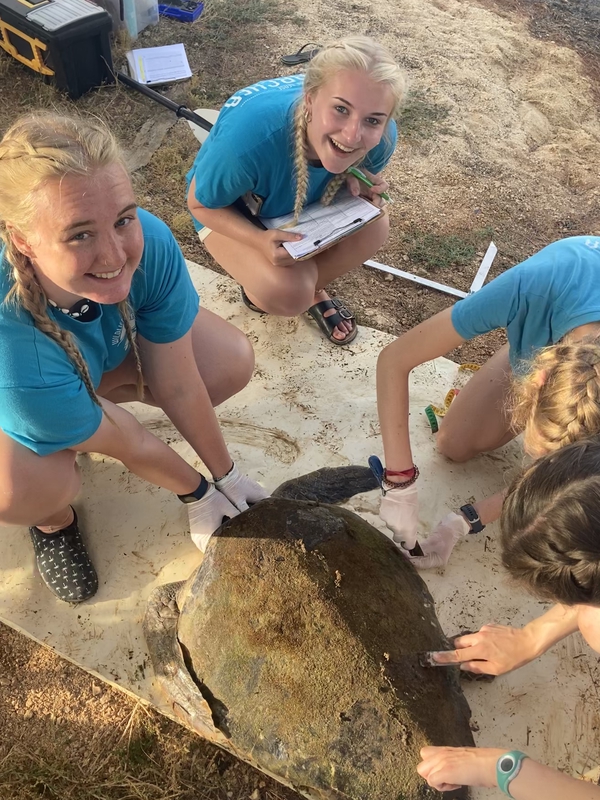 This week brought us some more turtle rescues, which seem to be a weekly occurrence at the moment. On Monday we sent yet another turtle to the rescue centre in Athens for treatment after it was found during a morning harbour shift with a line coming out of its cloaca. Some of the core team also had an interesting road trip up to Fiskardo on Wednesday after receiving a call about an entangled turtle out at sea. After a few detours due to road closures, the team met some divers who had kindly brought the turtle back to shore. Thankfully the turtle appeared to be in good health so, after checking for injuries and taking it back to Argostoli for an x-ray, it was released back at Megali Ammos beach in the evening.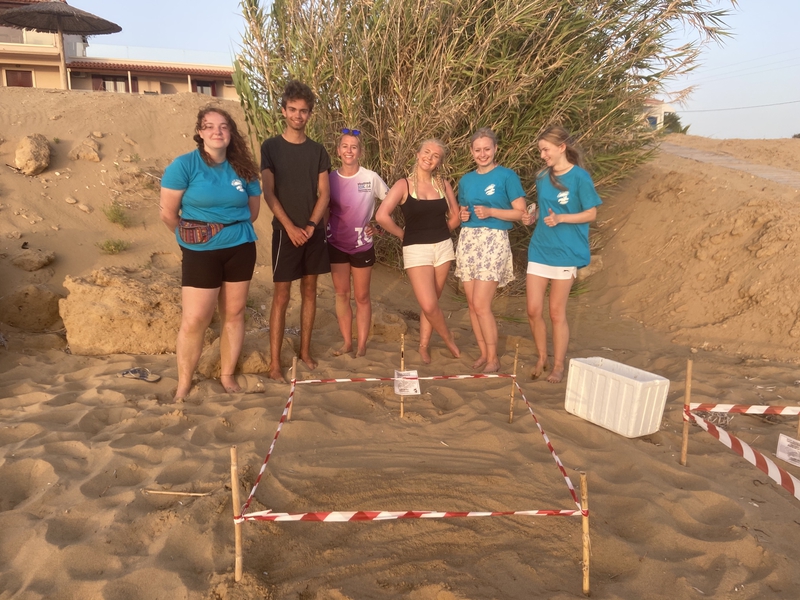 We had a busy morning on Friday, with our morning survey teams finding four nests in one morning, including the first Lassi area nest of the season on Makris Gialos! This was all while the rest of the team were out at a tagging event where we tagged 4 new turtles and two previously tagged turtles, Atlas and Switch. It ended up being a very eventful day as, after a call-out for a dead turtle off Eglina beach in the afternoon, two teams went out to Avithos and Airport beaches to do relocations.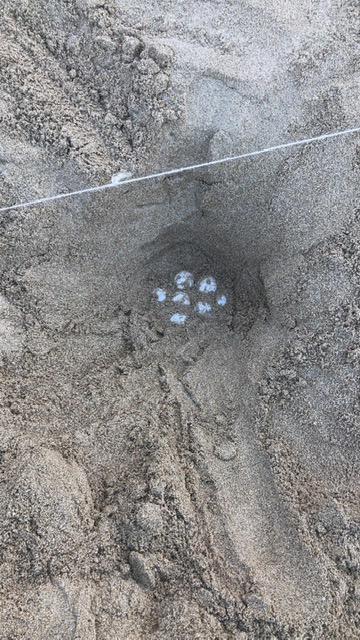 In terms of nest counts, we're up to 32 in total and have now hit double digits on Avithos beach, as the tenth nest was found on Thursday morning. Our first nest of the season from back in early May is also quickly approaching the end of its incubation time so we might have some hatchlings very soon! As things start to pick up here in Argostoli we're excited to keep you up to date in the coming weeks!
Written by: Jodi Morgan
Lourdas Field Station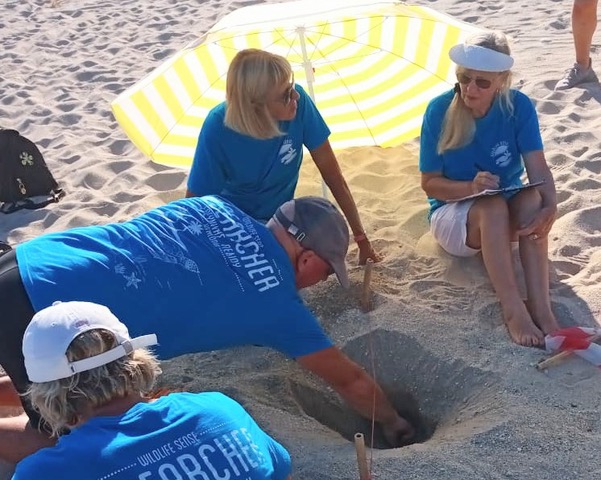 Welcome to the first edition of the Lourdas Beach Patrol section of the Wildlife sense turtle patrol group for the current year 2021. Under the leadership of Lorna and Ray Gilbert the area continues to thrive.
There has however been a change round of personnel. Whilst nobody has left we have to realise another year has passed and some of our members may be struggling to walk the beaches as freely as they did last year. To that end, we welcome new additions to the group namely: Chris and Sally, Charlie and Graham, Christine and Caroline, and a local schoolteacher Vassiliki. I hope you enjoy the work as I have done over the years.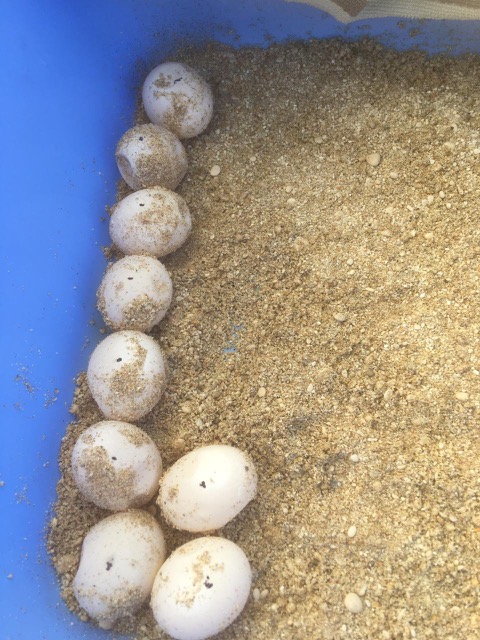 And work it has been. No sooner does June begin when on the 7th of June we get our first nest at Lourdas and tracks found on Kanali. As the month progressed so did the intensity of Turtle activity. It has certainly been a baptism for our new members because here we now are on the 30th of June with 19 nests. Compared to last year we have a higher nest count. It is also fair to point out that the new members have been extremely busy. There is still a long way to go for the season, so interesting to see how we will compare to last year.
Written by: Keith Venables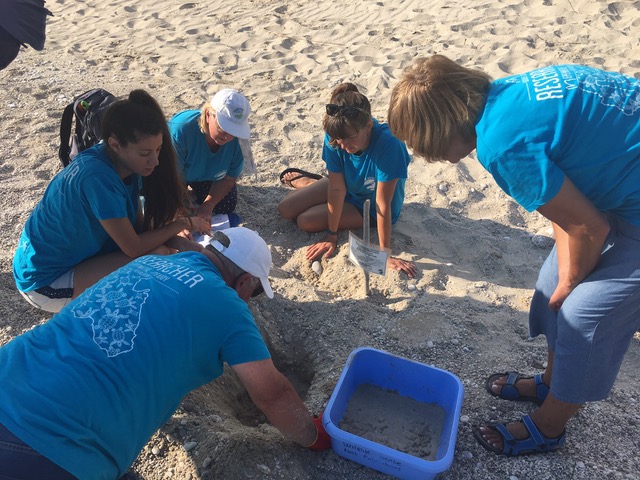 Lixouri Field Station
Night surveys are back in full swing here in Lixouri. We've encountered three different turtles in the past week, two of which had been previously tagged by Wildlife Sense. Danielle and Gloria had both been recorded on night surveys during the 2019 season, while Danielle had also been witnessed nesting in 2017. Both turtles were recorded on Sunday night's shift, however neither nested. Fortunately, last Friday night, Danielle once again appeared on the beach and began laying her eggs, while the team members on shift watched on in awe.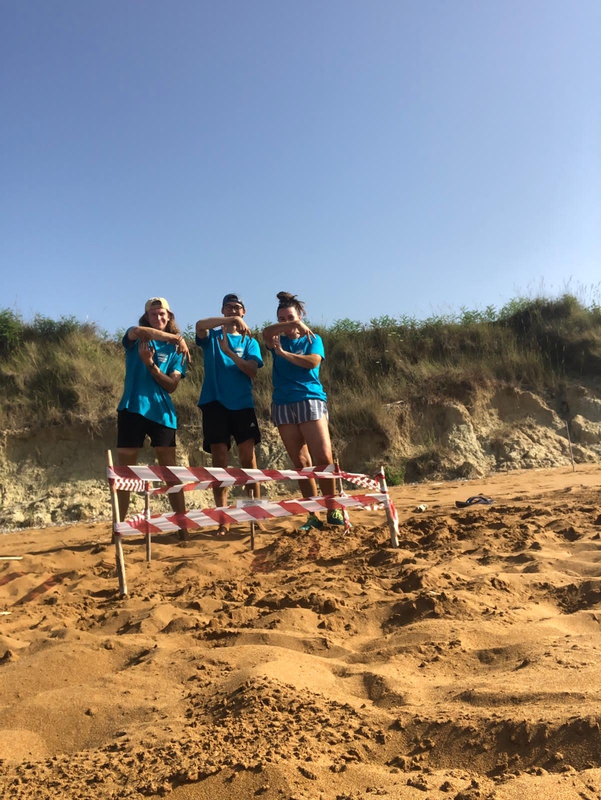 In keeping with a week of eventful night surveys, Thursday night also brought huge excitement when a turtle, unknown to Wildlife Sense, was observed nesting. The female loggerhead was tagged once she had laid her clutch of eggs and was subsequently named Saoirse, the Irish word for "freedom"-a fitting name for such a feisty turtle! The following morning, the morning survey team located and protected the nest, however, it was noted that the eggs were at quite shallow a depth. Because of this, and due to the fact that the dark sand of this beach often leads to a higher surface temperature, it was decided that the nest was to be relocated. That evening, field leader Josh, along with island volunteer Phill and some eager volunteers, ventured to the beach in order to carry out the relocation. An impressive 107 eggs were relocated to a more suitable area of beach with a sufficient egg chamber depth. Now we await with high hopes for another night survey encounter with Saoirse in the upcoming weeks.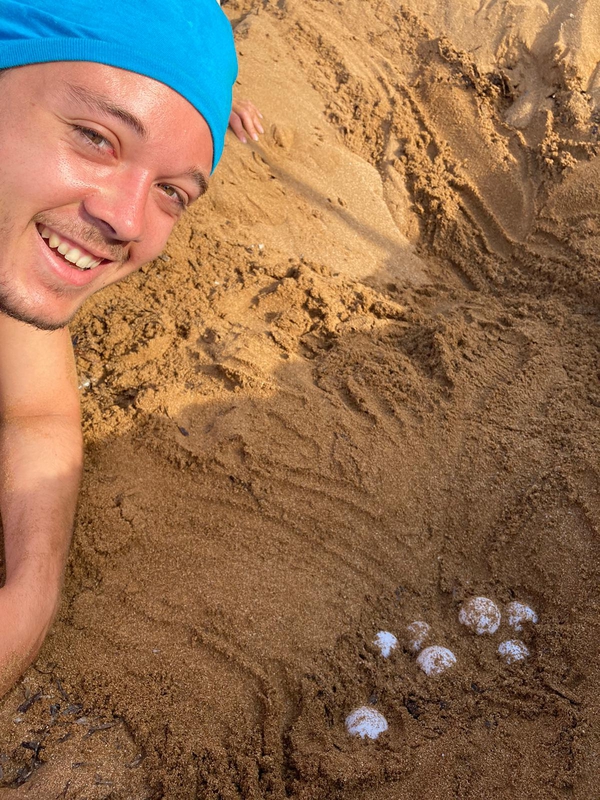 With nests now popping up across the various survey areas, incubation periods also begin to take our interest. On certain beaches, such as Lepeda, light pollution is a highly problematic issue during hatching season. Beach bar and street lights can cause misorientation of hatchlings and so the earlier nests are laid, the earlier in the season hatchling rescue shifts will have to be deployed to these particular beaches. With three nests already protected on Lepeda, and an average incubation period of 55 days, we're excited to see how many more appear in the coming months, and how soon our first hatchlings from these recent nests arrive!
Written by Alison Considine
---